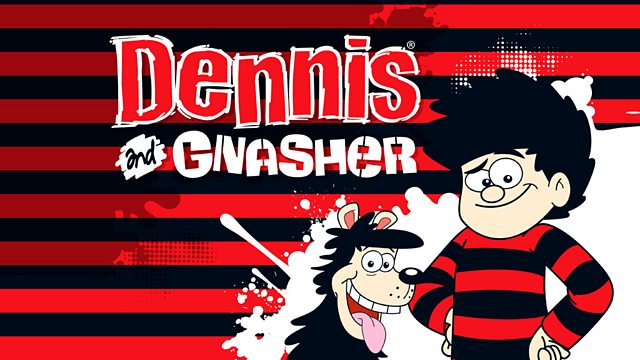 Animation. Dennis lives in Beanotown with Mum, Dad, little sister Bea and his pet dog Gnasher. Gnasher is more than a dog to Dennis; he is a kindred spirit. Whatever Dennis does, Gnasher does with him.
Together with their friends Curly and Pie Face, Dennis and Gnasher believe that the world truly is their oyster and that kids should make the rules. Not everyone agrees, including Mum and Dad. But Dennis and Gnasher are not going to let that stand in the way of their pursuit of fun!
While Mum visits a yoga retreat for the weekend, she entrusts Dad and Dennis with looking after Bea and the house. Both Dad and Dennis assure her that everything is going to be just fine. However, the next day Dennis, Curly and Pie Face begin to make a pie, but, wanting to add some more exciting ingredients to it, Dennis manages to make the pie mixture grow beyond all proportion and it ends up flowing like a tidal wave throughout the entire house and garden. Then Dennis gets a call from Mum to say she will be home early, giving Dad and Dennis only a matter of hours to clean up the mess before she gets home.
Last on