Main content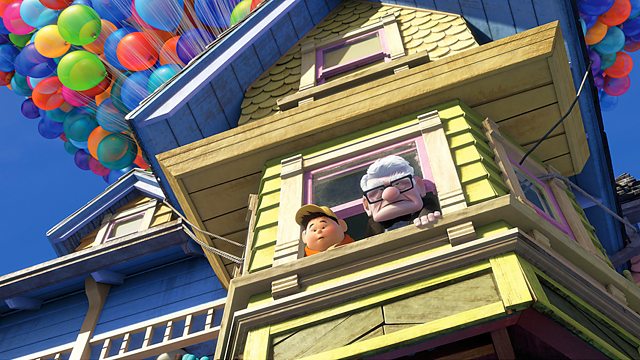 Pixar's latest film Up, David Hare's play The Power of Yes, and John Irving's new novel Last Night in Twisted River
Tom Sutcliffe is joined by musician Pat Kane and writers Deborah Moggach and Adam Mars Jones to discuss a grumpy old man hitting the heights and bankers hitting rock bottom.
Tom Sutcliffe is joined by musician Pat Kane and writers Deborah Moggach and Adam Mars Jones to discuss the cultural highlights of the week, featuring a grumpy old man hitting the heights, bankers hitting rock bottom and heads rolling in old Peking.
Pixar continues its domination of contemporary animation with its latest film, Up. The unlikely hero is a lonely and crotchety widower, Carl Fredricksen, who resolves a dispute with a property developer by launching his house off into the wild blue yonder with the aid of several thousand helium balloons. He inadvertently takes an over-enthusiastic boy scout with him, and the two of them face peril and adventure while trying to navigate to South America.
There's certainly no shortage of peril in Last Night in Twisted River, by John Irving. At the start of the novel it's 1954, and 12-year-old Danny Baciagalupo and his father Dominic are living in a logging encampment in New Hampshire. Life there is hard and dangerous, but it gets worse when Danny mistakes the local constable's girlfriend for a marauding bear, and he and his father are forced to spend decades on the run.
David Hare's play, The Power of Yes, is subtitled 'A dramatist seeks to understand the financial crisis'. Many recognisable characters involved in events at the heart of the current economic downturn - and others who are not so well known - appear in the play, and their words are taken verbatim from interviews which Hare conducted with them. Hare himself also appears as The Author, played by Anthony Calf, attempting to discover how a culture of irrational risk-taking was allowed to develop.
Rupert Goold is a theatre director with the Midas touch: his productions of Macbeth, Oliver!, and most recently Enron, were greeted with both critical acclaim and popular success. Now ENO has recruited him to helm their production of Puccini's opera, Turandot. This frankly improbable tale of cruelty and infatuation is whisked away from Peking's imperial palace and set in a decidedly bloody Chinese restaurant. Calaf (Gwyn Hughes Jones) must solve the homicidal Princess Turandot's (Kirsten Blanck) three riddles, or he's for the chop suey.
It's Turner Prize time again. The four artists shortlisted for 2009's award are Lucy Skaer, Enrico David, Richard Wright and Roger Hiorns. Skaer's work includes a whale's skull, David has papier-mache eggmen, Wright paints intricately onto the gallery walls, and Hiorns has created a landscape from an atomised passenger jet engine. Tom and his guests reveal who they're tipping to take the prize.
Subscribe to the Saturday Review podcast
Podcast
Sharp, critical discussion of the week's cultural events, with Tom Sutcliffe and guests