Main content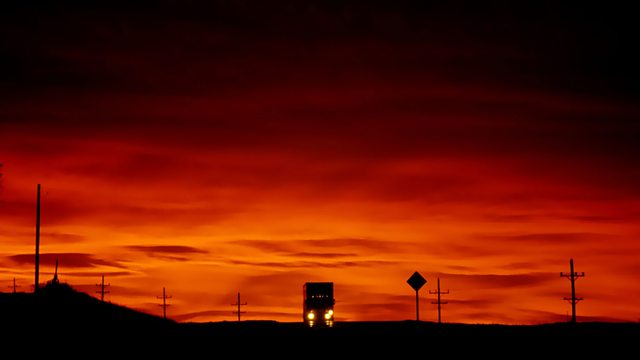 10/10/2009
Music including Brahms, Bartok, Stephan, Bach, Schubert, Monteverdi, Vivaldi, Stradella, Kacsoh, Turina, CPE Bach, Rinck and Pierne. Plus Debussy, orch Braeways: Preludes - Book 2.
1.00am
Brahms, Johannes (1833-1897): Symphony No 3 in F, Op 90
1.36am
Bartok, Bela (1881-1946): Violin Concerto No 1, Sz 36
1.59am
Stephan, Rudi (1887-1915): Music for violin and orchestra in one movement
2.18am
Bartok, Bela (1881-1946): The Miraculous Mandarin, Sz 73
Kirill Troussov (violin)
Orchestre National de France
Daniele Gatti (conductor)
2.39am
Brahms: Wir wandelten, Op 96, No 2; Alte Liebe (5 Gesang, Op 72); Das Madchen spricht, Op 107, No 3; Immer leiser wird mein Schlummer (5 Lieder fur eine tiefere Stimme, Op 105); Meine Liebe ist Grun (9 Lieder und Gesange, Op 63)
Barbara Hendricks (soprano)
Leif Ove Andsnes (piano)
3.01am
Bach, Johann Sebastian (1685-1750): Suite No 2 in B minor for orchestra, BWV 1067
Ensemble 415
3.21am
Schubert, Franz (1797-1828): Fantasia in F minor for piano duet, D940
Leon Fleischer, Katherine Jacobson Fleischer (piano duet)
3.41am
Monteverdi, Claudio (1567-1643): Vespro della Beata Vergine
Elisabetta Tiso, Monica Piccinini, Lia Serafini (soprano)
Carlos Mena (countertenor)
Lambert Climent, Lluis Vilamajo, Francesc Garrigosa (tenor)
Furio Zanasi (baritone)
Antonio Abete, Daniele Carnovich (bass)
La Capella Reial de Catalunya
4.00am
Vivaldi, Antonio (1678-1741): Concerto in D for violin and orchestra, RV 234
Giuliano Carmignola (violin)
Sonatori de la Gioiosa Marca
4.07am
Stradella, Alessandro (1644-1682): Ardo, sospiro e piango - duet for soprano, baritone and continuo
Emma Kirkby (soprano)
David Thomas (bass)
Jakob Lindberg (lute)
Anthony Rooley (director/lute)
4.14am
Beethoven, Ludwig van (1770-1827), arr Duncan Craig: Romance in F, Op 50
Gyozo Mate (viola)
Balazs Szokolay (piano)
4.22am
Franck, Cesar (1822-1890): Piece heroique in B minor, M37 (3 Pieces pour grand orgue, M35-37)
Ljerka Ocic (organ)
4.30am
Kacsoh, Pongrac (1873-1923): Janos Vitez (The Hero John)
John ...... Janos Berkes (tenor)
Iluskas ...... Magda Kalmar (soprano)
Bago ...... Lajos Miller (baritone)
The Hungarian State Opera Orchestra
Janos Kerekes (conductor)
4.43am
Chopin, Fryderyk (1810-1849): Polonaise in A flat, Op 53
Jacek Kortus (piano)
4.51am
Turina, Joaquin (1882-1949): Rapsodia sinfonica for piano and string orchestra, Op 66
Angela Cheng (piano)
Calgary Philharmonic Orchestra
Hans Graf (conductor)
5.01am
Bach, Carl Philipp Emanuel (1714-1788): Magnificat in D, Wq 215
Linda Ovrebo (soprano)
Anna Einarsson (alto)
Anders J Dahlin (tenor)
Johannes Mannov (bass)
Norwegian Radio Orchestra
Oslo Chamber Choir
Alessandro de Marchi (conductor)
5.37am
Mozart, Wolfgang Amadeus (1756-1791): Kirchen-Sonate in B flat for two violins, double bass and organ, K212
Royal Academy of Music Beckett Ensemble
Patrick Russill (conductor)
5.42am
Rinck, Johann Christian Heinrich (1770-1846): Nine Variations and Finale on Ah, vous dirai-je, Maman, Op 90
Willem Poot on the Pieter Flaes organ of Hervormde Kerk, Uitgeest
6.01am
Pierne, Gabriel (1863-1937): Konzertstuck for harp and orchestra, Op 39
Suzanna Klintcharova (harp)
Sofia Philharmonic Orchestra
Dimitar Manolov (conductor)
6.16am
Nielsen, Carl (1865-1931): Folketone (Folk melody, Andante) - 5 pieces for piano, Op 3, No 1 (1890)
Anders Kilstrom (piano)
6.19am
Debussy, Claude (1862-1918), orch Brewaeys: Brouillards (Preludes - Book 2)
6.22am
Debussy, orch Brewaeys: Feuilles Mortes (Preludes - Book 2)
6.25am
Debussy, orch Brewaeys: La puerta del vino (Preludes - Book 2)
6.28am
Debussy, orch Brewaeys: Les fees sont d'exquises danseuses (Preludes - Book 2)
6.32am
Debussy, orch Brewaeys: Bruyeres (Preludes - Book 2)
6.35am
Debussy, orch Brewaeys: General Lavine eccentric (Preludes - Book 2)
6.38am
Debussy, orch Brewaeys: La terrasse des audiences du clair (Preludes - Book 2)
6.42am
Debussy, orch Brewaeys: Ondine (Preludes - Book 2)
6.45am
Debussy, orch Brewaeys: Hommage a S Pickwick Esq PPMPC (Homage to S Pickwick) - Preludes - Book 2
6.48am
Debussy, orch Brewaeys: Canope (Preludes - Book 2)
6.51am
Debussy, orch Brewaeys: Les tierces alternees (Preludes - Book 2)
6.54am
Debussy, orch Brewaeys: Feux d'artifice (Fireworks) - Preludes - Book 2
Royal Flemish Philharmonic
Daniele Callegari (conductor).