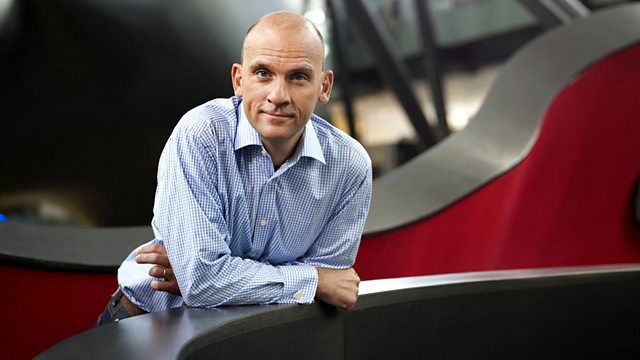 Robert Mitchell Trio
Jez Nelson presents a gig by pianist Robert Mitchell performed at the 2009 Cheltenham Jazz Festival. Featuring Mitchell's original compositions together with some well chosen covers - including a striking acoustic version of Massive Attack's Teardrop. The trio's sound is distinguished by drummer Richard Spaven's hip hop-derived break beats, subtly incorporated into a traditional acoustic piano trio completed by Tom Mason on bass.
An inventive pianist and composer, Mitchell's solid technique and openess to all music has created many opportunities, helping him to become one of the first artists accepted on the Jerwood Rising Stars scheme. His latest album recorded with the trio won Best Jazz Album at Gilles Peterson's Worldwide Awards 2009.
Playlist:
Excerpts from Chereke Son by Havana Cultura and Third Stream by Robert Mitchell Trio (details below)
Artist: Jerry Gonzalez
Track title: Evidence
Composer: Thelonious Monk
Album title: Ya Yo Me Cure
Label: Sunny Side
Released: 1979
Artist: The Havana Cultura Band featuring Mayra Caridad Valdes
Track title: Chekere Son
Composer: traditional
Album title: Gilles Peterson presents Havana Cultura
Label: Brownswood Recordings
Released: 26 Oct 2009
Artist: The Havana Cultura Band featuring Roberto Fonseca
Track title: La Revolucion Del Cuerpo
Composer: Ogguere
Album title: Gilles Peterson presents Havana Cultura
Label: Brownswood Recordings
Released: 26 Oct 2009
Robert Mitchell Trio recorded at the Pillar Room during the Cheltenham Jazz Festival on 3 May 2009
Line up:
Robert Mitchell (piano)
Tom Mason (bass)
Richard Spaven (drums)
Set list:
Cumulus (Robert Mitchell)
Third Stream (4Hero)
Ochre (Tom Mason)
Dance Cadaverous (Wayne Shorter)
Tear Drop (Massive Attack)
Greater Good (Richard Spaven and Vincent Helbers)
Everything In Its Right Place (Radiohead)
Forthcoming gigs in 2009:
Robert Mitchell
6 Nov @ Quay Arts Centre, Isle of Wight
12 Nov @ Brighton Dome Pavilion
16 Nov @ London Jazz Festival, QEH (support for Branford Marsalis)
28 Nov @ Liverpool Philharmonic
4 Dec @ DEDA, Derby
The Profound Sound Trio
20 Nov @ Belfast Sonic Arts Research Centre, Queens University
22 Nov @ Leeds Seven Arts Centre
23 Nov @ Vortex Jazz Club, London
24 Nov @ Manchester Band on the Wall
26 Nov @ Gateshead Old Town Hall
27 Nov @ Derby, Theatre Studio Derby
28 Nov @ Birmingham Jazz CBSO Centre
Excerpt from an interview with Keith Jarrett and Ethan Iverson about his London Concert recorded in May 2009
Artist: Keith Jarrett
Track title: CD3 Part VI
Composer: Keith Jarrett
Album title: Testament
Label: ECM
Released: 5 October 2009.
Last on