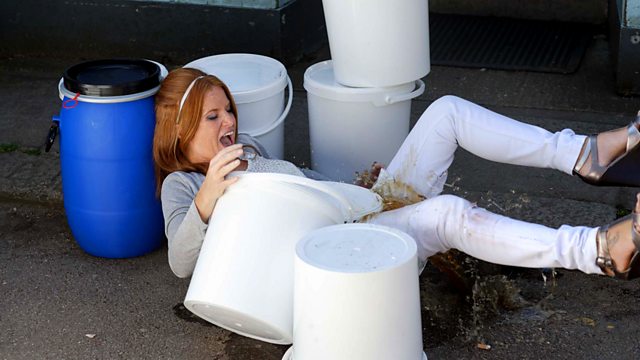 24/09/2009
Roxy asks for Sam's help with Amy but Sam's not keen. She is more interested in the photographer covering the Miss Queen Vic story. Peggy asks Roxy to be Sam's friend but instead she tells her some home truths; Sam needs to be a bit more considerate, not everyone loves her as much as she thinks.
Sam finds the original scores and realises she wasn't the winner, confronting Peggy with the truth. Sam and Ricky are having a heart to heart in the square. She wishes she had held onto the people that mattered when she had the chance. They make up and kiss just as Bianca turns the corner ready to tell Ricky how she feels. Bianca is left gutted.
Tanya is shocked at just how much work Jane does, throwing the chore list back at Ian. Jane meanwhile enjoys a life of luxury with Max. She overhears Lauren on the phone and gives some friendly advice about taking the relationship further with Peter.
Later, Jane struggles to keep this information from Tanya who rushes home to stop 'the deed'. The Brannings and the Beale end up in a slanging match and end the wife-swap. But Jane discovers something about her own life; she doesn't want to go back to it.
At Ryan's Stacey makes a hasty exit while Janine delivers some cutting remarks to mask her jealousy. Later, Janine reveals her plans to Ryan to join Archie in the fight to get the Vic only to double cross him once they succeed and take it for her and Ryan.
Stacey appears to be showing some signs of another episode of bi-polar on the stall and continues to stash her medication.
Last on
Credits
| Role | Contributor |
| --- | --- |
| Bianca Jackson | Patsy Palmer |
| Ricky Butcher | Sid Owen |
| Sam Mitchell | Danniella Westbrook |
| Whitney Dean | Shona McGarty |
| Liam Butcher | James Forde |
| Tiffany Dean | Maisie Smith |
| Ian Beale | Adam Woodyatt |
| Jane Beale | Laurie Brett |
| Tanya Branning | Jo Joyner |
| Max Branning | Jake Wood |
| Peter Beale | Thomas Law |
| Lauren Branning | Madeline Duggan |
| Peggy Mitchell | Barbara Windsor |
| Janine Butcher | Charlie Brooks |
| Ryan Malloy | Neil McDermott |
| Stacey Branning | Lacey Turner |
| Bradley Branning | Charlie Clements |
| Roxy Slater | Rita Simons |
| Pat Evans | Pam St Clement |
| Abi Branning | Lorna Fitzgerald |
| Morgan Jackson-King | Devon Higgs |
| Mr Lister | Nick Wilton |
| Photographer | Ricky Champ |
| Director | Laurence Wilson |
| Executive Producer | Diederick Santer |