Main content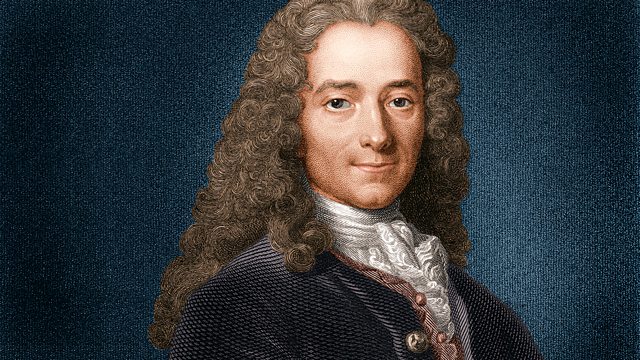 Voltaire, Sarkozy and the Burqa Debate
French journalist Agnes Poirier asks what Voltaire, the father of 'laicite' - France's version of secularism - would say about the debate going on in France about banning the burka.
In a series on the great thinkers of the European Enlightenment originally broadcast in 2009, the French journalist Agnes Poirier imagines a dialogue between Voltaire and President Sarkozy on the issue of legislating about the wearing of the burqa in public.
Nicolas Sarkozy is alone at night in the gilded rooms of the Elysee Palace. Carla Bruni is out at a gig with Mick Jagger but the President has something rather more serious on his mind......
In July 2009, the French President Nicolas Sarkozy set up a Parliamentary committee to consider a possible ban in France of the burqa, the full Islamic dress. Agnes Poirier imagines the ruminations of the tired President: what would Voltaire, the father of "laicite" - the uniquely French interpretation of secularism - say on the matter? Would he ban the burqa? Sarkozy drifts off to sleep and finds himself in the oak-panelled library at the Chateau de Ferney, home of Voltaire.
In a witty and thought-provoking tour de force of an Essay, French journalist Agnes Poirier brings Voltaire and his views firmly into the contemporary realm in an examination of one of the most vexed debates in France today.
French born Agnès Poirier moved to London in 1995 and started writing as an independent journalist for Le Monde (1996) and then for Le Figaro as UK arts correspondent (1997-2001). Between 2001 and 2006, she was a political correspondent and film critic for Libération.
Today, she is a UK editor for French and Italian weeklies Le Nouvel Obs, La Vie, L'Espresso and a regular contributor to the BBC, Channel 4, Channel 5 and Al Jazeera on French politics and films. She is also a regular commentator for The Guardian, The Independent On Sunday, The New Statesman and The Observer.
Reader Philip Fox
Producer Beaty Rubens
(repeat).