Main content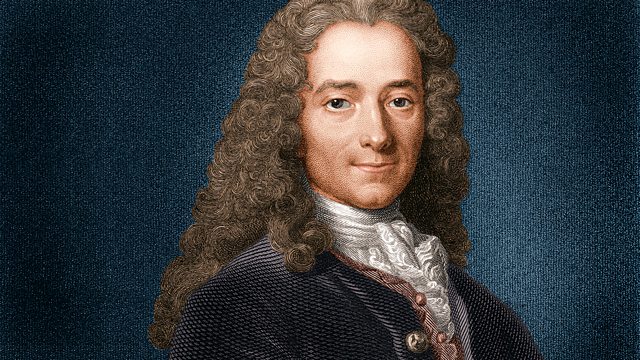 Voltaire and the Voices of the Enlightenment
Nicholas Cronk introduces Voltaire, places him within the context of other Enlightenment thinkers and celebrates his novel Candide, a timeless satire on the human condition.
You don't have to be a patriotic Frenchman to consider Voltaire the presiding genius of the European Enlightenment. A brilliant, caustic and prolific polemicist, he left behind some 15 million written words - twenty times the length of the Bible - in almost every literary form, from plays, poems and novels to pamphlets, letters and essays. His subjects included philosophy, science, travel, religion and civil liberties and, by the time he died, aged 84 in 1778, his breathtaking output and canny media manipulation had made him the most famous writer in the world. Even today, his thoughts on religion, tolerance and human rights can seem strikingly contemporary and provocative. And many people may be familiar with his words without realizing it: famous Voltaire sayings include "in the best of all possible worlds", "we must cultivate the garden" and "if God did not exist, it would be necessary to invent him", though his much quoted rallying cry for tolerant multiculturalism: "I disapprove of what you say, but I will defend to the death your right to say it" turns out, in fact, to have been invented on Voltaire's behalf by a female English biographer in 1906.
Professor Nicholas Cronk, director of the Voltaire Foundation in Oxford, introduces the great man, places him within the context of other Enlightenment thinkers, and celebrates his timeless satire on the human condition, the novel Candide, which was published 250 years ago.
Reader Simon Russell Beale
Producer Beaty Rubens
(Repeat).
More episodes
Previous
You are at the first episode