Main content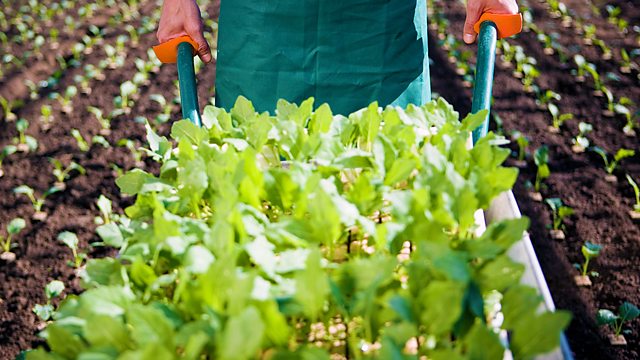 The Great Mineral Heist
Who stole the minerals from our food? Alice Roberts investigates the decline in crucial nutrients in fruit, veg, wheat and rice.
Over the past 70 years the levels of crucial minerals in our basic foods have declined significantly. This is bad news for consumers in the west, but potentially deadly news for those in the developing world who cannot afford a perfectly balanced diet.
Alice Roberts sets out to uncover the culprit and find a solution. Do we need to shorten our food chains, de-intensify our agriculture, or simply turn to the varieties of fruit and veg enjoyed by our grandparents?
In Perthshire, Moira and Cameron Thomson spread their own mixture of compost and rock dust onto their poor Highland soils. They are convinced that the rock dust is replacing the lost minerals from the soil, resulting in enormous and very tasty broccoli, parsnips and carrots.
Meanwhile at the University of Nottingham, Dr Martin Broadley uses a combination of mathematics and applied biology to find a way to breed crop roots that extract more of the minerals that are available in the soil.
From the Cotswold kitchen of food writer Diane Purkiss to the world's largest potting shed at the National Soil Archive in Aberdeen, Alice compares and contrasts the diet, soils and plants of the 1930s and the present day in her search for the world's lost minerals.
Last on
Broadcasts

What has happened to the world's coral?