Main content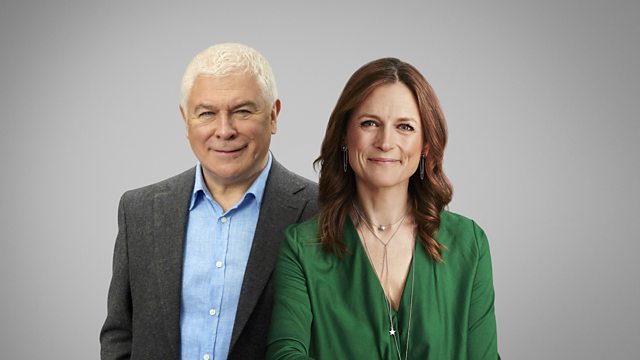 23/09/2009 James Lisney and Sonia Wieder-Atherton
Presented by Sean Rafferty. Pianist James Lisney and cellist Sonia Wieder-Atherton talk to Sean and perform in the studio.
Presented by Sean Rafferty.
With a selection of music and guests from the arts world, including pianist James Lisney, who joins Sean to talk about his forthcoming four concery series of all Schubert's solo piano music, written after he commended Winterreise (1827-1828).
Plus cellist Sonia Wieder-Atherton performing in the studio and talking about her forthcoming performance at Wigmore Hall as part of Imogen Cooper's birthday celebrations.
17:02
FASCH
Concerto for trumpet, 2 oboes, basson & strings
Zefiro
Alfredo Bernadini (director/oboe)
DHM 88697 367922
Tracks 1-3
6'31
17:10
PUCCINI
Suor Angelica (Senza mamma, o bimbo, tu sei morto!)
Renee Fleming (soprano)
Guiseppe Verdi Orchestra, Milan
Marco Armiliato (conductor)
DECCA 478 1533
Track 1
4'26
17:18
LIVE
SCHUBERT
Impromptu C minor, D. 899 no. 1
James Lisney (piano)
8'51
17:35
LIVE
SCHUBERT
Sonata in B flat, D.960 (Scherzo)
James Lisney (piano)
3'57
17:40
FUX
Orfeo ed Euridice (Rondinella)
Le Jardin Secret
CORO COR 16074
Track 16
4'02
17:45
MAHLER
Symphony no.3: 2nd mvt (Menuetto)
Chicago Symphony Orchestra
Bernard Haitink (conductor)
CSO CSOR 901701
CD 2, track 1
9'52
17:56
ANONYMOUS
Allmayne and Corant
Elizabeth Kenny
HYPERION CDA67776
Track 22
3'04
18:03
BACH arr. Wieder-Atherton/Cooper
Jesu, der du meine Seele, BWV.78
Sonia Wieder-Atherton (cello x2)
Imogen Cooper (piano)
RCA 8869 720187 2
CD 1, track 1
3'43
18:08
FALLA
Ritual fire dance (El amor brujo)
Hamburg State Philharmonic
Ingo Metzmacher (conductor)
EMI CDC 557129 2
Track 3
3'57
18:17
LIVE
JANACEK-KRAWCZYK
Chant on a morevian poem
Sonia Wieder-Atherton (cello)
Youen Cadiou (bass)
3'51
SEGUE
18:21
LIVE
BACH
Suite no.3 in C major, BWV. 1009 (Gigue) Sonia Wieder-Atherton (cello)
3'14
18:29
LIVE
TRADITIONAL
Jewish song (in remembrance of Schubert) Sonia Wieder-Atherton (cello)
Youen Cadiou (bass)
3'22
18:33
RACHMANINOV
Moment Musical Op. 16 No. 5
Barry Douglas (piano)
BBC RECORDING (recorded 19 August 2009 at the Clandeboye Festival)
3'19
18:39
VIVALDI
Concerto in F major, Op.8 no.3 (Autumn)
Lara St John (violin)
Simon Bolivar Youth Orchestra of Venezuela
Eduardo Marturet (conductor)
ANCALAGON ANC 134
Track 7-9
10'32
18:50
JUAN DE ARAUJO
En el muy gran Padre Ignacio
Ex Cathedra Consort & Baroque Ensemble
Jeffrey Skidmore (conductor)
HYPERION CDA67600
Track 9
3'14
18:54
BUTTERWORTH
The banks of green willow
Halle
Mark Elder (conductor)
HALLE CDHLL 7503
Track 4
5'50