Main content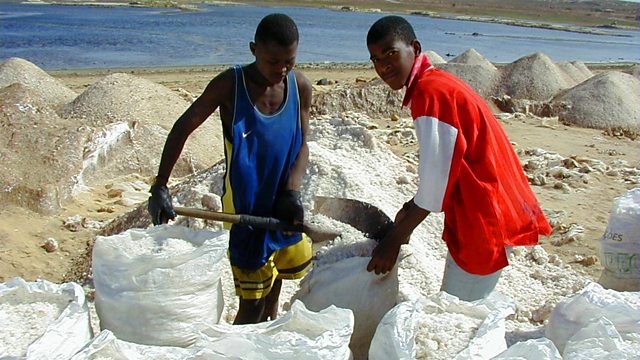 Cesaria Evora, Bau and Tito Paris
Lucy Duran visits the islands of Cape Verde and listens to songs for making grogue, the national drink. She also visits the musical centre of Mindelo on Sao Vicente.
Lucy Duran visits Cape Verde, the windswept and dramatic archipelago off the west coast of Africa, and travels to one of the most beautiful islands, San Antao. She hears songs for making grogue, Cape Verde's national drink, which is said to make bulls weep as they operate an ancient sugar press. The programme ends in the unofficial musical capital, Mindelo, on the island of Sao Vicente, where Cesaria Evora was born and where many other Cape Verdean greats began their careers. Including sessions by two such musicians - virtuosic guitarist Bau and singer-songwriter Tito Paris.
Presented by Lucy Duran
Produced by James Parkin
Tel. 020 7765 4661
Fax. 020 7765 5052
e-mail world.routes@bbc.co.uk
Last on

Music and featured items
The distillery on San Antao

Lucy visits a distillery on San Antao where they play music to the bulls that work there.

Duration: 08:44

Music Played

San Antao compared to Wales

Lucy meets Ron Hughes who compares San Antao with Wales.

Duration: 05:18

Music Played

Cesaria Evora

Lucy discusses the life and work of Cesaria Evora.

Duration: 07:15

Music Played

Bau

Guitar player Bau talks about his musuc and how he has been influenced by Brazil.

Duration: 06:46

Music Played

Gabriela Mendes and musical fusion

Singer Gabriela Mendes talks about the fusion with other musical cultures.

Duration: 06:16

Music Played

English influence on Cape Verde and Tito Paris

Edmund describes how England has influenced Cape Verde. We hear Tito Paris

Duration: 07:25

Music Played

Tito Paris

Singer Tito Paris discusses how it feels to return to Cape Verde to perform.

Duration: 05:50

Music and Cape Verde

Tito Paris talks about the role music plays in keeping the Cape Verdean identity.

Duration: 05:31

Music Played

Bius

Lucy goes into a bar in Mindelo to hear famous singer Bius.

Duration: 05:13

Music Played

Broadcasts

Featured in...

This collection features our choice of musical highlights from across the globe.