Main content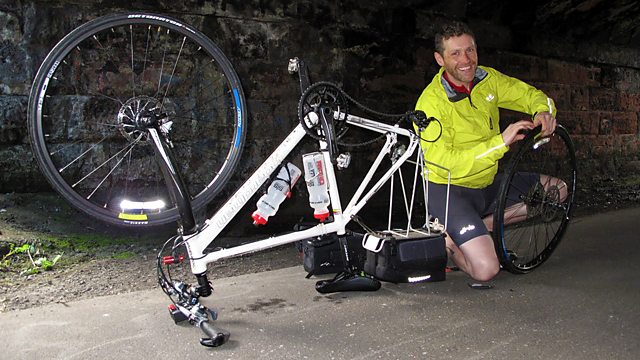 25/09/2009
Arts news and reviews with Kirsty Lang, including an interview with the virtuoso violinist Sarah Chang.
The Royal Shakespeare Company launches Revolutions, a season of dramas from former Soviet Union countries. In Drunks, Mikhail and Vyacheslav Durnenkov write about a shell shocked soldier returning from frontline Chechnya. In The Grain Store, Natal'ia Vorozbhit portrays a Ukrainian community devastated by Stalin's social policies. Tom Rob Smith, author of Booker longlisted Child 44, reviews this pair of RSC premieres in The Courtyard Theatre, Stratford-upon-Avon.
Comedian Dave Gorman is coming to the end of a month touring with his show Dave Gorman: Sit Down, Pedal, Pedal, Stop and Stand Up. As the title suggests, what is different is that he's doing it all by bike, cycling from the southernmost point of the UK to the northernmost point via the east and west coast. He performs a full stand-up evening comedy show at the end of each ride. As he gets off his bike in Ardnamurchan, Scotland, he describes his arduous month on the road on two wheels.
Meanwhile country singer Gretchen Peters tells the stories from her week-long gig, with travelling audience, on a narrow gauge train trip across Colorado and New Mexico.
A new film Morris: A Life with Bells On has been packing them in at village halls in the West Country. The film, a mockumentary about an avant-garde Morris dancer, gets a cinema release. The husband and wife partnership of Lucy Akhurst and Charles Thomas Oldham who made the film describe the background to their word-of-mouth hit.
Giles Waterfield talks about the changing nature of the artist's studio, from grand public space to chaotic squalor in his role as curator of the first UK exhibition on the subject, The Artist's Studio, at Compton Verney in Warwickshire.
Musical improvisation is usually associated with jazz, but a group of early music specialists will be improvising from music written as far back as the 10th century. Improvisation played a central role in medieval and baroque music, and now The Southbank Centre's Take the Risk weekend sees musicans attempting to re-learn these lost improvisatory skills.