Main content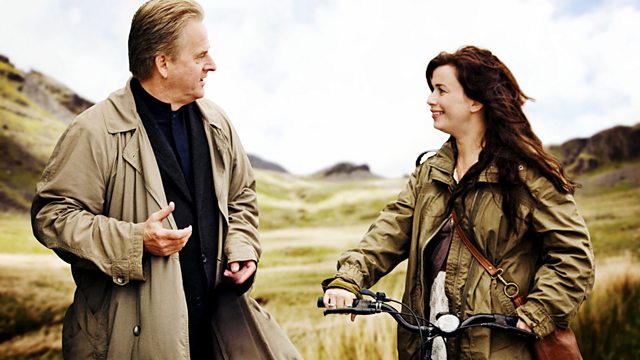 Framed
The story of 10-year-old Dylan and his family's struggle to keep their small petrol station in the small Welsh village of Manod afloat. Drama starring Trevor Eve and Eve Myles.
Set almost entirely in Wales, Framed tells the story of 10-year-old Dylan Hughes and his family's struggle to keep their small petrol station, which sits at the foot of a mountain in North Wales, afloat.
Manod village is a rain-soaked community where hope is thin on the ground, and money even thinner. When Dylan's dad suddenly leaves home, things get even tougher for him, his sisters Minnie and Marie, baby brother Max, and his mother.
Da's departure however, coincides with the secretive arrival of a convoy of men and trucks, who take residence on top of the mountain. The villagers discover that the National Gallery in London has been flooded, and the priceless paintings sent by the lorry load to Wales for safe storage in the bowels of the old slate mine inside Manod mountain (as they were back in the Second World War).
In charge of this is Lester, an intelligent but uptight art curator who prefers paintings to people. That is, until a funny and pivotal misunderstanding leads him to invite Dylan to view the paintings inside the mountain. What ensues is good news for both Lester and the rather depressed town of Manod.
Manod develops an interest in art and Lester develops an interest in Manod, in the form of the lovely Angharad, the local school teacher. Through the transformative power of art, Manod starts to transform itself, beginning with the service station, where Mam and the children revive the flagging fortunes of the petrol station by broadening the services they offer into catering and a coffee bar.
However, despite everybody's best efforts, the petrol station faces closure when the family fail to generate enough cash to keep it going. Could an audacious art theft solve their problems?
Credits
| Role | Contributor |
| --- | --- |
| Quentin Lester | Trevor Eve |
| Angharad Stannard | Eve Myles |
| Dylan Hughes | Samuel Davies |
| Minnie Hughes | Mari Ann Bull |
| Bethan Hughes | Nicola Reynolds |
| Daffyd Hughes | Mark Lewis Jones |
| Marie Hughes | Gwyneth Keyworth |
| Marnie Pope | Nina Sosanya |
| Tom Ellis | Matthew Aubrey |
| Mr Davis | Robert Pugh |
| Reynolds | Guy Henry |
| Gary Evans | Tim Treloar |
| Executive Producer | Jessica Pope |
| National Gallery Director | James Woolley |
| Edith Sellwood | Margaret John |
| Edna Sellwood | Gwenyth Petty |
| Petrol Rep | Aneirin Hughes |
| Dealer | Frank Cottrell Boyce |
| Producer | Richard Burrell |
| Director | Andy De Emmony |