Main content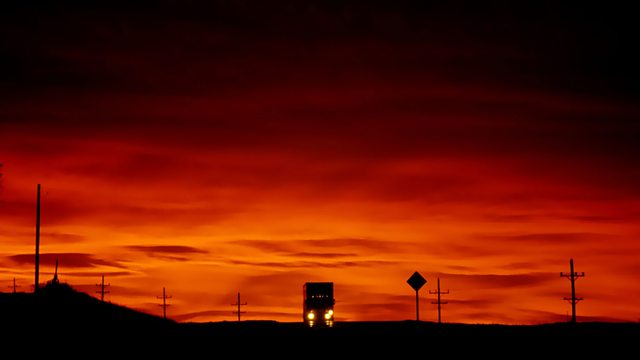 11/09/2009
Music including Schubert, Brahms, Bach, Mendelssohn, Spohr, Sibelius, Diamond, Debussy, Purcell, Milhaud, Shostakovich, Ravel, Mozart, Scarlatti, Dvorak and Karlowicz.
1.00am
Schubert, Franz (1797-1828): Symphony No 4 in C minor (Tragic), D417
Danish National Symphony Orchestra
Paul McCreesh (conductor)
1.32am
Brahms, Johannes (1833-1897): Ein Deutsches Requiem, Op 45
Inger Dam-Jensen (soprano)
Roman Trekel (baritone)
Danish National Vocal Ensemble
Danish National Choir
Danish National Symphony Orchestra
Paul McCreesh (conductor)
2.32am
Bach, Johann Sebastian (1685-1750): Sonata in E for flute and continuo, BWV 1035
Lean Weman Ericsson (flute)
Hans-Ola Ericsson (organ)
2.46am
Mendelssohn, Felix (1809-1847): Meeresstille und gluckliche Fahrt (Calm sea and a prosperous voyage) - Overture, Op 27
Bergen Philharmonic Orchestra
Simone Young (conductor)
3.01am
Spohr, Louis (1784-1859): Concerto in B minor for two violins and orchestra, Op 88
Igor Ozim and Primoz Novsak (violins)
Slovenian Radio and Television Symphony Orchestra
Samo Hubad (conductor)
3.27am
Sibelius, Jean (1865-1957): Symphony No 6 in D minor, Op 104
Netherlands Radio Philharmonic
Bernhard Klee (conductor)
3.58am
Diamond, David (1915-2005): Rounds for string orchestra
CBC Vancouver Orchestra
Mario Bernardi (conductor)
4.13am
Debussy, Claude (1862-1918): Sonata in D minor for cello and piano
Duo Krarup-Shirinyan: Johan Krarup (cello), Marianna Shirinyan (piano)
4.24am
Purcell, Henry (1659-1695): Ode for the birthday of Queen Mary (1694) Come, ye sons of Art, away, Z323
Anna Mikolajczyk (soprano)
Henning Voss (contralto)
Robert Lawaty (countertenor)
Miroslaw Borczynski (bass)
Sine Nomine Chamber Choir
Concerto Polacco Baroque Orchestra
Marek Toporowski (director)
4.48am
Easton, Michael J (b.1954): The Old Queen's Rag (1995 - for Donna Coleman)
Donna Coleman (piano)
4.52am
Milhaud, Darius (1892-1974): Three Rag-Caprices, Op 78
CBC Vancouver Orchestra
Daniel Swift (conductor)
5.01am
Satie, Erik (1866-1925), arr Jorgen Jersild: Three melodies
Hanne Hohwu, Merte Grosbol, Peter Lodahl (soloists)
Merete Hoffmann (oboe)
The Jutland Chamber Choir
Mogens Dahl (conductor)
5.09am
Shostakovich, Dmitri (1906-1975): Piano concerto No 2 in F, Op 102
Dmitri Shostakovich (piano)
Sofia Philharmonic Orchestra
Konstantin Iliev (conductor)
5.26am
Ravel, Maurice (1875-1937): Valses Nobles et Sentimentales
Maurice Ravel (piano)
5.38am
Mozart, Wolfgang Amadeus (1756-1791): Symphony No 33 in B flat, K319
Danish Radio Sinfonietta
Adam Fischer (conductor)
6.00am
Scarlatti, Domenico (1685-1757), arr. Kain Timothy: Sonata in F, K518
Guitar Trek
6.04am
Dvorak, Antonin (1841-1904): Serenade for wind instruments in D minor, Op 44
Canadian Chamber Ensemble
Raffi Armenian (conductor)
6.30am
Karlowicz, Mieczyslaw (1876-1909): Violin Concerto in A, Op 8
Kaja Danczowska (violin)
National Polish Radio Symphony Orchestra
Antoni Wit (conductor).