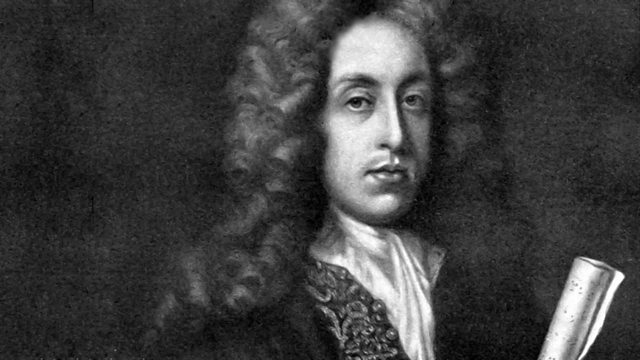 10/09/2009 Purcell 350th Anniversary
A celebration of the music of Henry Purcell from the Radio Theatre at Broadcasting House, marking the 350th anniversary of the composer's birth.
The Academy of Ancient Music play dance music from Purcell's opera The Fairy Queen and join forces with singers from Clare College, Cambridge for the Bell Anthem. Harpsichord player and Radio 3 New Generation Artist Mahan Esfahani plays some of Purcell's keyboard music and accompanies singer Thomas Hobbs in some Purcell songs.
The Rose Consort of Viols perform Fantazias and In Nomines, arguably containing some of Purcell's most beautiful music, while Sarah Connolly previews, in a chamber version, Dido's famous Lament, the work she sings with a full orchestra at 2009's Last Night of the Proms.
17:03
PURCELL
Dance of the Haymakers (Fairy Queen)
Academy of Ancient Music
Richard Egarr (director)
LIVE
0'53
17:04
PURCELL
O God Thou Art My God (Anthem)
David Bates (alto)
Simon Wall (tenor)
Christopher Webb (bass)
Richard Egarr (organ)
Clare College Choir
Tim Brown (director)
LIVE
3'20
17:12
PURCELL
Remember, Lord, our Offences (Anthem)
Clare College Choir
Richard Egarr (organ)
Tim Brown (director)
LIVE
2'24
17:29
PURCELL
Suite No 4 in A Minor: Z663 (Prelude – Almand – Courante – Sarabande)
Mahan Esfahani (harpsichord)
LIVE
5'58
17:39
PURCELL
Suite No 8 in F: Z669 (Prelude – Almand – Courante – Minuet)
Mahan Esfahani (harpsichord)
LIVE
5'40
17:45
PURCELL
Suite No 7 in D Minor: Z668 (Almand – Hornpipe)
Mahan Esfahani (harpsichord)
LIVE
3'26
17:51
PURCELL
Lament & Final Chorus (Dido & Aeneas)
Sarah Connolly (mezzo-soprano)
Clare College Choir
Academy of Ancient Music
Tim Brown (director)
LIVE
7'52
18:04
PURCELL
Chacony a 4 for Strings in G Minor: Z730
Academy of Ancient Music
Richard Egarr (director/harpsichord)
LIVE
4'21
18:10
PURCELL
Pavan in G Minor: Z751
Academy of Ancient Music
LIVE
4'39
18:20
PURCELL
Suite: The Fairy Queen
Academy of Ancient Music
Richard Egarr (director/harpsichord)
LIVE
7'13
18:33
PURCELL
Fantazia No 1 a3
Rose Consort of Viols
LIVE
2'43
18:35
PURCELL
In Nomine in 7 parts
Rose Consort of Viols
LIVE
3'47
18:43
PURCELL
Fantazia No 8 a4
Rose Consort of Viols
LIVE
3'40
18:47
PURCELL
Fantazia No 11 a4
Rose Consort of Viols
LIVE
3'10
18:50
PURCELL
In Nomine in 6 parts
Rose Consort of Viols
LIVE
2'04
18:58
PURCELL
I'll sail upon a dog-star
Thomas Hobbs (tenor)
Mahan Esfahani (harpsichord)
LIVE
1'12
18:59
PURCELL
If music be the food of love
Thomas Hobbs (tenor)
Mahan Esfahani (harpsichord)
LIVE
2'45
19:05
PURCELL
Music for a while
Thomas Hobbs (tenor)
Chris Glynn (piano)
LIVE
3'17
19:09
PURCELL
Sweeter than Roses
Thomas Hobbs (tenor)
Chris Glynn (piano)
LIVE
3'39
19:18
PURCELL
Hear my prayer (anthem)
Richard Egarr (organ)
Clare College Choir
Tim Brown (director)
LIVE
1'53
19:22
PURCELL
Rejoice in the Lord alway
Richard Egarr (organ)
Clare College Choir
Academy of Ancient Music
Tim Brown (director)
LIVE
7'08
Last on