Main content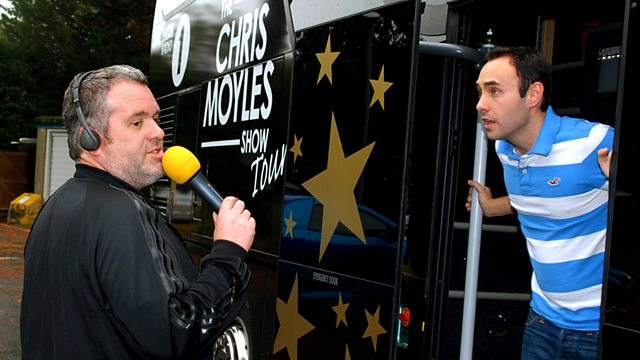 Monday - The record-breaking show live from Plymouth
The record-breaking Chris Moyles Show with the record-breaking Chris Moyles, live from Plymouth.
06:35 (00:05) – Hi we're in Plymouth and we're on a week long celebration of us. Yesterday we went out down at the Barbican with our new Plymouth friends. We've got a massive surprise for Chris later on which should be amazing.
07:05 (00:35) – More about yesterday and shortly we'll be talking to Tony Blackburn
07:20 (00:50) – More about our weekend with Muse and our new Plymouth friends
07:35 (01:05) – We play the Alesha Dixon song as a surprise for Chris. Dave has to pad a bit though cos Rachel can't find the track
07:50 (01:20) – Chris and Dave run down the chart from 10 to 1
08:10 (01:40) – We have some surprise video messages from Jamie Oliver, Lewis Hamilton, and amazingly U2!
08:45 (02:15) – We do the draw to see who's sleeping on the bus tonight. It's Dave and Rachel. Yay
09:00 (02:30) – Tedious Link – Take That – Greatest DJ
09:10 (02:40) – Chris goes out to see the tour bus. It sounds incredible
09:25 (02:55)– Dave has a look at the bus to see where he's sleeping tonight
09:35 (03:05)– Jaguar Skills remix of our last 5 years. It's brilliant