Main content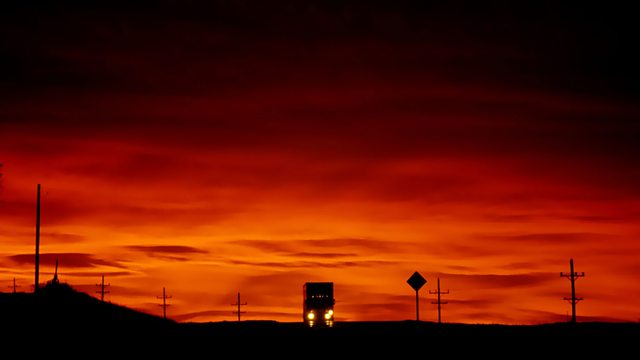 02/09/2009
Music including Martinu, Dvorak, Beethoven, Mozart, Verdi, Leclair, Chopin, Elsner, Liszt, Schreker, Rossini, Bach, Schubert, Weiner, Lipatti, Hummel, Visee and Browne.
1.00am
Martinu, Bohuslav (1890-1959): Symphony No 5, H310 (1946)
1.35am
Martinu: Symphony No 6, H343 (1953)
Prague Radio Symphony Orchestra
Vladimir Valek (conductor)
2.05am
Dvorak, Antonin (1841-1904): Trio No 3 in F minor for piano and strings, Op 65
Grieg Trio
2.45am
Szymanowski, Karol (1882-1937): 12 Etudes, Op 33
Jerzy Godziszewski (piano)
3.01am
Beethoven, Ludwig van (1770-1827): String Quartet in C sharp minor, Op 131
Paizo Quartet
3.42am
Brahms, Johannes (1833-1897): Abendstandchen, Op 42 No 1
The Hungarian Radio Chorus
Ferenc Sapszon (conductor)
3.44am
Mozart, Wolfgang Amadeus (1756-1791): Concerto in E flat for two pianos and orchestra, K365
Jon Parker and James Kimura Parker (pianos)
CBC Radio Orchestra
Mario Bernardi (conductor)
4.09am
Verdi, Giuseppe (1813-1901): Patria oppressa... (Macbeth, Act IV ) - sung in Hungarian
Hungarian Radio Chorus
Hungarian Radio Orchestra
Tamas Pal (conductor)
4.16am
Leclair, Jean-Marie (1697-1764): Violin Concerto in D, Op 10 No 3
Simon Standage (violin)
Il Tempo Ensemble
4.31am
Chopin, Fryderyk (1810-1849): Impromptu in F sharp, Op 36
Krzysztof Jablonski (piano)
4.37am
Elsner, Jozef Antoni Franciszek (1769-1854): Overture (Sultan Vampum, 1800)
Polish Radio Symphony Orchestra
Andrzej Straszynski (conductor)
4.42am
Liszt, Franz (1811-1886): Sonetto 123 di Petrarca, S158 No 3
Janina Fialkowska (piano)
4.49am
Schreker, Franz (1878-1934): Fantastic Overture, Op 15
BBC Philharmonic Orchestra
Vassily Sinaisky (conductor)
5.01am
Rossini, Gioachino (1792-1868): Overture (The Barber of Seville)
Polish Radio Orchestra
Wojciech Rajski (conductor)
5.08am
Bach, Johann Sebastian (1685-1750): Concerto No 1 in A minor for violin and string orchestra, BWV 1041
Musica Antiqua Koln
Reinhard Goebel (violin/conductor)
5.19am
Schubert, Franz (1797-1828) transcr. Liszt, Franz: Standchen arr. for piano (Schwanengesang), D957
Simon Trpceski (piano)
5.26am
Weiner, Leo (1885-1960): Serenade in F minor for small orchestra, Op 3 (1906)
Hungarian Radio Orchestra
Miklos Erdelyi (conductor)
5.48am
Mozart, Wolfgang Amadeus (1756-1791): Ave verum corpus - motet for chorus and strings, K618
BBC Singers
BBC Concert Orchestra
Stephen Cleobury (conductor)
5.52am
Bach, Johann Sebastian (1685-1750), orch. Webern, Anton (1883-1945): Fuga ricercata No 2 (Musikalischen Opfer), BWV 1079
Saarbrucken Radio Symphony Orchestra
Wolfgang Fortner (conductor)
6.03am
Lipatti, Dinu (1917-1950): Concertino for piano and chamber orchestra, Op 3 (en style ancien)
Horia Mihail (piano)
Romanian Radio Chamber Orchestra
Horia Andreescu (conductor)
6.19am
Hummel, Johann Nepomuk (1778-1837): Piano Quintet in E flat major/minor, Op 87 (1825)
Tobias Ringborg (violin)
Ingegard Kierkegaard (viola)
John Ehde (cello)
Hakan Ehren (double bass)
Stefan Lindgren (piano)
6.39am
Visee, Robert de (c.1655-c.1723/3): Logistille de Roland de Mr JB Lully (1685)
Yasunori Imamura (theorbe)
6.45am
Browne, John (fl.1490): O Maria salvatoris mater, a 8
BBC Singers
Stephen Cleobury (conductor).