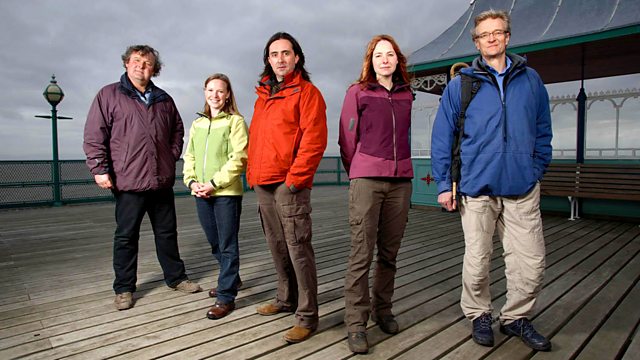 For the first time, Coast explores the spectacular shoreline of Norway to discover Britain's age-old link to the land of the fjords.
Neil Oliver journeys deep into the Arctic Circle to reveal the little-known role that a British raid on Norway's Nazi-occupied Lofoten Islands played in helping to win the Second World War. In 1941, a code book recovered from a German trawler was a vital clue in cracking the top secret Enigma code.
On the Lofoten Islands, Neil also explores the traditional red huts which once housed lonely cod fishermen, squeezed in three to a bunk; today the huts are popular as holiday homes. Neil is challenged to taste the 'local delicacy' of air-dried cod - medieval fast food which sustained the Vikings on their epic voyages.
Meanwhile, Alice Roberts visits a processing plant that supplies one-fifth of Britain's gas requirements via the world's longest sub-sea pipeline. In 40 years, the gas will all be gone, but Alice discovers a potential new form of renewable energy - osmotic power.
Mark Horton searches for the design secrets of the Norsemen's fearsome longships, which propelled the Vikings to our shores. Mark meets boat builders who still use the centuries-old methods inherited from their ancestors.
Nick Crane takes a trip over one of Norway's most beautiful fjords to witness the great ice sheets. Theirs was the force which once sculpted Britain's own landscape; in Norway they are still at work gouging out the mighty glacial valleys. At Geirangerfjord, Nick discovers that this inexorable movement of the ice will eventually create a devastating tsunami.
And in the frozen landscape of Svalbard, wildlife photographer Jason Roberts is hunting for the perfect shot of a polar bear.
Last on
Credits
| Role | Contributor |
| --- | --- |
| Presenter | Neil Oliver |
| Presenter | Alice Roberts |
| Presenter | Mark Horton |
| Presenter | Nicholas Crane |
| Presenter | Jason Roberts |
| Executive Producer | William Lyons |
| Series Producer | Steve Evanson |