Main content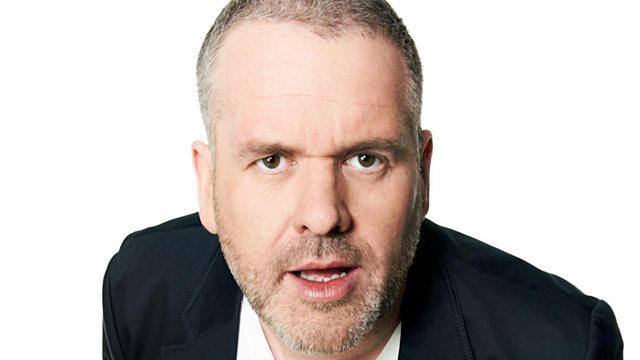 Thursday
Enjoy the perfect blend of talking with music in between.
06:35 (00:35) – Chris has been tweeting as Fake Christine Bleakly, and then tells us that she might be a bit narked with him over the Davina McCall comments yesterday. It's cos she mentioned it in a text and didn't put a kiss at the end like she normally does. Chris then breaks the microphone by blowing into it, and we have technical issues. Robbie Williams is in tomorrow which is going to cause health and safety issues as there's a massive hole in the road outside the studios. Also Chris and Dave are wearing the same t-shirt today which is slightly embarrassing
06:55 (00:25) – We talk Dragons' Den and the fact that Duncan Bannatyne doesn't invest in anything and says 'customer' in a strange way.
07:05 (00:35) – We talk more about Dragons' Den and Chris does his impression of James Caan which is a bit creepy. We also talk Shooting Stars and which is the funniest bit, and tonight Chris is cooking dinner for a mystery guest...which is Scott Mills. He's not cancelled yet.
07:40 (01:10) – Angelo on the phone telling us that he's put on more weight this week. He's back up to 19 stone
07:50 (01:20) – We talk about Shooting Stars last night, and the fact that Dave and Chris differ on their favourite part of last night's show. It's either 'Geordie Sofas' or Matt's Mayonnaise song. We play the audio of both and then get people to vote Sofa or Mayo
07:55 (01:25) – We have the results of the sofa or mayo vote, and it turns out it's pretty much 50/50
08:05 (01:35) – Tony Blackburn has recorded a message asking Chris to resign this Friday, so that he doesn't beat his record as the longest serving Radio 1 Breakfast Show. We then plug the Tour which takes place next week
08:15 (01:45) – We demonstrate the cue to call for the Muse competition
08:38 (02:08) – We play the cue to call for the Muse competition. You've got 20 minutes to register for the competition
08:50 (02:20) – Aled talks about his 'coming out' Surgery special this Sunday.
09:00 (02:30) – Tedious Link: Naughty By Nature – 'OPP'
09:05 (02:35) – Matt Fincham is here with a new haircut. He looks nice, and we compliment him on his new look. In fact Chris likes it so much he tries to pictures of Matt's hair on Twitter
09:20 (02:50) – We do the Muse competition and all 3 callers get the questions wrong, so the tickets roll over to Jo's show from 10am
09:45 (03:15) – Carpark Catchphrase with Stephen and Felicity De La Torre. Steve wins and is back with us on Monday 14th September
10:00 (03:30) – We chat to Jo about her Live Lounge Tour