Main content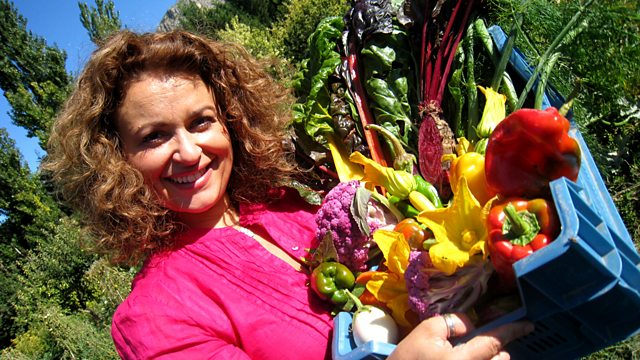 Nadia Sawalha arrives in the stunning Provencal countryside near Moustiers to cook in one of Alain Ducasse's Michelin-starred restaurants.
Celebrity MasterChef winner Nadia Sawalha is sent on a dramatic, colourful and tasty culinary journey through some of the best restaurants in Europe and beyond, by some of the best chefs in the UK.
Each week, Nadia is challenged to recreate a famous chef's most memorable holiday meal in the same restaurant in which they originally ate it. She has just two days to slot into a working kitchen, learn the recipes and source the ingredients before having to serve the meal to her mystery challenger. The twist? She doesn't know who she is cooking for until they walk through the restaurant door.
Nadia arrives in the French countryside near Moustiers, just north of Nice, to cook in one of Alain Ducasse's Michelin-starred restaurants. On the menu is a succulent pumpkin and squash risotto starter, a tasty saddle of lamb with late summer fruits and vegetables main, and a stunning apple and honey tarte tatin for dessert.
With just two days to master these deceptively simple dishes, Nadia heads into the mountains. She meets the local milk-fed lambs and plunges her hands into a bees' nest as she farms her own lavender honey for dessert. Most importantly, for this challenge, she has acces to one of the best garden kitchens in the world: a joy to have such fresh ingredients; an absolute nightmare making sure she doesn't ruin them.
How will she react when she comes face-to-face with yet another Michelin-starred challenger in the stunning landscape of Provence? As she's taught by a restaurant chef who is renowned for being a taskmaster, could the celebrity masterchef bite back as a reaction to the exacting standards of working in a French kitchen?
Credits
| Role | Contributor |
| --- | --- |
| Presenter | Nadia Sawalha |
| Director | Mark Adderley |