Main content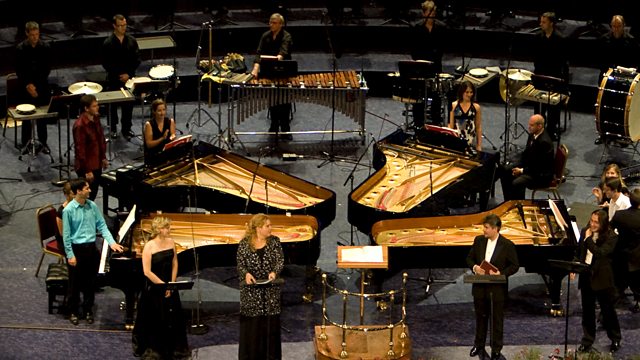 From the Royal Albert Hall. Piano Day continues with George Antheil's Ballet mecanique, plus music by John Adams inspired by a vision of grand pianos chasing him on the highway.
From the Royal Albert Hall, London. Presented by Sarah Walker.
Piano Day at the Proms concludes, in extrovert style, with a plethora of pianists joining forces (and hands!) for some of the most striking multiple-keyboard music in the repertoire.
The notorious Ballet mecanique by George Antheil, 20th-century bad boy of American music, is performed by an ensemble which includes four pianos, a large array of percussion and two propellers. In John Adams' Grand Pianola Music, two pianos are joined by other instruments for a piece which references everything from Beethoven sonatas to marching band music, and was inspired by a dream of limo-sized Steinways chasing Adams down California's Interstate Highway 5.
Tatiana Monogarova (soprano)
Elena Manistina (mezzo-soprano)
Vsevolod Grivnov (tenor)
Kostas Smoriginas (bass)
John Constable, Alissa Firsova, Rolf Hind, Tom Poster, Ashley Wass, Llyr Williams (pianos)
Philip Moore, Simon Crawford-Phillips (pianos)
Colin Currie, Sam Walton (percussion)
BBC Singers
Synergy Vocals
London Sinfonietta
Edward Gardner (conductor)
Antheil: Ballet mecanique
John Adams: Grand Pianola Music.
More episodes
Previous
You are at the first episode