Main content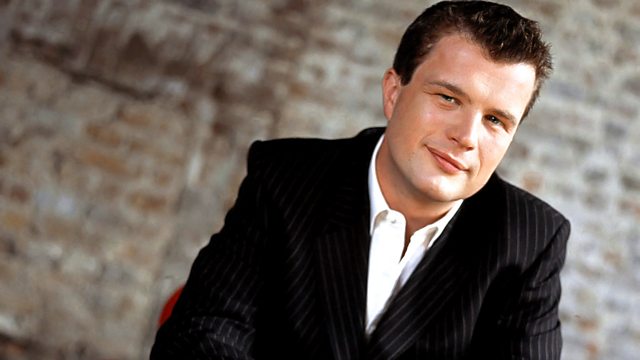 13/08/2009 Martyn Brabbins, Harrison Birtwistle and William Christie
Presented by Petroc Trelawny. With conductor Martyn Brabbins and composer Harrison Birtwistle, plus William Christie, director of Baroque ensemble Les Arts Florissants.
Petroc Trelawny presents a selection of music and guests from the arts world.
Including director of Les Arts Florissants William Christie, who speaks to Petroc about his forthcoming performance of Handel's Judas Maccabaeus, which opens the 2009 Edinburgh International Festival.
Plus composer Harrison Birtwistle and conductor Martyn Brabbins talking about their forthcoming Prom, which includes Birtwistle's The Mask of Orpheus.
17:02
HAYDN
Creation: The heavens are telling of God in glory
Genia Kühmeier, Toby Spence, Dietrich Henschel
Les Arts Florissants
William Christie
VIRGIN 3952352
Tr 14
3'44
17:07
Clara SCHUMANN
Soirées Musicales, Op. 6: Mazurka
Yoshiko Iwai (piano)
NAXOS 8553501
Tr 12
2'07
17:09
HANDEL
Judas Maccabeus: See, the conqu'ring hero comes & March
Lisa Saffer (soprano)
Patricia Spence (mezzo-soprano)
U.C. Berkeley Chamber Chorus
Philharmonia Baroque Orchestra
Nicholas McGegan (conductor)
HMU 907077.78
CD 2 Tr 14-15
2'53
17:17
HANDEL
Giulio Cesare in Egitto: Piangerò la sorte mia
Danielle De Niese
Les Arts Florissants
William Christie (conductor)
DECCA475 8746
Tr 11
6'12
17:30
HANDEL
Judas Maccabeus: Act II (end): Duet: Oh! Never, never we bow down & Chorus
Emma Kirkby (soprano)
Catherine Denley (mezzo-soprano)
Choir of New College, Oxford
The King;s Consort
Robert King (conductor)
HYPERION CDA66641/2
CD 2 Tr 14
5'49
17:37
PROKOFIEV
Russian Overture
Philharmonia Orchestra
Neeme Jarvi (conductor)
CHANDOS CHAN 10538 X
Tr 13
14'03
17:52
HAYDN
Lo Speziale
Patricia Petibon (soprano)
Concerto Koln
Daniel Harding (conductor)
477 7468
Tr 2
6'30
18:03
STRAVINSKY
Circus Polka
LSO
Michael Tilson Thomas (conductor)
RCA 09026 68865
Tr 2
3'31
18:07
BELLINI
Norma: Casta Diva
Renata Scotto (Norma)
Ambrosian Opera Chorus
National Philharmonic Orchestra
James Levine (conductor)
SONY 88697446182
Tr 9
6'54
18:14
LIVE
Congregation
John Law's Art of Sound trio, with Sam Burgess and Asaf Sirkis
5'52
18:25
LIVE
The Ghost in the Oak (short version)
John Law's Art of Sound trio, with Sam Burgess and Asaf Sirkis
4'38
18:34
LIVE
Trap Clap
John Law's Art of Sound trio, with Sam Burgess and Asaf Sirkis
5'55
18:41
VIVALDI
Concerto in G major, RV 516
Viktoria Mullova, Giuliano Carmignola (violins)
Venice Baroque Orchestra
Andrea Marcon (conductor)
ARCHIV 477 7466
Tr 1-2
8'33
18:50
BEETHOVEN
Rondo in B flat major
Ronald Brautigam (piano)
Norrköping Symphony Orchestra
Andrew Parrott (conductor)
BIS SACD 1792
Tr 4
8'40
19:00
BIRTWISTLE
Mask of Orpheus: Act 2 sc i: 1st Arch
Jon Garrison (Orpheus, The Man)
Omar Ebrahim (Charon)
BBC Symphony Orchestra
BBC Singers
Andrew Davis, Martyn Brabbins (conductors)
NMC D050
CD 2 Tr 3
2'57
19:11
STRAVINSKY
Apollo – 2nd Tableau: Variation d'Apollon
CBSO
Simon Rattle (conductor)
EMI CDC 749636 2
Tr 7
2'30
19:22
BIRTWISTLE
Mask of Orpheus: Act 2 sc i: 17th Arch
Jon Garrison (Orpheus, The Man)
Jean Rigby (Euridice, the Woman)
BBC Symphony Orchestra
BBC Singers
Andrew Davis, Martyn Brabbins (conductors)
NMC D050
CD 2 Tr 19
3'47
19:29
MORTELMANS
Homeric Symphony: IV: The Genius of Hellas
Royal Flemish Philharmonic
Martyn Brabbins (conductor)
HYPERION CDA67766
Tr 4
8'36
19:39
Lullaby of Birdland
The George Shearing Quintet
CAPITOL
Tr 17
2'22
19:42
CHOPIN
Prelude in C sharp minor. Op. 45
Alexandre Tharaud (piano)
HARM MUNDI HMC901982
Tr 30
5'15
19:48
SIBELIUS
Moderato - allegro appassionato for string quartet (JS.131)
Tempera Quartet
BIS CD 1476
Tr 1
10'33