Main content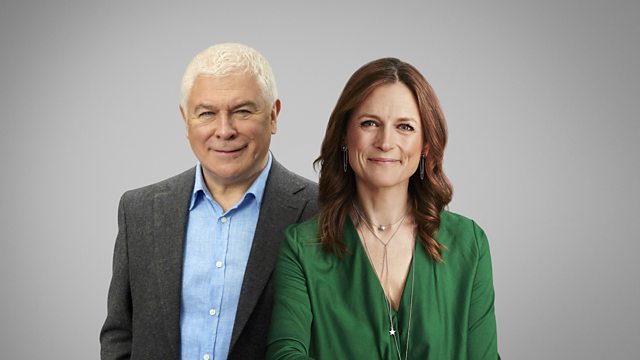 10/08/2009
Petroc Trelawny's guests include conductor Sir Charles Mackerras, director Martin Duncan, soprano Rebecca Bottone, tenor Simon Butteriss, cellist Alban Gerhardt and Arthur Jeffes.
Petroc Trelawny presents a selection of music and guests from the music world.
Renowned conductor Sir Charles Mackerras joins Petroc with director Martin Duncan to talk about their forthcoming Prom, a semi-staged performance of Patience by Gilbert and Sullivan. Soprano Rebecca Bottone and tenor Simon Butteriss perform excerpts.
And ahead of his Prom, cellist Alban Gerhardt plays in the studio and talks to Petroc about his new CD of works by Prokofiev. Plus music from the Penguin Cafe and Arthur Jeffes.
17:02
SULLIVAN
Overture (The Yeomen of the Guard)
Orchestra & Chorus of the Welsh National Orchestra
Charles Mackerras (conductor)
TELARC 2CD-80404
CD1, track 1
4:41
17:08
BEETHOVEN
Scherzo: Allegro – Trio (Violin Sonata No.7 in C minor, Op.30 No.2)
Julian Rachlin (violin)
Itamar Golan (piano)
WARNER 2564 61949-2
CD1, track 13
3:18
17:12
MOZART
Presto (Ein Musikalischer Spass, K.522)
Philharmonia Orchestra
Guido Cantelli (conductor)
EMI 695457-2
CD 2, track 17
4:06
17:17
LIVE
SULLIVAN
Patience (Act 2 No.5: Love is a Plaintive Song)
Rebecca Bottone (Patience)
Murray Hipkin (piano)
3:07
17:27
SULLIVAN
Patience (Act 2 no.16: So Go to him and Say to him)
Anne Collins & Derek Hammond-Stroud
London Symphony Orchestra
Alexander Faris (conductor)
WARWICKWW 22049
Track 2
3:22
17:36
LIVE
SULLIVAN
Patience (Act 1 Nos 7a & 7b Am I Alone and Unobserved?...If You're Anxious For To Shine
Simon Butteriss (Reginald Bunthorne)
Murray Hipkin (piano)
4:03
17:40
ALBINONI
Concerto in B-flat major, Op.7 No.3
Tine Thing Helseth (trumpet)
Norwegian Chamber Orchestra
SIMAX PSC 1292
Track 4-6
7:22
17:50
CHOPIN
Barcarolle in F-sharp major, Op.60
Marc-Andre Hamelin (piano)
HYPERION CDA 67706
Track 8
8:37
18:03
VIVALDI
Di due rai languir costante (Foa)
Cecilia Bartoli (mezzo-soprano)
Il Giardino Armonico
Giovanni Antonini (director)
DECCA 466 569-2
Track 3
5:17
18:09
STRAVINSKY
Da pacem
John Alldis Choir London
John Alldis (director)
KOCH CD 313 050 G1
Track 7
3:08
18:13
LIVE
STEVE NYE & SIMON JEFFES
Paul's Dance
Arthur Jeffes (cuatro)
Tom Chichester Clark (ukulele)
Neil Codling (ukulele)
2:21
18:20
LIVE
SIMON JEFFES
Horns of the Bull (for cuatro and classical guitar)
Arthur Jeffes (cuatro)
Neil Codling (classical guitar)
Andy Waterworth (bass)
4:02
18:30
LIVE
ARTHUR JEFFES
The Fox and the
Arthur Jeffes (cuatro)
Tom Chichester Clark (cuatro)
Neil Codling (ukulele)
Andy Waterworth (bass)
3:11
Segue
LIVE
ARTHUR JEFFES
Harry Piers
Arthur Jeffes (piano)
3:10
18:38
SVENDESEN
Karneval I Paris, Op.9
Trondheim Symphony Orchestra
Ole Kristian Ruud (conductor)
EMI 268161-2
CD2, track 1
12:30
18:53
LIVE
BACH
Prelude (Suite for cello solo No.6 in D major, BWV.1012)
Alban Gerhardt (cello)
6:08
19:08
LIVE
ROSTROPOVICH
Moderato
Alban Gerhardt (cello)
3'12
19:15
PROKOFIEV
Symphony-Concerto in E minor, Op.125 (3rd movement)
Alban Gerhardt (cello)
Bergen Philharmonic Orchestra
Andrew Litton (conductor)
HYPERION CDA67705
Track 6
9:53
19:22
BYRD
Miserere mei, Deus
The Cardinall's Musick
Andrew Carwood (director)
HYPERION CDA67653
Track 3
3:04