Main content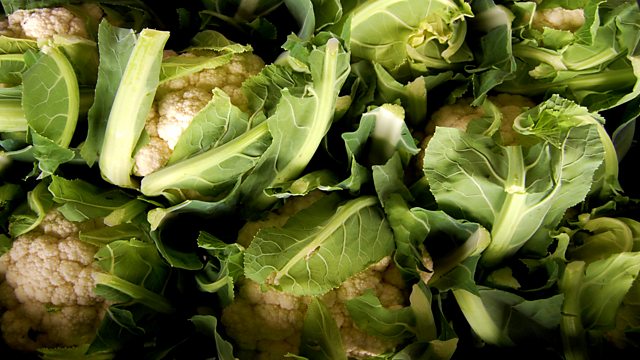 Chefs' Choices Number 2: Cauliflowers
The Cauliflower has fallen from culinary grace in recent years, eclipsed by its superfood cousin broccoli. Middle Eastern chef Yotam Ottolenghi brings it back in from the cold.
Yotam Ottolenghi, chef and founder of Ottolenghi's food shops and restaurant, brings some much-needed passion to the neglected cauliflower.
Cauliflower has fallen from culinary favour, eclipsed by its superfood cousin broccoli. Bland, white and often smoothered in cheese sauce, the cauliflower is no longer a fashionable ingredient, and sales are falling. But are we missing out?
Yotam grew up in Jewish west Jerusalem, while executive chef and partner in the business Sami Tamimi grew up in the Arab east Jerusalem. Both grew up eating cauliflowers, and in this programe are trying to afford the cauliflower its rightful place alongside the other members of the brassica family, cabbage and brocoli.
Phillip Effingham is chairman of the British Brassicas Association and Director of Farming and Agronomic Development at Marshall Bros, growers of cauliflowers in Boston, Lincolnshire. Cauliflowers are well suited to the rich soils of the Wash, the centre of cauliflower production today. The biggest problem for cauliflower growers is that its peak season, during the warm summer months, coincides with a general drop in sales as shoppers turn to salad. Low prices used to encourage sales often mean it is not worth growers spending the money to harvest them, and excellent quality cauliflowers are left to rot in the field.
But cauliflower is a perfect summer ingredient, and lends itself to many different styles of cooking, from traditional British to Middle Eastern and Indian. Yotam and Sami give the cauliflower the Ottolenghi treatment in two dishes: fritters, a dish from Sami's childhood, and chargrilled in a salad.
Last on
Broadcasts