Main content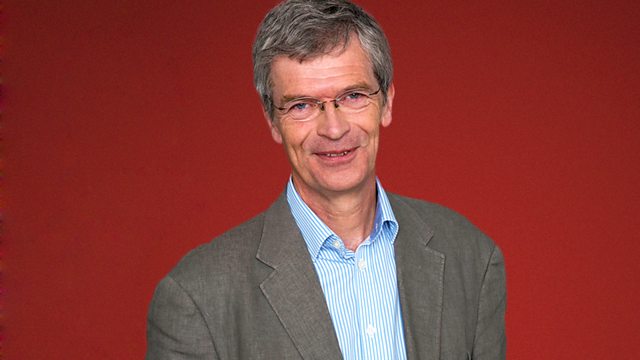 08/08/2009
Geoffrey Smith presents a selection of listeners' jazz requests. Email jazz.record.requests@bbc.co.uk.
Jazz Record Requests
Presented by Geoffrey Smith
Saturday 8 August 2009 1700 - 1800
JRR Signature Tune:
Oh, but on the Third Day (Happy Feet Blues) (Wynton Marsalis)
Performed by Wynton Marsalis (tp), Marcus Roberts (p), Todd Williams (ts), Dr Michael White (cl), Danny Barker (bj), Teddy Riley (tp), Freddie Lonzo (tb), Reginald Veal (b), Herlin Riley (d)
Recorded 28 October 1988
Taken from the album The Majesty of the Blues
1989 CD (CBS 465129 2)
The Jazz Scene (Steve Race) (2:47)
Performed by the Jazz Stars: Don Rendell (ss) Joe Harriott (as) Tubby Hayes, Ronnie Scott (ts) Ronnie Ross (bs) Terry Shannon (p) Lennie Bush (b) Allan Ganley (d)
Recorded 6 September 1962
Taken from the album The Jazz Stars
LP (Pye 7NJ 2059 S1/1)
Conception (George Shearing) (2:53)
Performed by George Shearing (p) Marjorie Hyams (vb) Chuck Wayne (g) John Levy (b) Denzil Best (d)
Recorded 27 July 1949
Taken from the album Jazz Masters 57
1996 CD (Verve 5299002 (1) Track 11)
Grandpa's Spells (Jelly Roll Morton) (3:25)
Performed by Jelly Roll Morton (p)
Recorded Mid 1920s
Taken from the album Blues and Rags from Piano Rolls 1924/1925
1989 CD (Jazz Anthology 550122(1) Track 5)
Fat and Greasy (Grainger, Johnson) (3:07)
Performed by Fats Waller and his Orchestra: Herman Autrey (tp) Emmett Matthews (ss) Rudy Powell (cl, as) Gene Sedric, Bob Carroll (ts) Fats Waller (p, vib, voc) Hank Duncan (p) James Smith (g) Charles Turner (b) Yank Porter (d)
Recorded 4 December 1935, New York
Taken from the album Handful of Keys
CD (Proper Properbox 71(4) Track 5)
Strange Things Happening Every Day (Trad. arr. Tharpe) (2:50)
Performed by Sister Rosetta Tharpe (v, g) Sam Price Trio: Sammy Price (p) Abe Bolar (b) Harold 'Doc' West (d)
Recorded 22 September 1944, New York
Taken from the album The Original Soul Sister
CD (Proper Properbox 51 Track 14)
Five Spot After Dark (Golson) (5:25)
Performed by Shirley Scott (organ) Stanley Turrentine (ts) Bob Cranshaw (b) Otis Finch (d)
Recorded 1964
Taken from the album Blue Flames
LP (Transatlantic PR 7338 S1/3)
STALF (Paul Rutherford) (3:26)
Performed by Paul Rutherford (tb)
Recorded 1986, London
Taken from the album Trombolenium
CD (Emanem 4072(1) Track 8)
Boff-Boff (Hawkins) (5:07)
Performed by Louis Armstrong and the All Stars: Louis Armstrong (tp) Jack Teagarden (tb) Barney Bigard (v) Dick Cary (p) Arvell Shaw (b) Sidney Catlett (d)
Recorded 30 November 1947
Taken from the album Louis Armstrong C'est Ci Bon: Satchmo in the Forties
2001 CD (Proper P1196 Track 9)
Poinciana (Ahmad Jamal) (8:07)
Performed by Ahmad Jamal (p) Israel Crosby (b) Vernell Fournier (d)
Recorded 16 January 1958, Live at the Pershing Club - Chicago, Illinois
Taken from the album Live at the Pershing & the Spotlight Club
CD (Jazz Hour with JHR73522 (1) Track 6)
Port of Baltimore Blues (Gerry Mulligan) (7:44)
Performed by Gerry Mulligan (bs) Scott Hamilton (ts) Mike Renzi (p) Jay Leonhart (b) Grady Tate (d)
Recorded 1986, New York
Taken from the album Soft Lights & Sweet Music
1986 CD (Concord Jazz CCD4300 (1) Track 7)
How High the Moon (Nancy Hamilton) (7:02)
Performed by Ella Fitzgerald (v) Paul Smith (p) Jim Hall (g) Wilfred Middlebrooks (b) Gus Johnson (d)
Recorded 13 February 1960
Taken from the album Ken Burns Jazz
2000 CD (Verve 5490872 Track 14)
Don't forget, you can have your say on today's programme, or any aspect of jazz, by visiting the Jazz Messageboard.
The BBC is not responsible for the content of external internet sites.