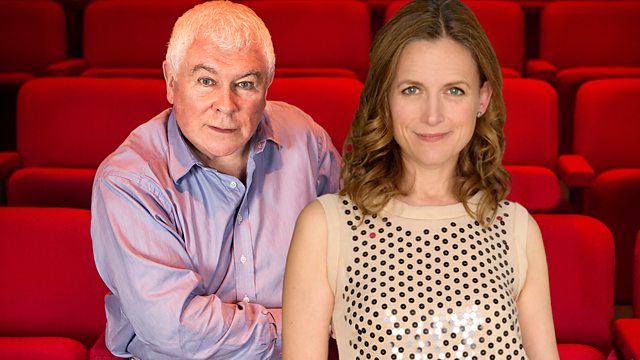 30/07/2009 Susanna Malkki, Yannick Nezet-Seguin, Ian Smith
Sean Rafferty presents a selection of music and guests from the arts world, including conductor Susanna Malkki, who joins Sean ahead of her Prom with the BBC Symphony Orchestra and organist Simon Preston.
With conductor Yannick Nezet-Seguin discussing his forthcoming Prom with the Scottish Chamber Orchestra and pianist Nicholas Angelich, and Nicholas Angelich performing the Allemande from Bach's Second Partita and Brahms's first Intermezzo, Op 117.
And Sean is joined by artistic director Ian Smith and performers from the 2009 International Gilbert and Sullivan Festival in Buxton.
17:02
BACH
Magnificat BWV 243 (Opening Chorus)
Gabrielli Consort and Players
Paul McCreesh (conductor)
ARCHIV 469 531-2
Track 12
2'31
17:05
MENDELSSOHN
The Hebrides (Overture: Fingal's Cave)
Scottish Chamber Orchestra
Joseph Swensen (conductor)
LINN CKD 216
Track 1
9'49
17:16
BACH
Allemande, Courante and Sarabande from 2nd Partita BWV 826
Nicholas Angelich (piano)
11'09
17:32
BRAHMS
Intermezzo No.1 in E flat major Op 117
Nicholas Angelich (piano)
5'25
17:43
RAVEL
La Valse
Rotterdam Philharmonic Orchestra
Yannick Nézet-Séguin (conductor)
EMI 5099996634226
Track 12
12'20
WHITE LABEL
17:56
PETER WARLOCK
The Cricketers of Hambledon
Norman Bailey (bass baritone)
Geoffrey Parsons (piano)
English Gardiners Orchestra
DECCA 470 199-2
Track 34
2'10
18:03
MOZART
Violin Concerto No 4 in D major K218 (1st movement: allegro)
Kremerata Baltica
Gidon Kremer (violin)
NONESUCH 7559 79886-2
CD 2, track 1
7'57
18:11
SULLIVAN
The Mikado (Behold! the Lord High Executioner)
From the original soundtrack from Topsy Turvy, orchestra not listed.
SONY SK 61834
Track 1
2'50
18:19
LIVE
SULLIVAN
Iolanthe (The Century's Song)
Bruce Graham
David Barnard (piano)
3'26
18:29
LIVE
SULLIVAN
Princess Ida (A Lady Fair of Lineage High)
Lisa Anne Robinson (soprano)
David Barnard (piano)
2'50
18:32
BOCCHERINI
Quintet No 4 in D major G448 (Grave assai: Fandango)
Pepe Romero (guitar)
Academy of St Martin in the Fields Chamber Ensemble
ELOQUENCE 468 153-2
Track 6
7'23
18:40
TRADITIONAL arr. EDWARD T CHAPMAN
The Three Ravens
Nicholas Sears (baritone)
The Cambridge Singers
John Rutter (director)
COLLEGIUM CSCD 505
Track 12
4'51
Segue
18:45
MARTIN SIMPSON
A love letter
Martin Simpson (guitar and vocals)
Alistair Anderson (concertina)
Barry Philips (cello)
TOPIC RECORDS TSCD567
Track 8
3'10
18:50
BERLIOZ
Symphonie Fantastique (5th movement: Songe d'une nuit du Sabbat)
Hallé Orchestra
Susanna Mälkki (conductor)
3'59
19:02
ULJAS PULKKIS
Concerto for Flute and Orchestra (2nd movement)
Sharon Bezaly (flute)
Stavanger Symphony Orchestra
Susanna Mälkki (conductor)
BIS SACD 1339
Track 3
3'58
19:08
WALTON
Orb and Sceptre
Bournemouth Symphony Orchestra
Andrew Litton (conductor)
DECCA 470 508-2
CD 4, Track 18
7'34
19:16
JOHN CAGE
In a Landscape
Michael McHale (piano)
LCMS901
Track 10
10'06
19:26
LULLY
Alceste (3rd suite: March des Combattans)
Le Concert Des Nations
Jordi Savall (direction)
ALIA VOX AV9807
Track 20
2'36
Last on