Main content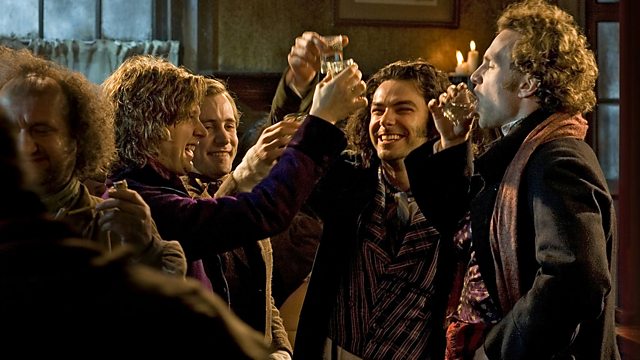 Drama series set in 19th-century industrial London, following vagabond English artists the Pre-Raphaelite Brotherhood. The boys set out to find a muse to inspire their best work.
Drama series set in and among the alleys, galleries and flesh-houses of 19th-century industrial London, following the Pre-Raphaelite Brotherhood, a vagabond group of English painters, poets and critics.
Some artists want lasting fame. Some want money. Others want sex. The Pre-Raphaelite Brotherhood want all of it. These ambitious young men - the darkly handsome Dante Gabriel Rossetti, the brilliant and conflicted William Holman Hunt, and the preternaturally talented John Millais - are out to rock the art world with a style of painting that is, according to them, more true, real and heartfelt than anything seen for 300 years.
Unfortunately, the art world isn't much interested in a bunch of young iconoclasts raging against the 'Establishment' of the Royal Academy - particularly when one of that set, the shamelessly arrogant Rossetti, has yet to learn to paint.
The boys need to step up a gear, and so they set out to find a muse to inspire their best work yet. Cue Fred Walters - an aspiring young journo and longtime fan of the boys. Fred spots the dazzling and radiant redhead, Lizzie Siddal, at the back of a hatshop, and introduces her to the boys. They are thoroughly bewitched by Lizzie and before long are squabbling over who'll get to paint her first (and fall in love with her too, of course).
Next, they must find an influential figure to champion their work. Again with the help of Fred, they set about wooing the leading art critic of the day, the great John Ruskin. But given their lack of kudos, can they persuade Ruskin to make an appearance at an exhibition of their work? And, if they can persuade him to come, will their work be good enough to convince him to lend them his weighty support?
Last on
More episodes
Previous
You are at the first episode
Credits
| Role | Contributor |
| --- | --- |
| William 'Maniac' Holman Hunt | Rafe Spall |
| Dante Gabriel Rossetti | Aidan Turner |
| John Ruskin | Tom Hollander |
| John Millais | Samuel Barnett |
| Fred Walters | Sam Crane |
| Effie Ruskin | Zoe Tapper |
| Lizzie Siddal | Amy Manson |
| Annie Miller | Jennie Jacques |
| Mr Stone | Phil Davis |
| Mr Stone | Phil Davis |
| Mr Siddal | Ian Puleston-Davies |
| Mrs Siddal | Polly Kemp |
| Charlotte Siddal | Josie Farmiloe |
| Mr Chadwick | Mark Benton |
| Charles Dickens | Mark Heap |
| Margaret | Maimie McCoy |
| Madame | Kath Burlinson |
| Executive Producer | Hilary Salmon |
| Executive Producer | Hilary Salmon |
| Executive Producer | Franny Moyle |
| Executive Producer | Franny Moyle |
| Producer | Ben Evans |
| Producer | Ben Evans |
| Director | Paul Gay |
| Director | Paul Gay |
| Writer | Peter Bowker |
| Writer | Peter Bowker |