Main content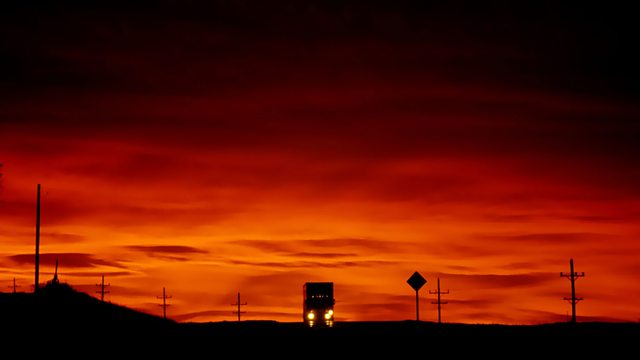 01/08/2009
Music including Schumann, Haydn, Ravel, Shostakovich, Dvorak, Chopin, Liszt, Madetoja, Rameau, Mozart, Martinu, Solnitz, Kocsar, Haydn, Weber, Salmenhaara, Bree, Bach and Schubert.
Including:
1.00am
Bartok, Bela (1881-1945): Four duos for two violins
Philippe Graffin (violin)
Per Enoksson (violin)
1.06am
Schumann, Robert (1810-1856): Adagio and Allegro in A flat, Op 70
Christer Johnsson (saxophone)
Peter Friis Johansson (piano)
1.16am
Haydn, Joseph (1732-1809): String Quartet No 59 in G minor, Op 74 No 3
Quiroga Quartet
1.36am
Ravel, Maurice (1875-1937): Sonata for violin and cello (1920-22)
Philippe Graffin (violin)
Jakob Koranyi (cello)
1.57am
Shostakovich, Dmitri (1906-1975): Seven Romances on poems of Alexandr Blok for soprano and piano trio, Op 127
Miomira Vitas (soprano)
Per Enoksson (violin)
Jakob Koranyi (cello)
Konstantin Bogino (piano)
2.24am
Muffat, Georg (1653-1704)/Lully, Jean-Baptiste (1632-1687): Suite for orchestra
Armonico Tributo Austria
Lorenz Duftschmid (director)
2.36am
Dvorak, Antonin (1841-1904): Serenade in D minor, Op 44
I Solisti del Vento
Etienne Siebens (conductor)
3.01am
Chopin, Fryderyk (1810-1849): Piano Concerto No 2 in F minor, Op 21
Artur Rubinstein (piano)
National Philharmonic Symphony Orchestra
Witold Rowicki (conductor)
3.31am
Liszt, Franz (1811-1886): Reminiscences de Don Juan for piano, S418
Shura Cherkassky (piano)
3.48am
Madetoja, Leevi (1887-1947): Okon Fuoco, Op 58
Finnish Radio Symphony Orchestra
Jorma Panula (conductor)
4.00am
Rameau, Jean-Philippe (1683-1764): Les Indes galantes (excerpts)
Norwegian Chamber Orchestra
Terje Tonnesen (conductor)
4.13am
Perlea, Ionel (1900-1970): Lullaby
Remus Manoleanu (piano)
4.18am
Mozart, Wolfgang Amadeus (1756-1791): 12 Variations in B flat for piano, K500
Simon Crawford-Phillips (piano)
4.28am
Martinu, Bohuslav (1890-1959): Sonatina for clarinet and piano (1956)
Timothy Lines (clarinet)
Philippe Cassard (piano)
4.39am
Rimsky-Korsakov, Nikolai (1844-1908): The Three Wonders (The Tale of Tsar Saltan)
BBC Philharmonic
Vassily Sinaisky (conductor)
4.47am
Solnitz, Anton Wilhelm (c.1708-c.1752-3): Sinfonia in A for strings and continuo, Op 3 No 4
Musica ad Rhenum
5.01am
Kocsar, Miklos (b.1933): Scale, tear!
Hungarian Radio Choir
Peter Erdei (conductor)
5.07am
Haydn, Joseph (1732-1809): Piano Sonata in D, H XVI 37
Paul Lewis (piano)
5.16am
Weber, Carl Maria von (1786-1826): Overture (Peter Schmoll und sein Nachbarn, J8)
Netherlands Radio Chamber Orchestra
Antoni Ros-Marba (conductor)
5.26am
Stenhammar, Wilhelm (1871-1927): Three choral songs
Swedish Radio Choir
Gustaf Sjokvist (conductor)
5.33am
Salmenhaara, Erkki (1941-2002): Concerto for two violins and orchestra (1980)
Paivyt Rajamaki, Maarit Rajamaki (violins)
Finnish Radio Symphony Orchestra
Juhani Lamminmaki (conductor)
5.51am
Bree, Johannes Bernardus van (1801-1857): Allegro in D minor for four string quartets (1845)
Viotta Ensemble
Viktor Liberman (conductor)
6.02am
Bach, Johann Sebastian (1685-1750): Cantata No 54 (Widerstehe doch der Sunde)
Jadwiga Rappe (contralto)
Concerto Avenna
Andrzej Mysinski (conductor)
6.14am
Schubert, Franz (1797-1828): Symphony No 2 in B flat, D125
Stavanger Symphony Orchestra
Staffan Larson (conductor)
6.46am
Soderman, Johann August (1832-1876): Domine - No 4
Vilnius Choir
Tamara Blaziene (conductor)
6.49am
Telemann, Georg Philipp (1681-1767): Trio No 4 for transverse flute, harpsichord obligato and continuo (Essercizii Musici)
Camerata Koln.