Main content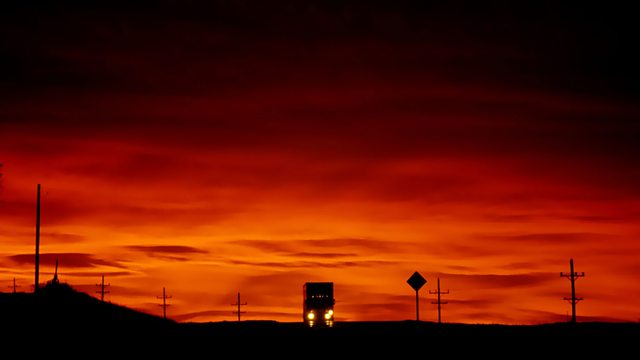 22/07/2009
Including music by Holst, Mozart, Knipper, Mendelssohn, Brahms, Zelenka, Parac, Bartok, Ravel, Stamitz, Sweelinck, Sibelius, Offenbach, CPE Bach, Rosenmuller, Rachmaninov, Dvorak.
Including:
1.00am
Holst, Gustav (1874-1934): The Planets
Izmir State Symphony Orchestra
Emil Tabakov (conductor)
1.51am
Mozart, Wolfgang Amadeus (1756-1791): Violin Concerto No 3 in G
Gilles Apap (violin)
Izmir State Symphony Orchestra
Emil Tabakov (conductor)
2.26am
Knipper, Lev Konstantinovich (1898-1974): Radif
Amadeus Polish Radio Chamber Orchestra
Agnieszka Duczmal (conductor)
2.39am
Mendelssohn, Felix (1809-1847): Fugue in F minor (1839)
Erwin Wiersinga (organ)
2.45am
Brahms, Johannes (1833-1897): Four Songs for women's voices, two horns and harp, Op 17
Sioned Williams (harp)
Nicholas Korth, Christopher Larkin (horns)
BBC Symphony Chorus
Stephen Jackson (conductor)
3.01am
Zelenka, Jan Dismas (1679-1745): Sinfonia a 8 Concertanti in A minor, ZWV189 (Allegro)
European Union Baroque Orchestra
Roy Goodman (director)
3.09am
Boismortier, Joseph Bodin de (1689-1755): Rondeau - La puce
Couperin, Francois (1668-1733): Rondeau
Colin Tilney (harpsichord)
3.14am
Dowland, John (1563-1626), arr. Timothy Kain: Fortune my foe
Guitar Trek
3.17am
Parac, Frano (b. 1948): Guitar Trio
Zagreb Guitar Trio
3.23am
Bartok, Bela (1881-1945): Violin Concerto No 1
Shlomo Mintz (violin)
Royal Concertgebouw Orchestra
Riccardo Chailly (conductor)
3.45am
Ravel, Maurice (1875-1937): Rapsodie espagnole
Aglika Genova, Liuben Dimitrov (piano duo)
3.58am
Sarasate, Pablo de (1844-1908): Romanza Andaluza, Op 22
Moshe Hammer (violin)
Valerie Tryon (piano)
4.03am
Stamitz, Johann (1717-1757): Clarinet Concerto in B flat
Jann Engel (clarinet)
Capella Coloniensis
Hans-Martin Linde (conductor)
4.21am
Sweelinck, Jan Pieterszoon (1562-1621): Psalm 90; Laudate Dominum; Cantate Domino Canticum Novum
Bernard Winsemius (organ)
Netherlands Chamber Choir
Paul van Nevel/Peter Phillips (conductor)
4.30am
Franck, Cesar (1822-1890): Offertoire in G
Joris Verdin (organ)
4.37am
Norman, Ludvig (1831-1885): Quartet in E, Op 20
Berwald Quartet
5.01am
Dvorak, Antonin (1841-1904): Silent Woods
Shauna Rolston (cello)
Edmonton Symphony Orchestra
Uri Mayer (conductor)
5.07am
Sibelius, Jean (1865-1957): Valsette in E minor, Op 40 No 1
Merikanto, Oscar (1868-1924): Improvisation, Op 76 No 3
Eero Heinonen (piano)
5.15am
Melartin, Erkki (1875-1937): Serenata, Op 121 No 5
Arto Noras (cello)
Tapani Valsta (piano)
5.17am
Melartin, Erkki (1875-1937): Lohdutus
Finnish Radio Symphony Orchestra
Osmo Vanska (conductor)
5.22am
Offenbach, Jaques (1819-1880): C'est une chanson d'amour (Les contes d'Hoffmann)
Lyne Fortin (soprano)
Richard Margison (tenor)
Orchestre Symphonique du Quebec
Simon Streatfield (conductor)
5.30am
Paganini, Nicolo (1782-1840): Cantabile
Peter Michalica (violin)
Elena Michalicova (piano)
5.35am
Bach, Carl Philipp Emanuel (1714-1788): Flute Concerto in G, Wq169
Tom Ottar Andreassen (flute)
Norwegian Radio Orchestra
Roy Goodman (conductor)
6.00am
Rosenmuller, Johann (c.1619-1684): Confitebor (Psalm 110)
Johanna Koslowsky (soprano)
David Cordier (countertenor)
Gerd Turk (tenor)
Stephan Schreckenberger (bass)
Carsten Lohff (organ)
Cantus Colln
Konrad Junghanel (director/lute)
6.15am
Rachmaninov, Sergei (1873-1943): Variations on a Theme of Corelli, Op 42
Natalya Pasichnyk (piano)
6.32am
Lebedjew, Alexej (1924-1993): Concerto No 1 in A minor
Csaba Wagner (trombone)
Katalin Sarkady (piano)
6.39am
Dvorak, Antonin (1841-1904): Slavonic Dances Nos 9 -12, Op 72
Bergen Philharmonic Orchestra
Juanjo Mena (conductor).