Main content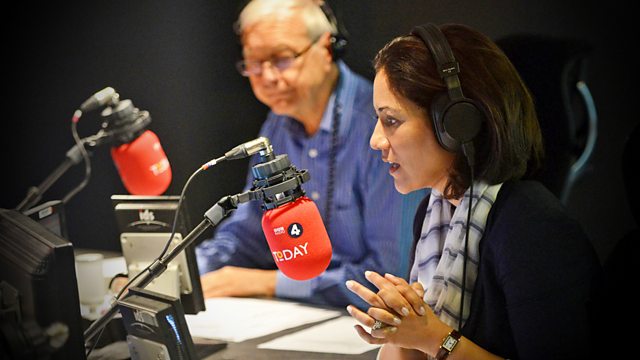 27/07/2009
With Sarah Montague and James Naughtie. Including Sports Desk; Weather; Thought for the Day.
Presented by James Naughtie and Sarah Montague.
Dr Wendy Piatt, of the Russell Group (which represents the 20 top universities), discusses whether the university system is doing enough to combat elitism.
Chairman of House of Commons' Justice Committee Sir Alan Beith discusses whether the CPS should change its policy.
John Black, president of the Royal College of Surgeons, discusses whether working time rules are realistic for doctors if the swine flu outbreak worsens.
Correspondent Katya Adler reports on President Obama's attempts to kick-start the Middle East peace process.
Security correspondent Gordon Corera reports on the importance of spy fiction for the real spies in MI6.
Angela Knight of the BBA and John McFall MP discuss whether the Chancellor was right to criticise bank lending.
Harry Patch, the last British survivor of the World War I trenches, has died at the age of 111. Correspondent Mike Thomson, who interviewed Mr Patch in 2005, reflects on the veteran's life.
Thought for the day with the Reverend Joel Edwards.
Chief executive of the Association of Train Operating Companies Michael Roberts responds to criticisms against rail franchises.
International Development Secretary Douglas Alexander and Lord Ashdown discuss if negotiations with the Taliban can be fruitful in Afghanistan.
Chairman of the Bar Council Desmond Browne and CPS head Keir Starmer discuss if in-house prosecutions are saving money.
Sports editor Mihir Bose considers how much the 2012 London Olympic Games are likely to cost.
Professor Tim Besley discusses the answers the Queen's question - why did no one see the credit crunch coming?
Managing editor of the Strand magazine Andrew Gulli and Professor Cedric Watts discuss the recently discovered novella by Graham Greene.
Gabriel Gatehouse reports from the Iraqi town of Mosul, where US forces have been quietly continuing their patrols.
Stryker McGuire, contributing editor to Newsweek, and writer Toby Young discuss whether parents should all be packing their children off for the summer vacation.