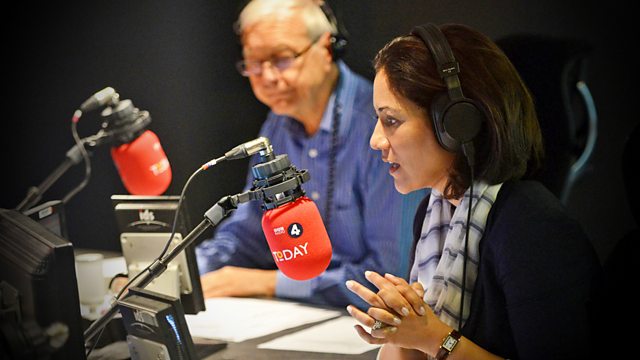 25/07/2009
Presented by Sarah Montague and Edward Stourton.
The Royal College of Nursing (RCN) has dropped its opposition to the concept of helping patients to commit suicide. Andy Moore reports.
Terry Stiasny reports on Labour MP Barry Sheerman's call on his fellow party members to think seriously about who leads Labour into the next election.
Jon Leyne reports on the decision by Iranian President Mahmoud Ahmadinejad to dismiss First Vice-President Esfandiar Rahim Mashaie, which came after a week-long stand-off with the Supreme Leader Ayatollah Ali Khamenei.
South West political editor Martyn Oates says he is very surprised that the Conservatives are holding an open primary in Totnes.
Reporter Andrew Hosken visits East London to learn about the history of social mobility.
Lance Corporal Joe Glenton is being charged with desertion. He went absent without leave in 2007 after a particularly unhappy period in the army and having been told he would have to go back to Afghanistan. He discusses whether he had questioned why he was out there at the time.
Mike Sergeant reports on the wildfires still burning in southern Europe.
Colin Blane reports on the Edinburgh Gathering event, which will form the centrepiece of the Homecoming celebrations, to mark the 250th anniversary of the birth of the national bard, Robert Burns.
Thought for the Day with Brian Draper, associate lecturer at the London Institute for Contemporary Christianity.
Bob Crow, of the union RMT, and Peter Kruse, of Vestas Wind Systems, discuss what could bring the sit-in protest to an end.
A senior Labour MP has hit out at Prime Minister Gordon Brown in the wake of the Norwich North by-election defeat by the Tories. Barry Sheerman MP discusses his criticisms with Tony Lloyd, chairman of the Parliamentary Labour Party.
Dr Peter Carter, chief executive of the RCN, discusses why, after consulting its members, it has decided to take a neutral stance on assisted suicide.
Tom Feilden reports on the celebrations to mark the event of what is widely regarded as the birth of astronomy as a modern science.
The father of Gary Reinbach, who was refused a liver transplant because he hadn't gone six months without a drink, discusses whether his son was given a chance to prove that he had stopped drinking.
Bob Walker reports on the work being done to ensure the tens of thousands of medals being issued every year for service in Iraq and Afghanistan are awarded correctly.
Author Fred Kaplan discusses the history of the ban on the publication of Lady Chatterley's Lover in the US.
Ben Summerskill says Trevor Phillips has not been a success as Equalities and Human Rights Commission head.
Two people who have had the swine flu virus, journalist Sarah Vine and IT worker Mark Feargreave, discuss what those symptoms feel like.
Last on
So you think you know the Today programme?