Main content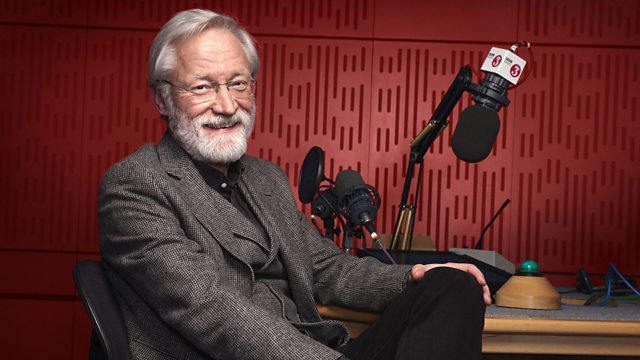 Donald Macleod concludes his exploration of Jonathan Harvey's music with the composer himself. Including Sufi Dance and Messages.
Donald Macleod is in the company of British composer Jonathan Harvey.
The final programme begins with a short piece for solo guitar, Sufi Dance - which the composer describes as 'a memory of a Sufi song heard some time ago and probably incorrectly retained or at least filtered through my own paths of thought' - and ends with a major work for chorus and orchestra, Messages, whose text consists entirely of the names of Judaic and Persian angels. The composer calls it his most intuitive work to date. The recording chosen is its world premiere in 2008 by the Berlin Philharmonic and Berlin Radio Choir under Reinbert de Leeuw.
Sufi Dance (1997) for solo guitar
Janne Malinen (guitar)
Pilfink JJVCD-31 Tr 15
Marahi (1999) for unaccompanied SATB chorus
BBC Singers
David Hill (conductor)
Specially recorded for Composer of the Week, 13 March 2009
Scena (1992) for violin and ensemble of nine players
1: Lament
2: Mystical Event
3: Romantic Event
4: Dream
5: Metamorphosis
Irvine Arditti (violin)
Nieuw Ensemble
Ed Spanjaard (conductor)
Montaigne MO 782034, Trs 5-9
Messages (2007) for double SATB chorus and orchestra
Berlin Radio Choir (chief conductor: Simon Halsey)
Berlin Philharmonic
Reinbert de Leeuw (conductor)
Live concert recording: Berlin Philharmonic Hall, 30 March 2008.
More episodes
Next
You are at the last episode