Main content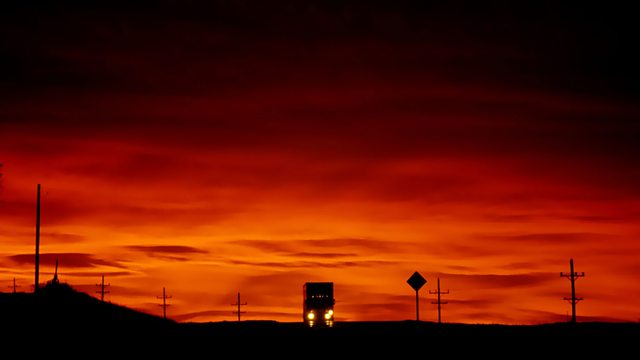 17/07/2009
Including Evanghelatos, Beethoven, Mantzaros, Rachmaninov, de Godzinsky, Prokofiev, Bach, Mendelssohn, Glick, Gorecki, Chopin, Lisinski, Vivaldi, Boccherini, Rossini, Tchaikovsky.
Including:
1.00am
Evanghelatos, Antiochos (1903-1981): Coasts and Mountains of Attica
National Symphony Orchestra of Greek Radio
Andreas Pylarinos (conductor)
1.14am
Beethoven, Ludwig van (1770-1827): Violin Concerto in D, Op 61
Simos Papanos (violin)
National Symphony Orchestra of Greek Radio
Vladimiros Symeonidis (conductor)
1.58am
Mantzaros, Nikolaos (1795-1872): Sinfonia di genere orientale in A minor
National Symphony Orchestra of Greek Radio
Andreas Pylarinos (conductor)
2.08am
Rachmaninov, Sergei (1873-1943): Two Pieces for cello and piano, Op 2
Monika Leskovar (cello)
Ivana Svarc-Grenda (piano)
2.17am
de Godzinsky, Franciszek (Francois) (1878-1954): Valse orientale
Arto Satukangas (piano)
2.22am
Prokofiev, Sergei (1891-1953): Symphony No 3 in C minor
Plovdiv Philharmonic Orchestra
Georgi Dimitrov (conductor)
3.01am
Bach, Johann Sebastian (1685-1750): Suite No 1 in C, BWV 1066
Musica Antiqua Koln
Reinhard Goebel (conductor)
3.27am
Mendelssohn, Felix (1809-1847): Sonata in D, Op 65, No 5
Erwin Wiersinga (organ)
3.36am
Glick, Srul Irving (1934-2002): Suite Hebraique No 5
Suzanne Shulman (flute)
James Campbell (clarinet)
Andrew Dawes (violin)
Daniel Domb (cello)
3.52am
Gorecki, Henryk Mikolaj (b. 1933): Three Dances for Orchestra
National Polish Radio Symphony Orchestra
Wojciech Michniewski (conductor)
4.07am
Chopin, Fryderyk (1810-1849): Mazurka No 25 in B minor, Op 33, No 4
Roland Pontinen (piano)
4.13am
Lisinski, Vatroslav (1819-1854): 3 Mazurkas: in F; in E flat; in B flat
Zagreb Woodwind Trio:
Branko Mihanovic (oboe)
Andelko Ramuscak (clarinet)
Zvonimir Stanislav (bassoon)
4.19am
Vivaldi, Antonio (1678-1741): Concerto da camera in C, RV 88 (Allegro; Largo cantabile; Allegro molto)
Camerata Koln
4.27am
Boccherini, Luigi (1743-1805): Cello Concerto in C, G481
Monika Leskovar (cello)
Varazdin Chamber Orchestra
David Geringas (conductor)
4.45am
Rossini, Gioachino (1792-1868): Sonata for strings No 5 in E flat
Camerata Bern
5.01am
Tchaikovsky, Pyotr Il'yich (1840-1893): Waltz of the Flowers (The Nutcracker)
Slovenian Radio and Television Symphony Orchestra
Marko Munih (conductor)
5.08am
Finzi, Gerald (1901-1956): White-flowering days for chorus, Op 37
BBC Singers
Bo Holten (conductor)
5.12am
Mertz, Johann Kaspar (1806-1856): Hungarian Fatherland Flowers
Laszlo Szendry-Karper (guitar)
5.21am
Alfven, Hugo (1872-1960): A boat with flowers, Op 44
Peter Mattei (baritone)
Swedish Radio Symphony Orchestra
Manfred Honeck (conductor)
5.32am
Peterson-Berger, Wilhelm (1867-1942): Flowers (Froson Island for Piano, Book 2)
Johan Ullen (piano)
5.56am
Strauss, Richard (1864-1949): Grand Suite (Der Rosenkavalier)
Orchestre du Conservatoire de Musique du Quebec
Franz-Paul Decker (conductor)
6.19am
Grainger, Percy (1882-1961): Ramble on the last Love Duet in Richard Strauss' opera Der Rosenkavalier
Dennis Hennig (piano)
6.27am
Sibelius, Jean (1865-1957): Black Rose, Op 36, No 1; Sigh sedges sigh, Op 36, No 4; The maiden's tryst, Op 37, No 5; Spring is flying, Op 13, No 4
Jard van Nes (mezzo-soprano)
Gerard van Blerk (piano)
6.37am
Langgaard, Rued (1883-1952): 3 Rose Gardens Songs (1919)
Danish National Radio Choir
Kaare Hansen (conductor)
6.48am
Schubert, Franz (1797-1828): Heidenroslein, D257
Christoph Pregardien (tenor)
Andreas Staier (fortepiano)
6.50am
Strauss, Johann Jr (1825-1899): Rosen aus dem Suden, Op 388
Danish Radio Concert Orchestra
Roman Zeilinger (conductor).