Main content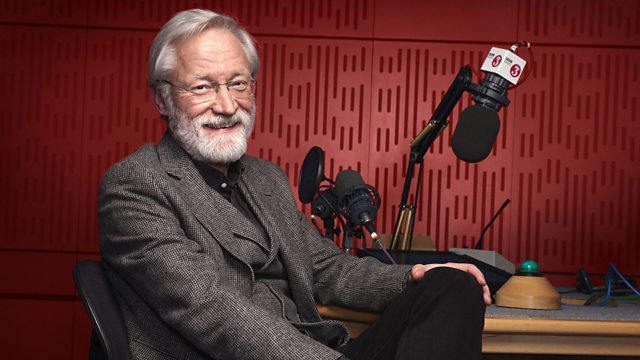 Donald Macleod explores the music of Jonathan Harvey in the company of the composer. They focus on the theme of nature.
Donald Macleod is in the company of British composer Jonathan Harvey.
The theme of nature runs through the programme - trees form the backdrop to Moving Trees, a ravishing short piece for chamber ensemble written in response to a commission from Belgian choreographer Anna Teresa de Keersmaeker.
Birds crop up - first, in Chu (Tibetan for 'bird'), then in Bird Concerto with Pianosong, which began life as Piano Concerto with Birdsong until Harvey realised that the birds were the main protagonists. The birds in this case are synthesized ones from California, and they transform, morph and interact with the orchestra in extraordinary ways.
Moving Trees (2002) for ensemble of 18 players
Remix Ensemble
Peter Rundel (conductor)
Live concert recording: Casa da Musica, Porto, 10 January 2009
Chu (2002) for soprano, clarinet/contrabass clarinet and cello
Ensemble Accroche Note:
Francoise Kubler (soprano)
Armand Angster (clarinet)
Christophe Beau (cello)
L'empreinte digitale ED13229, Tr 1
Bird Concerto with Pianosong (2001) for solo piano and sampler, and ensemble of 17 players and live electronics
Hideki Nagano (piano/keyboard)
Ensemble Intercontemporain
Susanna Malkki
Live concert recording: Cité de la Musique, Paris, 3 October 2006.