Main content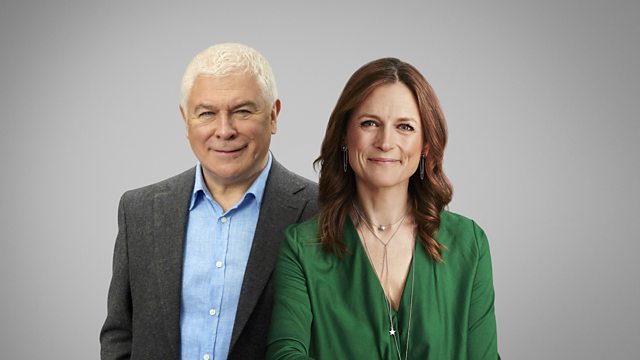 15/07/2009 Nicholas Kynaston and Tom Kerstens
Presented by Sean Rafferty. Organist Nicholas Kynaston talks about his Cheltenham Festival recital, and guitarist Tom Kerstens performs with his ensemble and the Tippett Quartet.
Sean Rafferty presents a selection of music and guests from the arts world.
International concert organist Nicholas Kynaston talks to Sean about his 2009 Cheltenham Festival recital at Gloucester Cathedral, and celebrated classical guitarist Tom Kerstens performs in the studio with his G+ ensemble and the Tippett String Quartet ahead of their Wigmore Hall concert.
5.03
VIVALDI
Sinfonia (Olimpiade)
Concerto Italiano
Rinaldo Alessandrini (director)
Naïve Op 30451
Tracks 1-2
3'43
5.07
JOBY TALBOT
The Croydon Grand Prix
Tom Kerstens (guitar)
G Plus Ensemble
Real World 15584
Track 2
5'00
5.13
MENDELSSOHN
Scherzo in E minor, Op 16 No 2
Nicolas Kynaston (organ)
IFO 000 59
Track 5
3'10
5.22
BOSSI
Scherzo, Op. 4
Nicolas Kynston (organ)
IFO ORG7226.2
Track 9
6'16
5.33
MENDELSSOHN
Prelude & Fugue in F minor, Op 35 No 5
Nicolas Kynaston (organ)
IFO
Tracks 7-8
9'11
5.43
DVORAK
Scherzo Capriccioso, Op 66
Czech Philharmonic Orchestra
Conductor Charles Mackerras
SU 3533-2 031
Track 2
13'58
6.00 NEWS
6.03
BACH
Prelude & Fugue in D, BWV850 (The
Well-Tempered Clavier, Book I)
Till Fellner (piano)
ECM 1853
CD 1 Tracks 9-10
2'52
6.06
ROSSINI
Variations for clarinet and orchestra in C
Wolfgang Meyer (clarinet)
Wurttemburg Chamber Orchestra
Jorg Faerber (conductor)
EMI CDC 7 493972
Track 7'41
6.18
LIVE MUSIC
JOBY TALBOT
Utopia
Tom Kerstens & Amanda Cook (guitars)
Tippett Quartet
Dan Ellis (percussion)
4'39
6.30
LIVE MUSIC
JOBY TALBOT
Iliac Crest
Tom Kerstens & Amanda Cook (guitars)
Tippett Quartet
Dan Ellis (percussion)
6'20
6.37
HANDEL
Deeds of kindness to display (Theodora)
Daniel Taylor (Dydimus)
Les Arts Florissants
Conductor William Christie
Erato 0927 42181-2
CD 2 Track 15
6'30
6.44
Mendelssohn
Lieder ohne Worte (Songs without Words) Op. 30 No. 5
Daniel Barenboim (piano)
DG 453061-2
CD 1 Track 11
2'33
6.48
R. STRAUSS
Der Rosenkavalier: Waltzes
Bamberg Symphony Orchestra
Conductor Eugen Jochum
Eurodisc 610505
Track 2
10'58