Main content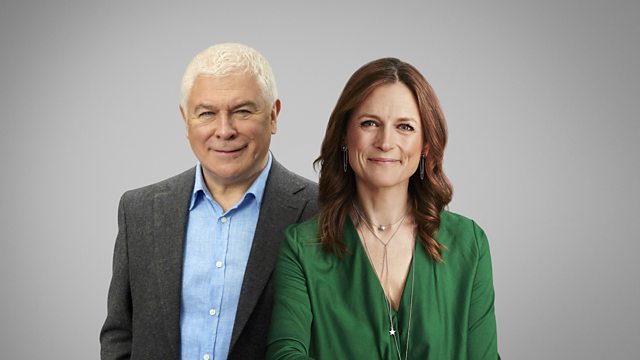 14/07/09 Elin Manahan Thomas, Ashley Wass and Alexander Zemtsov
Presented by Sean Rafferty. With soprano Elin Manahan Thomas, plus Ashley Wass, Alexander Zemtsov, Alexander Chaushian and Denitsa Laffchieva previewing their Wigmore Hall recital.
Sean Rafferty presents a selection of music and guests from the arts world, including Welsh soprano Elin Manahan Thomas singing in the studio ahead of her performance at the Cheltenham Festival 2009.
Plus a preview of a Wigmore Hall recital from chamber musicians Ashley Wass (piano), Alexander Zemtsov (viola), Alexander Chaushian (cello) and Denitsa Laffchieva (clarinet).
17:03
HANDEL
Samson (Let the bright seraphim)
Elin Manahan Thomas [soprano]
The Orchestra of the Age of Enlightenment
Harry Christophers [conductor]
HELIODOR 4765970
Track 12
5'09
17:08
VERDI
La Traviata (Prelude to Act I)
BBC Philharmonic
Sir Edward Downes
CHAN 9696
Track 1
3'30
17:13
DVORAK
Bagatelle Op 47 No 5 (for 2 violins, cello and harmonium)
Josef SUK [violin]
Miroslav AMBROS [violin]
Jiri BARTA [cello]
Jan SIMON [harmonium]
SUPRAPHON SU 3976-2
Track 9
4'30
17:18
LIVE
HAYDN
Hunting the hare
Elin Manahan Thomas [soprano]
Chris Glyn [piano]
2'21
SEGUE
17:21
LIVE
HAYDN
The rising of the lark
Elin Manahan Thomas [soprano]
Chris Glyn [piano]
2'01
SEGUE
17:23
LIVE
HAYDN
Away to the oaken grove
Elin Manahan Thomas [soprano]
Chris Glyn [piano] 1'27
17:29
LIVE
HAYDN
Loathe to depart
Elin Manahan Thomas [soprano]
Chris Glyn [piano] 2.56
17:35
LIVE
HAYDN
Dafydd y Garreg Wen (David of the White Rock)
Elin Manahan Thomas [soprano]
Chris Glyn piano] 2'47
17:38
BRITTEN
Peter Grimes (Sunday Morning)
Joan Cross [Ellen Orford]
Orchestra of the Royal Opera House
Reginald Goodall
EMI 7 64727 2
CD 2 Track 19 & 20
3'38
17:51
WAGNER
Tristan and Isolde (Liebestod)
BBC Philharmonic
Edward Downes
CDR
Track 1
7'30
18:03
MONTI
Czárdás
Christian Lindberg [trombone]
Roland Pöntinen [piano]
BIS CD 258
Track 4
4'30
18:08
WILLIAM HAWLEY
Labbra vermiglie e belle Chanticleer
Director: Joseph Jennings
TELDEC 0927 48556 2
Track 11
4'24
18:12
LIVE
SCHUMANN
Marchenerzahlungen op 132 (1st movement)
Ashley Wass [piano]
Alexander Zemtsov [viola]
Denitsa Laffchieva [clarinet]
2'41
18:20
LIVE
BEETHOVEN
Trio in Bb op 11 2nd movement
Ashley Wass [piano]
Alexander Chaushian [cello]
Denitsa Laffchieva [clarinet]
Approx 5' 20
18:30
LIVE
MOZART
Trio no 2 in Eb K 498 Kegelstatt (Minuet)
Ashley Wass [piano]
Alexander Zemtsov [viola]
Denitsa Laffchieva[clarinet]
5' 50
18:37
HOLST
St Paul's Suite
The St Paul Chamber Orchestra
Christopher Hogwood
DECCA 470 191-2
CD 2 Tracks 1-4
12'30
18:52
HANDEL-HALVORSEN
Passacaflia
Nigel Kennedy [Violin] and Lynn Harrell[cello]
EMI 7243 5 56963 2 8
Track 5
6'56