Main content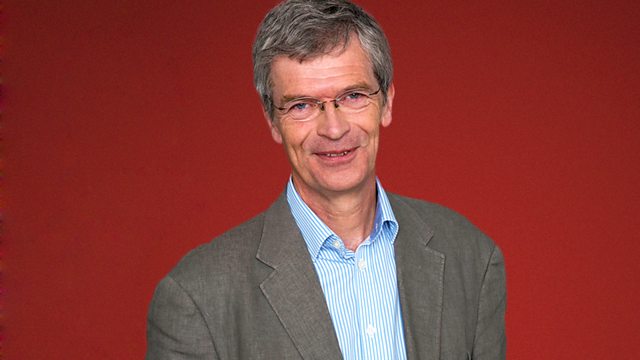 11/07/2009
Geoffrey Smith presents a selection of listeners' jazz requests. Email jazz.record.requests@bbc.co.uk.
Jazz Record Requests
Presented by Geoffrey Smith
Produced by James Parkin
Saturday 11 July 2009 5pm–6pm
JRR Signature Tune:
Oh, but on the Third Day (Happy Feet Blues) (Wynton Marsalis)
Performed by Wynton Marsalis (tp), Marcus Roberts (p), Todd Williams (ts), Dr Michael White (cl), Danny Barker (bj), Teddy Riley (tp), Freddie Lonzo (tb), Reginald Veal (b), Herlin Riley (d)
Recorded 28 October 1988
Taken from the album The Majesty of the Blues
1989 CD (CBS 465129 2)
Gut Stomp (Johnson, Smith) (3:30)
Performed by James P. Johnson (p)
Recorded 17 November 1943, New York
Taken from the album James P. Johnson 1943 - 1944
1995 CD (Classics Classics 824(1) Track 6)
Down the Road a Piece (Raye) (3:06)
Performed by The Will Bradley Trio: Freddie Slack (p) Doc Goldberg (b) Ray McKinley (d, v)
Recorded 12 August 1940, New York
Taken from the album The Many Faces of Boogie Woogie
1996 CD (Avid AMSC533 (2) Disc 1, Track 6)
Emaline / Don't Worry Bout Me / I Can't Give You Anything But Love (Frank Perkins, Rube Bloom, Jimmy McHugh) (4:49)
Performed by Eddie Condon (g) Wild Bill Davison (cnt) Billy Butterfield (tp) Cutty Cutshall, Lou McGarity (tb) Dick Cary (ah) Ead Hall, Peanuts Hucko (cl) Bud Freeman (ts) Gene Schroeder (p) Al Hall (b) Cliff Leeman (d)
Recorded 1954
Taken from the album Eddie Condon Jam Session Coast to Coast
2002 CD (Collectables CCL 75262 Disc 1, Track 3)
Cotton Tail (Duke Ellington) (3:11)
Performed by Duke Ellington and his Famous Orchestra: Duke Ellington (p) Wallace Jones, Cootie Williams, Rex Stewart (cnt) Joe Nanton, Lawrence Brown (tb) Juan Tizol (vtb) Barney Bigard (cl) Johnny Hodges (cl, ss, as) Ben Webster (ts) Harry Carney (cl, as, bs) Otto Hardwick (as, bs) Fred Guy (g) Jimmy Blanton, Hayes Alvis, Billy Taylor (b) Sonny Greer (d)
Recorded 4 May 1940, New York
Taken from the album The Essential Duke Ellington
2005 CD (Columbia/Legacy 5174632 Disc 2, Track 8)
Larue (Clifford Brown) (5:02)
Performed by Curtis Counce (b) Gerald Wilson (tp) Harold Land (ts) Carl Perkins (p) Frank Butler (d)
Recorded 6 January 1958
Taken from the album the Curtis Counce Group: Carl's Blues
LP (Vogue LAC 12263. S2/2)
Swedish Pastry (Kessell) (2:26)
Performed by Red Norvo (vb) Tal Farlow (g) Charlie Mingus (b)
Recorded 3 May 1950, Los Angeles
Taken from the album Red Norvo 1950 - 1951
2006 CD (Classics Classics 1422(1) Track 1)
Alvarado (Brad Mehldau) (3:58)
Performed by Brad Mehldau (p) Darek 'Oles' Oleszkiewicz (acoustic bass) Justin Meldal Johnsen (electric bass) Victor Indrizzo (d) Matt Chamerlain (tabla) Jim Keltner (prepared piano, perc)
Recorded 2 – 8 April 2001, Hollywood
Taken from the album Largo
2002 CD (Warner Bros. 9362-48114-2 Track 10)
Sweet Chilli (Mark Holub) (5:16)
Performed by Led Bib: Mark Holub (d) Liran Donin (b) Toby McLaren (keyboards) Pete Grogan (sax) Chris Williams (sax)
Recorded 12 – 13 August 2008, London
Taken from the album Sensible Shoes
2009 CD (Cuneiform Records Rune 283 Track 4)
23 Red (Bill Chase) (3:26)
Performed by Woody Herman (cl, as) Gary Klein, Salvatore Nistico, Andy McGhee (ts) Tom Anastas (bs) Gerald Lamy, Dusko Goykovich, Bob Shew, Don Rader, Bill Chase (tp) Henry Southall, Frank Tesinsky, Donald Doane (tb) Nat Pierce (p) Anthony Leonardi (b) Ronnie Zito (d)
Recorded 28, 29 and 30 June 1965, Basin Street West, San Francisco
Taken from the album Woody's Winners
LP (CBS 21110. S1/1)
Tea for Two (Vincent Youmans, Irving Caesar) (7:40)
Performed by Oscar Peterson (p) Lester Young (ts) Barney Kessel (g) Ray Brown (b) J.C. Heard (d)
Recorded 28 November 1952, New York
Taken from the album Lester Young the President Plays with The Oscar Peterson Trio
CD (Lonehill Jazz LHJ 10326. Track 3)
Fine and Mellow (Billie Holiday, M Gabler) (8:34)
Performed by Billie Holiday (v) Doc Cheatham, Roy Eldridge (tp) Vic Dickenson (tb) Coleman Hawkins, Ben Webster, Lester Young (ts) Gerry Mulligam (bs) Mal Waldron (p) Danny Baker (g) Milt Hinton (b) Osie Johnson (d)
Recorded 8 December 1957
Taken from the album Billie Holiday Ken Burns Jazz
2000 CD (Verve 549 081-2 Track 18)
Don't forget, you can have your say on today's programme, or any aspect of jazz, by visiting the Jazz Messageboard.
The BBC is not responsible for the content of external internet sites.