Main content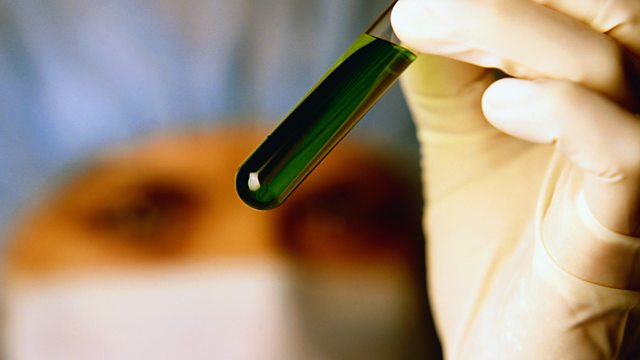 Joan Bakewell discusses the ethical issues of a man who urgently needs a cancerous kidney removed but his phobia of surgery means he keeps cancelling his operations.
Joan Bakewell is joined by a panel of experts to discuss the real life case of Chris, who has kidney cancer and urgently needs an operation to remove the kidney. Without surgery, the cancer could spread and will almost certainly kill him. He has a wife and a young family.
But as the operation approaches Chris cancels. He is terrified of going under anaesthetic. His surgeon offers him another date, and then another, but each time Chris cancels.
Five months down the line, the surgeon is extremely worried that Chris' cancer could have spread. But he is under pressure; each time Chris misses an operation, half a day of operating time - a fully staffed operating theatre session - is wasted.
What is the surgeon's duty of care to a patient who is refusing a potentially life saving operation? What is a reasonable degree of persuasion for the surgeon to use?
What about Chris' rights - given he has a severe phobia, does he have the capacity to refuse a potentially life saving operation? And what about his responsibilities - is it fair to keep diverting resources away from other patients in this way?
Joan Bakewell is joined by her panel of experts to discuss the complex ethical issues arising from this case.
Last on
More episodes
Previous
You are at the first episode
Programme Transcript
Downloaded from www.bbc.co.uk/radio4
THE ATTACHED TRANSCRIPT WAS TYPED FROM A RECORDING AND NOT COPIED FROM AN ORIGINAL SCRIPT.  BECAUSE OF THE RISK OF MISHEARING AND THE DIFFICULTY IN SOME CASES OF IDENTIFYING INDIVIDUAL SPEAKERS, THE BBC CANNOT VOUCH FOR ITS COMPLETE ACCURACY.
INSIDE THE ETHICS COMMITTEE
Programme no. 1 - Phobia
RADIO 4
TX DATE:                  THURSDAY 16TH JULY  0900-0945                                 
PRESENTER:           JOAN BAKEWELL 
CONTRIBUTORS:     DEBORAH BOWMAN
                                PAUL SARKOVSKIS
                                STEVEN REID
                                VASSILIOS PAPALOIS
PRODUCER:             BETH EASTWOOD
NOT CHECKED AS BROADCAST
BAKEWELL
Each week now it seems science comes up with new medical discoveries and  possible treatments, setting us increasingly tricky matters of conscience to decide. So welcome back to a new series of "Inside the Ethics committee": where we tease out medical dilemmas by telling one specific story that actually happened.   
Today's story poses questions about the nature of phobias:  what rights do patients have to refuse treatment outright? What recourse do doctors have when that happens? And should the autonomy of the individual prevail even if it goes against medical advice and the interests of others?
Our story concerns Chris who is in his early thirties.  At the end of 2007 he was out on his regular shifts as a coach driver when something happened that started the whole crisis.
CHRIS
Drove up to Blackpool and sat funny, trapped one of my testicles, went and seen the GP and they did a water sample there and then and he says - oh you've got blood in your urine.  Then I went for an ultrasound and they said - oh they've found a mass or something on your kidney.  And then I went on December 4th, went and sat down and I says to him, all I want you to tell me is I've not got cancer.  And says well I'm sorry I can't do that.  And that's it - it felt like my world had ended at that point.  And then he says we've got to have it out.
BAKEWELL 
The following week Chris was booked into a hospital to have his cancerous kidney removed.  But a day or two before the operation he cancelled.  His surgeon offered him another date and then another, but each time Chris would cancel.  Five months down the line, and having failed on three occasions to persuade Chris to have the op, his surgeon handed the matter over to another surgeon in a neighbouring hospital.  It's he who takes up the story..
SURGEON
I received a letter at the beginning of May last year and sent an appointment to see me.  He didn't attend his first appointment so I sent him a second appointment, he didn't attend his second appointment.  So I wrote him a rather to the point letter about the dangers of him not having his kidney tumour treated.  It said that I was extremely concerned that he hadn't attended on two occasions, that if we waited and left things then eventually the cancer would spread and then he would not be curable.
CHRIS
When I got the letter from the surgeon it was scary to read, yes I knew I had cancer but I wasn't poorly so even it stayed in there another year, two years or three years I'm still here, I'm still seeing my kids.  I didn't think the cancer was the thing that was going to kill me, as in oh my god I've got to go and have a kidney out.  It was the operation that was going to kill me.
BAKEWELL
Time was passing.  The fear of death while under anaesthetic had now kept Chris from the operating theatre for over six months.  His surgeon was desperate to get him in and for very good reason.
SURGEON
My colleague from the nearby hospital in his letter had said that Christopher was frightened of surgery.  He came with his wife and I realised that he was obviously very frightened but I didn't push him about why he hadn't attended because I didn't want our relationship to get off on a bad footing, I didn't want to appear critical.  We discussed what was involved in surgery and I suggested we did a run through, so when he came to pre-[indistinct words] he walked down to theatres and had a look round so that it wasn't that aspect, he knew what to expect.
BAKEWELL
The surgeon also arranged for Chris to see the anaesthetist.
ANAESTHETIST
The surgeon felt that if I had a little chat with him it would reassure him and put him at ease.  So I saw him and talked through issues with him and he certainly was afraid of hospitals but he was reasonable and he was fairly relaxed.  And I kind of felt I should concentrate on the more clinical aspects to try and keep things focused.  And he seemed to be taking it all in.  I must say I did underestimate the extent of his phobia.
CHRIS
The surgeon booked me in, I can remember sitting in his room and he says - July 29th - and that was my birthday.  He says do you want to have it done then and I says yeah, 'cos it was six weeks away or four weeks away - not a problem - yeah, I'm coming for it.  But time got closer and closer, the fear started coming in, I don't know, it was like a green mist come over me.
SURGEON
His surgery was on a Tuesday.  The Friday before his surgery he phoned my secretary to say his mother had had a stroke and was not very well at all and therefore needed to have his operation cancelled.
CHRIS
God bless my mum, love her to bits but it was just an excuse.  Two weeks before it I was geared up and I was going to have it, I was going to go for it, two days before it I was a nervous wreck, in tears and I was trying to pull every excuse out of the book to not go for it.  They could have told me they'd have given me a pot of gold but I still wouldn't have gone.
SURGEON
This was the fourth attempt that had been made to remove his kidney and he had found another reason not to come.
BAKEWELL
The surgeon's frustration was understandable.  The thought had occurred that this might be an excuse but then again it might also be genuine. 
The dilemma got even more tangled. Chris was by now seven months since diagnosis. He'd already seen a psychologist on several occasions at the previous hospital to help him deal with his phobia.   Debbie, Chris's wife, was now desperately worried that his cancer could have spread.  If Chris died, she would not only lose her husband but their three young children would lose their father. 
DEBBIE
I told him if you don't do it for himself do it for his kids.  Every time, two or three days before the operation, he'd just back down, that he doesn't want it.  And I've shouted at him, I've screamed at him, I've balled at him - you name it I've done everything just to make him go for his operation.  I just thought it was - because he's had a lot of problems in his family - going to hospitals - lot of bad news and things like that.  So he thought the ones that he loved going into hospital is always going to get hurt but I didn't realise it was that bad.
SURGEON
Because he'd cancelled at the last minute I didn't have time to organise for anyone else to come in to be operated on.  So on four occasions we'd had half a day's worth of operating lost.  I could have operated on five or six minor cases.  So over the four missed operations potentially 20, 30 patients could have had surgery which would have changed their lives.
BAKEWELL
At this point lets turn to our panel for their opinions.  They are:
Deborah Bowman - Senior Lecturer in Medical Ethics and Law at St George's Hospital University of London;  Professor Paul Sarkovskis - Clinical Psychologist and a leading specialist in phobia at King's College Institute Of Psychiatry;  Dr Steven Reid - Consultant Psychiatrist at St Mary's Hospital London and Vassilios Papalois - Transplant and General Surgeon at the Imperial College Healthcare NHS Trust where he also sits on their clinical ethics committee.
So Deborah Bowman let's start with you.  Spell out the law for me.
BOWMAN
Okay.  The law that's relevant to Chris and his decision is what we call the law relating to capacity.  And that's governed by the Mental Capacity Act.  And there's actually a case, a parallel case, that's particularly important here and this is a case called the case of MB - MB being the name of the patient - that involved a woman who had needle phobia and the question was whether her phobia of needles was so significant as to impair her capacity to make a decision. So in Chris's case what we'd be considering is whether or not his fear of hospitals, which we've heard described, is such that he's too afraid to weigh up information and make a decision for himself.
BAKEWELL
Well let's hold on the nature of capacity for just a moment because I want to know whether the patient, any patient, has an absolute right, if they have the capacity, to refuse treatment.
BOWMAN
Okay.  If they have the capacity yes, autonomy, self determination flows from capacity. 
BAKEWELL
So what is it, this thing called capacity, how do we define it - used to be called competency didn't it?
BOWMAN
Yes competence and capacity were synonyms used interchangeably but since the Mental Capacity Act capacity is the term that's most commonly used.  And essentially it's a legal test and there are three criteria by which one determines whether or not somebody can make a decision about their own care, which may be to consent to care or refuse it as in Chris's case.  And the test essentially asks - or the assessment essentially asks - does this patient have sufficient understanding of information that's been given to him; can he remember what's been told long enough to make a decision, not remember it forever and can he weigh that information up in the balance - is the legal language - and communicate a decision to the team.  So that would have been what the team would need to look at with Chris and see whether or not his phobia was such that he couldn't weigh up the information because he was so fearful.
BAKEWELL
Setting aside the legal subtlety of what you've just explained does it really mean - is he sane or not?
BOWMAN
No it doesn't mean sanity because I think it's very important to distinguish this, it's not about a diagnostic label, you may still have capacity if you've got dementia, you may still have capacity if you have a mental health problem.  But it's about being able to make some sort of decision that is cognisant of all the information you've been given.
BAKEWELL
So Professor Paul Sarkovskis, is Chris's fear a phobia?
SARKOVSKIS
Yes it's a fear which is interfering with his life, stopping him doing something which is important to him, so it undoubtedly meets the criteria for a phobia.
BAKEWELL
I know it's a big question but can you just give me some indication of where these phobias might come from?
SARKOVSKIS
That's a Nobel prize winning question.  They're almost certainly learned and they're probably learned from seeing other people afraid of things but they can also be learned through bad experiences, so basically people have fantasies, if you like, in the sense of they have fears about what might happen and there were elements of that in what Chris was saying - the idea that he was going to die if he went under the knife.
BAKEWELL
And Steve, as a psychiatrist in a hospital, does it crop up in hospitals?
REID
We often get called upon to see patients who are due to go for surgery and they've refused, for various reasons, but quite commonly there are fears about surgery, particularly common, as Deborah was saying, is needle phobia.
BAKEWELL
Can you give me some examples?
REID
We often are asked to see patients who require a daily injection of insulin, for example, for treatment of diabetes and that can have profound consequences if it's interfering with your ability to take the treatment.  I would have to say that with a needle phobia generally we'd feel much more confident about managing the situation much more so than in this situation which I think is considerably more difficult.
BAKEWELL
Right now Vassilios Papalois I want to know from you, because you're the surgeon standing by while all this delaying is going on, are you getting restless because there are so many other things you could be doing and you're anxious, are you keen to put on pressure?
PAPALOIS
The first thing that makes me very anxious that this is a very young man and not only if something goes wrong, I mean his wife and his children would pay the price, but the cancer in this situation can be much more aggressive in a young man, it can be life threatening very, very quickly, so this is the first thing you're worried about.  And you should recognise in this situation that it's not just the usual fear before an operation.
BAKEWELL
I understand that the doctor was trying to engage the patient rather than burden him with the idea that he was a problem - that seems the proper way to behave.
PAPALOIS
But there was a history there of three or four times of refusal.  This is the time to mobilise not only yourself and your team but the whole team around you - the psychologists, the psychiatrists in the hospital - and address the issue as promptly as possible.
BAKEWELL
And that happens I take it in hospitals quite generally - not enough by the look on your face?
REID
Certainly in my experience it doesn't happen anywhere near as often as it should do.
BAKEWELL
When you get round the table does Chris have any access to the discussion that goes forward or is he informed on it?
BOWMAN
Yes, indeed that would be my personal view.
BAKEWELL
Part of his autonomy?
BOWMAN
Indeed.
SARKOVSKIS
Yes but the elephant in the room here is the idea that he was trying to engage him by not talking about the problem.
PAPALOIS
Usually it's us - the surgeons or their physicians - who are directly responsible for this because we focus on the cancer and we miss the other problem.  There is another serious problem here which is beyond us and we need to engage other people to be able to deal with this properly.
BOWMAN
I think what this shows is that there's actually an ethical obligation on clinicians to understand where their expertise starts and stops and to engage with other specialties and that takes a great deal of self awareness and is as much part of your ethical duty of care as being a surgeon, being an anaesthetist, being a psychiatrist etc.
REID
The surgeon may not have been aware that this was a very treatable thing and in the circumstances he may be not talking about the anxiety because he doesn't know what to do about it.
BAKEWELL
Right, let's move the story on because once again Chris was booked in for his operation.  Now this was now the fifth attempt to take his kidney out.  He takes up the story.
CHRIS
The day before the op, a bit jittery but handling it but the morning I was actually wrenching in the bathroom, I had terrible, terrible diarrhoea.
SURGEON
On the morning of operation five I wasn't that surprised that I didn't see Christopher at half past seven when he should have attended.
CHRIS
Rang the hospital saying I'm not coming in because I've got diarrhoea and I'm vomiting.  They says fine, we'll tell the surgeon.  I went back to sleep.
SURGEON
So I phoned him back.
CHRIS
He says are you coming in Chris, I says I'm not, he says you are, you come in we'll see what we can do.  So I managed to prise myself.  Went over to the hospital, went in.
DEBBIE
I was just sitting there and I'm thinking wow he's got to the hospital, he's going to go for it, I'm so proud of him.
CHRIS
Took me into a side room, I think they put a cannula in me hand at that point, checked all my [indistinct word], I've not got a problem with needles.  I went outside for a cigarette, at that point I was quite worried.
DEBBIE
And then I heard one of the nurses saying that they were having problems with him.  So I went in and he just kept saying to me I'm not having the operation.  And I'm sitting there thinking you can't, you've come this far.
SURGEON
At midday we sent the porter up to get him down from the ward and we got a message back to say that he wasn't coming.  So the anaesthetist and I went up to the ward to talk to him and he was in really quite a state - he was upset and he really just couldn't face the idea of coming down to theatre.
ANAESTHETIST
The surgeon and myself went to the ward with an IV preparation and some sedation, carrying it, to see if we could say to him okay you're obviously very nervous can we give you something now to take the edge of things and we'll bring you down to theatre on a trolley.
CHRIS
The surgeon come and sat next to me on the bed, the anaesthetist stood at the edge of the bed, I'm saying I'm going home, you're not, you're not, you can stay, you can do it.  And I'm saying no, no, no.
DEBBIE
I hadn't got a clue what to say.  We was all trying to persuade him.
CHRIS
I've got Deb saying go, go, go.  I've got the surgeon saying yes, you're having it done.  I had the anaesthetist saying yes we can give you this, we'll calm you down, we can have it done.  So me being a stubborn bloke I dug my heels in and I was not going down, no matter what they says.
ANAESTHETIST
All we wanted to do was to get this man to see that it was in his best interests to get this operation done because his cancer would spread and in fact the surgeon was absolutely blunt and said - if you do not come in this will kill you.
CHRIS
At that point I stood up because the surgeon had the syringe in his hand.
SURGEON
What was going through my mind was should I give him enough that we could get him down to theatre against his will but he wouldn't let me near him.
DEBBIE
He'd sit down on the bed and then when the surgeon would get near him he'd get back up again and then he'd sit back down and then he'd get back up again and he must have been in there a good hour, two hours.
ANAESTHETIST
He was actually so scared that he was quite frightening.  He's quite a big guy and I got the impression that if force was going to come into it we weren't going to be the winners.
SURGEON
I was worried that he was going to lash out and hit someone - either me or the anaesthetist or even his wife.
CHRIS
I felt like I was being backed into a corner.  I'm not violent or anything but when anybody's backed into a corner all you want to do is try and fight your way out.
BAKEWELL
Things were now highly dramatic with Chris begging the surgeon to let him go home to give him more time.  Preparations for the operation were once again on hold.  At this point the surgeon and the anaesthetist stepped outside the room to think about what they should do next.
SURGEON
If I had sedated him and taken him to theatre against his will I would be assaulting him and there is a mortality rate associated with taking kidneys out.  So if I'd proceeded against his will and there'd been a significant complication then I really didn't have a leg to stand on, if you see what I mean.
ANAESTHETIST
Assault is a criminal charge and we'd go to the GMC.  One has to walk so carefully about being sued these days that I just felt that no this man had exercised his choice and we must back off.
BAKEWELL
The surgeon decided to offer Chris help from the clinical psychologist he already knew from the previous hospital, from a psychiatrist and another anaesthetist who does hypnotherapy, every way he could think of to sway Chris's resolve - to no effect, Chris refused all help, promising he'd see his own hypnotherapist and come back in six weeks.  The anaesthetist went to the clinical ethics committee at the hospital to find out what else they could do -  they didn't want to give up on Chris.  After all, he agreed to this life-saving surgery ever time and was only cancelling it a day or two before when he became consumed by his phobia.   Was there any way they could sedate him against his will?  At this point there was more at stake that Chris's health. 
ANAESTHETIST
I felt that this patient was putting the surgeon under undue stress.  The managers would be questioning why his operating lists had been short because we are actually very carefully monitored and we're held to account.  And the surgeon was putting his neck on the line more than once for this particular patient.
BAKEWELL
The surgeon took it to the lawyers.
SURGEON
I really wanted to see what the legal standing was if he said I want you to do my operation and then changed his mind, how much I could push him, whether I could sedate him, whether I could bring him to theatre kicking and screaming.
BAKEWELL
Well things are really tense now, so lets turn to the panel again:
Deborah, Chris is clearly in a phobic state at this moment, does that mean he has lost capacity?
BOWMAN
Oh how I wish I could say yes or no to that and wrap up the programme but unfortunately it's not possible to say that.  What needs to happen is that his capacity needs to be assessed using the criteria that we came up with earlier.  Now it's possible, maybe even likely, that given the state he's in he doesn't have capacity but without somebody seeing Chris at that time it's not possible to say definitively one way or the other.
BAKEWELL
That seems to be almost splitting hairs when this man's behaviour is so clearly phobic.
BOWMAN
But remember we're splitting hairs about somebody's right to self determination, I think it's quite important to split hairs when it comes down to something as fundamental as that. 
BAKEWELL
So the medical team could not proceed against his wishes - they could not do that?
BOWMAN
If he has capacity they cannot proceed against his wishes.  If he does not have capacity then a whole different set of principles comes into play and he can then be treated in his best interests.
BAKEWELL
But he's been agreeing to the operation all along, he quite clearly has capacity when he does that, so he's agreeing, he's got capacity but then something deviates from that.
BOWMAN
But merely changing your mind doesn't mean you lose capacity, I change my mind a hundred times a week, I believe I'm capacitous all the way through.  Some decisions are more rational than others in changing my mind but they're still capacitous decisions.
BAKEWELL
I'm interested in the fact that the state of law in this country at this moment is that the individual's rights are so highly regarded however much they're against their best interests and they are clearly disturbed to some degree those rights to autonomy are so highly regarded.
BOWMAN
Yes there's a very famous quote in Western medical ethics which is that we encourage people to die with their rights on.  I have to say I'm not so sure actually that autonomy is as you've just represented it, I think the Mental Capacity Act came into force precisely because of a history of paternalistic care and a whole series of cases where individuals' rights, if you want to use the language of rights, were overridden by clinicians and there were a whole series of them, many of them involving caesarean sections also.
BAKEWELL
Well do you think it's swung too far the other way?
BOWMAN
No.
BAKEWELL
So Chris has the right to cause all this mayhem ...
BOWMAN
If he has capacity and if people - this is the problem I think if you become fetishistic about it being a decision of capacity rather than thinking well what actually could we do to foster trust between Chris and his team, what actually is the clinical problem here because it's much bigger than surgery.  The whole situation looks very different from this slightly adversarial stand off about he does have capacity, he doesn't have capacity.
BAKEWELL
Alright, well we'll set capacity aside for the moment because I want to know from our surgeon, Vassilios, what would you be thinking at this stage because clearly Chris's surgeon was going to endless trouble to keep his patient on the ward, as it were, and yet they have even discussed possibly taking action to sedate him, what would you have done?
PAPALOIS
The first thing I want to comment on, and I think I agree entirely with Chris's surgeon that he did not give up, the most crucial mistake here is to say I'm sorry you're wasting resources and time of the NHS and thankfully this team did not make this mistake.  The second thing to say, and I see it in my practice with patients on dialysis, for example, that refuse to have dialysis although it's life saving treatment for them, is to put them in contact with other patients that have similar treatment and similar problems and they went through them, it helps them enormously.  Patients, and rightly so, trust other patients more than healthcare professionals.  You need to recognise that this is a problem beyond surgery.
BAKEWELL
So you would have gone t the mental health team would you?
PAPLOIS
Definitely, definitely from the very beginning and have a more holistic approach to the denial of this patient to surgery because it's much beyond the relationship of the surgeon and the anaesthetist with a certain patient.
BAKEWELL
So we know that time is of the essence, Steve, as a psychiatrist, what kind of treatment would you suggest?
REID
Well cognitive behaviour therapy is certainly a possibility if he hasn't already had it.
BAKEWELL
And Paul do you agree?
SARKOVSKIS
Yes I agree and it needs to be treated in terms of the threat that Chris perceives.  Chris made it very clear at an early stage that he perceived it likely that he wouldn't wake up from the operation, if you focus on the particular beliefs the person has, look at the decisional factors that they're weighing and actually try and deal with those in a direct way, particularly shift people's ideas of risk.  And given the nature of the timings this is where we'd look for an intensive treatment, so some of these treatments can be delivered in a period as short as a day, where you work intensively with a person and it could in principle be rolled into the operative procedure.
BAKEWELL
How successful is that kind of treatment?
SARKOVSKIS
Highly successful.  I mean most specific phobias, as they're called, these very focused things, are now treated in a single session.  Blood injury phobia, usually two hours will do the job in uncomplicated instances, with complicated instances you might need eight hours max.
BAKEWELL
And Steve, as a psychiatrist, do you go along with that?
REID
I certainly agree.  Sometimes there may be room for help with some drug treatment, for example, which can help to relieve people's anxious symptoms in these situations, particularly when they're approaching an operation.
BAKEWELL
But he's refusing treatment, what do you do then, when he's actually saying no I'm not going to have this treatment, how do you get to him?
REID
Well one question someone might ask is would the Mental Health Act be appropriate in this case - I would say certainly not.  I mean if it were the case that Chris had a delusional disorder, he didn't really appreciate what was going on, he had a psychotic illness, for example, then you might use the Mental Health Act but what you'd be doing is treating his mental disorder forcibly to try and improve his ability to make a decision.  In this case, where Chris has a phobia, the Mental Health Act wouldn't be appropriate at all because there's no way in which you can force somebody to engage with the sorts of treatment that Paul was talking about.  In the acute situation it sounds as though Chris does become irrational and although obviously I haven't seen him I would argue that there's a case for him being considered to lack capacity at that acute moment, if he were deemed to lack capacity at that moment one of the things the Mental Capacity Act would suggest is that you do all you can to facilitate his capacity.
BAKEWELL
So what do you do?
REID
You'd have to try and engage him through a discussion of where his fear is coming from.
BAKEWELL
Do you agree with that Paul?
SARKOVSKIS
Engagement is the name of the game, it's actually engaging with the person so they can engage with you and then choose to change and it's about choice in the process of change and that's what you have to offer people.
BAKEWELL
There is a problem here though because although they want to treat his phobia there's something about Chris that is turning down psychology, psychiatry, people coming on at him with this kind of expertise isn't there, he doesn't want it.
SARKOVSKIS
Well he's not, he turns it down at the point when he feels utterly cornered with the best possible of intentions and then he says no, I'm going to get my own psychological treatment, that tells us something doesn't it - that he's going to get somebody that he's in control of.
BAKEWELL
There is another issue that we have to bring up here which is the National Health Service, it's unavoidable, if other people are going without treatments because people are worrying about Chris and constantly booking him in what do you all feel about that?  Vassilios.
PAPALOIS
The waste of time or resources here is not because of the patient's phobia, it's because of the methodology that the medical team followed not to address both the issues promptly at the same time.
BAKEWELL
Well Deborah what do you think?
BOWMAN
And I would say that actually every patient has a right to care and Chris's care extends well beyond surgery.  What's happening is that the same intervention's being offered over and over again so resources are being constructed in a way, it's not a story of resources to me.
BAKEWELL
Very quickly, what do you each think you would have said if you'd been on the ethics committee?  Paul.
SARKOVSKIS
I would have said get good treatment in straightaway, give him all the help he needs in terms of the psychological problems he's got and get everybody around the table, as has been said, so that actually people are communicating properly and a holistic package of care is in place for him.
BAKEWELL
Alright, as the surgeon Vassilios, what would you say?
PAPLOIS
I agree entirely and I would add what I said before - put the patient in touch with other patients with similar problems.  Just to hear to another human being saying I have the same problem it can solve many issues.
BAKEWELL
And Steve?
REID
I'd agree with all that's been said before.  I think it would be important to bring in Chris's wife to discussions about his decision making.  I also think what might be helpful in this situation would be to perhaps talk to him about it as if he were a third party observing somebody else who was going through the same procedure.
BAKEWELL
And Deborah what do you think?
BOWMAN
Absolutely and I think picking up that point I said at the beginning about knowing where your expertise starts and stops, I think having everybody around the table including Chris.
BAKEWELL
Well let's hear what advice was given in this case:
SURGEON
The trust solicitor suggested that I should get a written consent from him to say that he would be prepared to be taken to theatre against his will if necessary.
ANAESTHETIST
The committee felt that this was a reasonable proposition to put to Chris because he was offered this in a non threatening situation and he felt this was a good idea.
SURGEON
I met up with Christopher a week before his planned sixth operation, at that time he was very positive about going forward with his surgery.  I got him to sign his consent form for the surgery, I also got him to sign a separate consent from that I've got here as a form of advanced directive.  And on the form he signed he said he was prepared to be sedated and if necessary to be physically restrained to allow induction of anaesthesia.  The form also listed the potential risks involved in sedating him and bringing him to theatre against his will including physical injury during restraint and respiratory depression from the sedation.
CHRIS
I signed that form because I knew full well that it was going to kill me.  I started to look back many a night sitting on the edge of the bed waking just thinking - oh my god what have you done, you've put your family through so much now - I needed a kick up the backside really.  I mean the surgeon and the anaesthetist, I felt that I could trust them in the end.  I can always remember on the day that I cancelled the operation I says to the surgeon I says I don't want to come in because I'm going to die, he says you're not going to die on my table.  He didn't even stutter, he was being genuine, as I thought.  So I did believe that.  And all credit to him.
BAKEWELL
Chris had six sessions with his own hypnotherapist.  The surgeon recommended that he take diazepam, a light sedative, the night before and on the morning of the operation to calm his nerves.  Things were looking up.
DEBBIE
We got up - no I'm not going for the operation.  So that's it - my heart sank straightaway.  And I just says to him - Come on take your diazepam, just snap out of it.  He took his diazepam and he was - oh I hate you for making me go through this.  I don't care, I don't care if you hate me, you're going for it.  So we drove to the hospital and he just kept saying again - I'm not having the operation.  I'm just sitting there and I just can't believe what I'm hearing.  I was expecting the security and everything to come in because he had agreed to it.
BAKEWELL
Chris told the surgeon and the anaesthetist that he couldn't have the operation because his two year old son had been admitted to another hospital with suspected meningitis.  Debbie didn't confirm this, merely saying that she would stay with Chris because she'd promised him she would.
ANAESTHETIST
This threw up another problem because the surgeon said if my two year old son was admitted with meningitis I would want to be with the son.  But on the other hand if we let this man go now the son might never have a father.  And that was one of the most difficult decisions that we made - do we go ahead with the surgery or do we not.  It did strike me as odd that Debbie was with him, rather than with the child and I did question this but Debbie just said no I need to be with Chris.  And I was so focused on Chris that I just didn't take the matter any further at that point.
BAKEWELL
Chris had come up with another plausible reason to delay the operation  He wasn't cancelling the advance directive, simply putting it off.  But was the explanation true? There was now a problem about challenging Chris directly about his son because he was partly sedated from the tablets he'd taken the night before and earlier that morning and there was no time to check it out.
ANAESTHETIST
He was sleepy, a bit like maybe having had an extra drink or too many sleeping pills and being slightly woozy with it.  And one's capacity is altered and one's ability to consent is changed if one's had sedation.
BAKEWELL
There are clearly lots of issues around advance directives, so here we are back with the panel.
Vassilios there's a classic parallel in your own culture, the Greek culture, of Odysseus isn't there.
PAPALOIS
Well Odysseus and his comrades were going close to an island full of beautiful ladies and they were singing fantastically well and there was a great danger that once they go past the island they would like to go there and stay there forever and never return home basically to Ithaca.  So Odysseus asked his comrades to tie him to the mast and not let him go, despite the fact that he will be screaming let me go, let me go to the island with the beautiful ladies.
BAKEWELL
So the advance directive worked for him?
PAPALOIS
In the poem yes.  But to be honest with you I have a little bit of scepticism with advance directives because it's enormously difficult to predict people's reactions under certain circumstances.  I mean you sign a document now saying when this and this happens to me I want this kind of treatment but you never know when the time comes really what are going to be the circumstances and how you're going to react to it.
BAKEWELL
What do we think about that - does it work with phobias, does this solve the problem Paul?
SARKOVSKIS
It's not a solution that I'd be reaching for under most circumstances.  Clearly at the point at which they found themselves that was not a bad way to go but it shouldn't have got to that point in the first place.  So definitely not a first line.
BAKEWELL
Deborah, in law advance directives - does this solve the problem, does this have the force of law?
BOWMAN
Advance directives can have the force of law, they have to be made by someone with capacity - Chris's was; they have to be made with information, we presume Chris was informed; it has to be made voluntary and I think that's interesting given that it was recommended so forcefully apparently by the committee and Chris's family and it has to be specific to the particular situation, so it can be overridden if, for example, it's not clear whether or not it was intended to apply to the present situation.  Some people have said that ethically they're flawed for precisely the reasons already given - that we can never know what we would want in the future, this idea of future autonomy is a flawed one.
BAKEWELL
Right, well so he signed the advance directive, then he gets phobic again, if he at that point while phobic refuses and they still go ahead can they be sued?
BOWMAN
You are going to groan at this but if he has capacity when he is phobic and refuses, so effectively overrides his advance directive, then we're right back to the beginning - he's refusing treatment and therefore they could be sued.
PAPALOIS
To take on Deborah's point, if I may, I mean if somebody could tell me 100% that he was lacking capacity when he was admitted to the hospital for this operation and he was refusing, despite the fact there was an advance directive there, ethically as a surgeon I would feel very uncomfortable to force somebody to have an operation.
BAKEWELL
Well there's another thing and that's that he's already a bit woozy because he's had some sedation.
BOWMAN
Absolutely.
BAKEWELL
So what do we make of that - Steve?
REID
The whole issue of advance directives in this situation is particularly complex.  One of the difficulties around advance directives is this requirement, if you like, to predict the exact circumstances in which you're going to  require treatment at some point in the future.  Secondly, I think I'm right in saying, that as the Mental Capacity Act states advance directives are usually around refusal of treatment, not requesting a specific type of treatment or indeed arguing that your decision to accept treatment is overridden in the future. So I think you're really getting into a very murky area when you're using advance directives in this setting.
BOWMAN
I'd absolutely agree with that and there's an even further legal complication that your ability to consent is not unlimited, there are well known cases, not medical but they nonetheless apply, that say that one cannot consent to an assault.  So that too should be thrown into this rather messy mix.
BAKEWELL
Let me add something further.  What about the rights of his wife and children - do they have any rights in law?
BOWMAN
However painful it is - and I absolutely accept one can hear, it's palpable in the testimonies that we've heard - however painful it is the model of Western ethics is that it's individual doctor, patient and although you see the patient in context and that maybe part of what you do therapeutically they do not have any legal rights to override Chris's actions or inactions.
REID
Certainly I think the question of autonomy is an interesting one because in our clinical practice, living in a multicultural society, you see many people who come from different parts of the world, different cultures, where I think the idea of autonomy being limited to the individual is certainly not as complete.
BAKEWELL
A quick comment.
PAPALOIS
Certainly it is vital to take into consideration the rights of the wife and the children and it's a very sensitive and painful issue but no matter how sensitive and painful it is it cannot override the right of the patient to decide about himself.
BAKEWELL
And Paul?
SARKOVSKIS
I think we've got slightly upside down haven't we, because we're talking about how to disempower him in his own interests whereas in fact what I've been saying all the way through, I think all of us are saying, is it was important in the first place to empower him and what we should be looking for are ways of empowering him to make the choice to have the operation, which he so clearly wants to do in a balanced and reasonable way.  So I think to take his rights away is the wrong - is the wrong solution, it is to empower him that's the issue.
BOWMAN
Absolutely and he has to have, one presumes, an ongoing relationship with this hospital, it doesn't stop here, so we have to think about not just this autonomy now but prospectively about this relationship - how will it work?
BAKEWELL
Right, now let's hear what happened in the real case. 
ANAESTHETIST
The surgeon and I both felt it was a reasonable thing to go forward with the surgery.  It was now or never.
SURGEON
He was very emotional but we managed to get him down to theatre without him causing more problems than a lot of patients do.
CHRIS
Going into the operating theatre I can remember don't know - porter or somebody says is this your signature and well yeah unfortunately.  Went into this room, they let Deb come with us.
ANAESTHETIST
I was very apprehensive because I wasn't convinced he wasn't going to leap off the trolley at any minute.  So I was pleased that there were a couple of other people in the anaesthetic room with me.
DEBBIE
It was heartbreaking to see him lying there.  I had a sinking feeling that something was going to happen but I couldn't show Chris that I was feeling that because I didn't want to make him worse.  And she put the anaesthetic in and he just went to sleep.
ANAESTHETIST
Even in medicine there's sod's law.  If anything went wrong with this operation and god forbid that the press get hold of it then we would feel that here we were, thoughtless, heartless doctors in the old paternalistic way doing what we thought was best, irrespective of the fact that this man's son was potentially dying in another hospital and we talked this through and just thought what have we done, what are we doing and are we doing the right thing.
BAKEWELL
At last the operation went ahead:  the anaesthetist was in fact able to administer the anaesthetic: the surgeon removed Chris's cancerous kidney by keyhole surgery without complications.  It wasn't until after the operation the surgeon was able to confirm that Chris and Debbie's son had not been hospitalised with suspected meningitis.  And after the operation?
ANAESTHETIST
At the end of the day's surgery I went to see him on the ward and he was sitting up in bed having tea and he said to me - See, no problems.  And I remember registering at the time - well maybe not for you.
CHRIS
The surgeon come and see me the day after about 10.00-10.30 said how are you feeling, I said I feel like I've been thrashed by a couple of boxers.  He says, that's good.  He says, have you been to the toilet, I says yeah, he says, do you want to go home, I says you bet I do.
DEBBIE
I swung my arms round him and I was like well done there, I'm so proud of you and if I could have done I'd have bought him the whole world just for going through with it.
ANAESTHETIST
I think it was more relief mixed in with my crossness that was my emotion because I went home absolutely drained.
SURGEON
It was a great relief to get his surgery done, I think it would be fair to say that Christopher probably caused me more stress than almost all my other patients I've ever seen.  It was great to see him back in clinic afterwards and to give him the results from the lab and say that we had got the cancer out and as far as we could tell that he was cured.
CHRIS
Oh I could have kissed him at that point, I really could, I could have done cartwheels.  Gave him a card, it didn't seem enough but just to say thank you I mean because he did go that extra mile for me and I cannot praise the man enough.  And here I am months down the line fighting fit hopefully.
ENDS
Broadcasts

Podcast
Joan Bakewell and a panel of experts wrestle with the ethics of a real-life medical case.