Main content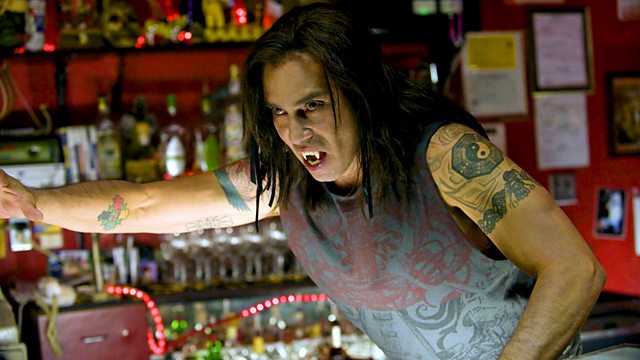 16/07/2009
Arts news and reviews. Lucy Prebble discusses her play about the Enron scandal, David Storey looks back on a career of playwriting and rugby, and Diane Roberts reviews True Blood.
Arts news and reviews.
The bankruptcy of the Enron Corporation was one of the biggest financial scandals of all time. Twenty-eight year old playwright Lucy Prebble's new play, Enron, examines the story of the scandal and stars Samuel West. Prebble explains how she went about translating a complex story of financial corruption into drama.
Diane Roberts reviews True Blood, the new series from the creator of Six Feet Under, Alan Ball. Set in the fictional town of Bon Temps, Louisiana, True Blood follows the story of Sookie Stackhouse, a waitress who finds herself drawn to one of her customers: ex-civil war soldier and now vampire, Bill Crompton.
The play Home by David Storey premiered in 1970 starring John Gielgud and Ralph Richardson and was met with critical acclaim. A new production is currently running at the Theatre Royal Bath. Storey looks back on some of the defining moments of his varied career, which has included studying at The Slade School of Fine Art and time as a professional Rugby League player.
Chapters
LUCY PREBBLE

Lucy Prebble explains how she went about translating a complex story of financial corruption into drama.

Duration: 08:28

TRUE BLOOD

Diane Roberts reviews True Blood, the new series from the creator of Six Feet Under, Alan Ball.

Duration: 05:30

DAVID STOREY

David Storey looks back on some of the defining moments of his varied career.

Duration: 08:30