Main content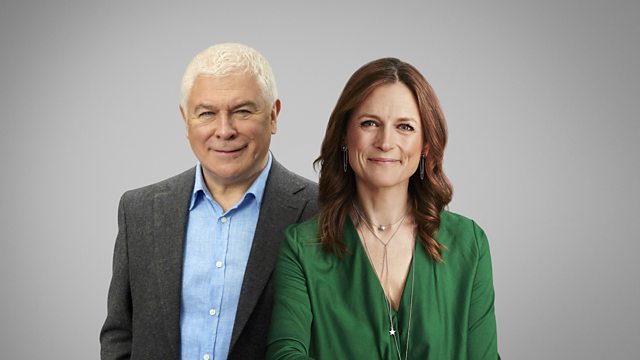 07/07/2009 Bryn Terfel and Vox Zambezi
Presented by Sean Rafferty. With baritone superstar Bryn Terfel and choral group Vox Zambezi.
Presented by Sean Rafferty.
World-renowned tenor Bryn Terfel joins Sean in the studio to discuss his role in the Royal Opera House's new production of Puccini's Tosca.
Plus choral group Vox Zambezi performing in the studio. Led by Dr Paul Kelly, the group draw their influences from a mixture of classical core repetoire, Zambian and South African traditional songs. They give a preview of their next concert at St John's, Smith Square.
1702
MOZART
Don Giovanni (Madamina, il catalogo e questo)
Bryn Terfel, bass-baritone
Scottish Chamber Orchestra
Sir Charles Mackerras, conductor
DG 00289 477 5886
T.17
5'48
1716
PUCCINI
Tosca (Va Tosca!)
Bryn Terfel, bass-baritone
Royal Opera House Orchestra & Chorus
Antonio Pappano (conductor)
BBC Archive
3'00
1726
WAGNER
Flying Dutchman (Die Frist ist um)
Bryn Terfel, bass-baritone
Berlin Philharmonic Orchestra
Claudio Abbado, conductor
DG 00289 477 6686
CD.2 T.9
10'48
1738
MOZART arr. GRIEG
Sonata in C K.545 "Sonata facile"
Elisabeth Leonskaja, piano
Sviatoslav Richter, piano
TELDEC 4509 908 25 2
TR.4
14'26
1756
HAYDN
Die Schopfung (Part 3 extract)
Arnold Schoenberg Choir
Vienna Sinfonia
Nicholas Harnoncourt, director
APEX 256 61593-2
CD.2 T.15
4'33
1803
DVORAK
Slavonic DanceOP.46 No.8
Chamber Orchestra of Europe
TELDEC 8573 819038 2
T.8
4'00
1807
LIVE
Ki Yo Mwa Malu Wa Taha
Vox Zambezi
Dr. Paul Kelly, director
1'50
1809
2 Onani
Vox Zambezi
Dr. Paul Kelly, director
2'30
1817
Ascendit Deus
Vox Zambezi
Dr. Paul Kelly, director
3'15
1821
Bula Nzila
Vox Zambezi
Dr. Paul Kelly, director
2'10
1825
Twendeni Mbinguni
Vox Zambezi
Dr. Paul Kelly, director
1'30
1826
Siahamba
Vox Zambezi
Dr. Paul Kelly, director
3'03
1831
SCHUMANN
Konzertstuck op.86
Nigel Black, horn
Laurence Davies, horn
Laurence Rogers, horn
Peter Blake, horn
Philharmonia Orchestra
Christian Thielemann, conductor
DG 453 482 2
T.2-4
18'47
SCHUMANN
Widmung
Angela Gheorghiu, soprano
Malcolm Martineau, piano
DECCA 458 360-2
T.11
SCHUBERT
Shudchen
Angela Gheorghiu, soprano
Malcolm Martineau, piano
DECCA 458 360-2
T.13