Main content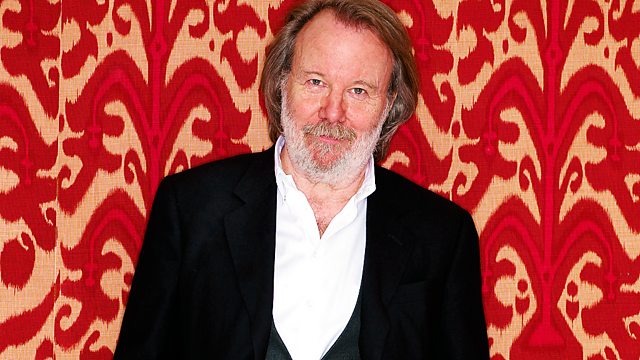 08/07/2009
Arts news and reviews with John Wilson. Includes Abba's Benny Andersson on his Swedish folk roots and artists Gilbert and George on turning their home into a museum when they die.
Arts news and reviews with John Wilson.
It's been nearly 30 years since the Swedish pop phenomenon ABBA went their separate ways. The group's co-composer Benny Andersson is now releasing a new CD, Story Of A Heart, partly written with former ABBA member Bjorn Ulvaeus, in which he returns to his Swedish folk roots. Benny Andersson discusses the darkness that lies behind the songs written for ABBA and for his folk band, and responds to reports of ABBA reforming to fill the 50-date hole left by the death of Michael Jackson.
The artistic duo Gilbert and George discuss creating self-portraits using images of the Union Jack, branding and turning their home into a museum after they die.
John Wilson and music critic Robin Denselow review three new music documentaries: Glass: A Portrait Of Philip Glass In Twelve Parts, about the American composer; Echoes Of Home, about yodelling; and Soul Power, about the 1974 music festival in Zaire which accompanied the Rumble In The Jungle fight between George Foreman and Muhammad Ali.
Last on

Chapters
Benny Andersson

Discussing his folk band and responding to reports of ABBA reforming.

Duration: 10:36

Music Documentaries

John Wilson and music critic Robin Denselow review three new music documentaries.

Duration: 08:55

Gilbert and George

The artistic duo Gilbert and George discuss creating self-portraits.

Duration: 08:39

Broadcast