Main content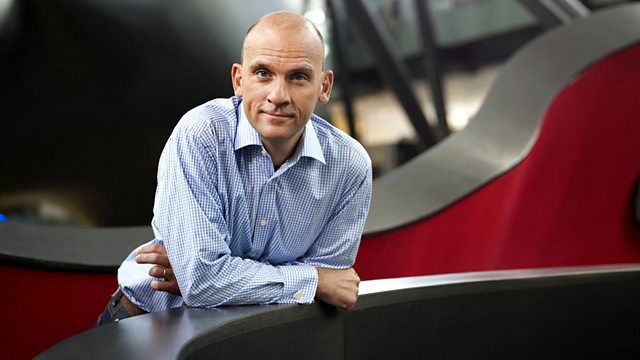 Joe Lovano's Us Five at Ronnie Scott's
Jez Nelson presents a concert from saxophonist Joe Lovano with his quintet Us Five at Ronnie Scott's in London. The set features melodic tunes interwoven with free improvisation.
Jez Nelson presents a concert from US saxophonist Joe Lovano with his new quintet Us Five at Ronnie Scott's in London. The set features melodic tunes interwoven with free improvisation, and employs all combinations of players within the group. Playing a range of horns and folk instruments, Lovano is joined by James Weidman on piano, bassist Esperanza Spalding and two drummers - Otis Brown and Francesco Mela.
Joe Lovano was born in Ohio to a musical family in 1952. He rose to prominence during the 1980s playing with John Scofield's quartet and Paul Motion's bass-less trio with Bill Frisell. Since then, he has led many of his own groups, developing a tone that combines Stan Getz's melodic style and Coltrane's gruffness with a sound knowledge of jazz composition to date.
Artist: Acoustic Ladyland
Title: Sport Mode
Composer: Pete Wareham/Seb Rochford
Album: Living with a Tiger
Label: Strong and Wrong
Artist: Troyka
Track: Tax Return
Composer: Chris Montague
Album: Troyka
Label: Edition
Artist: Zed-U
Track: Showroom Dummies
Composer: Ralf Hutter
Album: Night Time on the Middle Passage
Label: Babel
Artist: Mark Lockheart
Track: Sand into Gold
Composer: Mark Lockheart
Album: In Deep
Label: Edition
A feature on the relationship between graphic design and jazz presented by editor of Eye magazine John L Walters.
Musical excerpts played during the feature:
Artist: Oliver Nelson
Track: Stolen Moments
Composer: Oliver Nelson
Album: The Blues and the Abstract Truth
Label: Impulse
Artist: Art Tatum
Track: Makin' Whoopie
Composer: Art Tatum
Album: The Complete Capitol Recordings of Art Tatum
Label: Capitol Jazz
Artist: Lee Morgan
Track: Morgan the Pirate
Composer: Lee Morgan
Album: Search for the New Land
Label: Blue Note
Artist: Miles Davis
Track: Funky Tonk
Composer: Miles Davis
Album: Live-Evil
Label: Columbia/Legacy
Artist: Jan Garbarek
Track: Selje
Composer: Garbarek/Andersen/Versala
Album: Triptykon
Label: ECM
Artist: Pat Metheny
Track: The Way Up
Composer: Pat Metheny/Lyle Mays
Album: The Way Up
Label: Nonesuch
Artist: Iain Ballamy
Track: Medallion
Composer: Iain Ballamy
Album: Organic & GM Food
Label: Feral Records
Artist: Bill Frisell
Track: Boubacar
Composer: Bill Frisell
Album: The Intercontinentals
Label: Nonesuch
Artist: Jason Lindner's Big Band
Track: Suheir
Composer: Jason Lindner
Album: Live at the Jazz Gallery
Label: Anzic
Artist: John Coltrane
Track: Giant Steps
Composer: John Coltrane
Album: Giant Steps
Label: Atlantic
Recommended further reading:
Title: The Cover Art of Blue Note Records
Author: Graham Marsh and Glyn Callingham
Publisher: Collins & Brown (2002)
Title: Blue Note 2: The Album Cover Art
Editors: Graham Marsh and Glyn Callingham
Publisher: Chronicle Books (1998)
Title: Horizons Touched - The Music of ECM
Author: Steve Lake and Paul Griffiths
Publisher: Granta Books, London (2007)
Jez interviews Joe Lovano.
Joe Lovano recorded at Ronnie Scott's on 26 May 2009.
Line-up:
Joe Lovano (reeds)
James Weidman (piano)
Esperanza Spalding (bass)
Otis Brown (drums)
Francesco Mela (drums)
Set list:
Us Five
Power House
Folk Art
Drum Song
Song For Judi
Big Ben
All compositions by Joe Lovano.
Recommended further listening:
Artist: Joe Lovano
Album: Us Five
Label: Blue Note
Released: May 2009.