Main content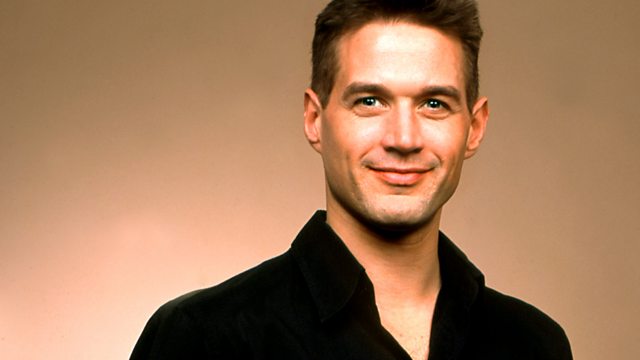 Alistair Appleton
Alistair Appleton presents a refreshing mix of music, including a Haydn Piano Sonata at 9.00am.
Alistair Appleton presents a refreshing mix of music, including a Haydn piano sonata.
Including:
7.03am
Charles Wood: Hail, Gladdening Light
Choir of King's College, Cambridge
Stephen Cleobury (conductor)
EMI CDC 7544182 Tr 1
7.07am
Schumann: Three Romances for oboe, Op 94 No 1
Francois Leleux (oboe)
Eric Le Sage (piano)
ALPHA 121, CD1 Tr 1
7.11am
Saint-Saens: Danse macabre, Op 40
Orchestre de Paris
Daniel Barenboim (conductor)
DG 415 847 2 Tr 6
7.19am
Mendelssohn: Song without Words No 5 in F sharp minor
Livia Rev (piano)
HYPERION CDA 6622122, CD1 Tr 5
7.23am
Mozart: Se all'impero, amici Dei (La clemenza di Tito)
Tito ...... Philip Langridge (tenor)
Orchestra of Zurich Opera
Nikolaus Harnoncourt (conductor)
TELDEC 4509 908572, CD2 Tr 17
7.29am
Telemann: Paris Quartet No 12 (1st mvt - Prelude)
Barthold Kuijken (flute)
Sigiswald Kuijken (violin)
Wieland Kuijken (viola da gamba)
Gustav Leonhardt (harpsichord)
SONY S3K 63115, CD3 Tr 13
7.34am
Tchaikovsky: Gopak (Mazeppa, Act 1)
National Symphony Orchestra of Ukraine
Theodore Kuchar (conductor)
NAXOS 8.554845 Tr 11
7.39am
Vivaldi: Concerto for Violin and Strings in E minor, RV278
Giuliano Carmignola (violin)
Venice Baroque Orchestra
Andrew Marcon (director)
ARCHIV 474 8952 Trs 4-6
7.55am
Macmillan: After the Tryst
Ruth Crouch (violin)
James MacMillan (piano)
BMG 09026 619162 Tr 9
8.03am
Lully: Overture (Le bourgeois gentilhomme)
Le Concert des Nations
Jordi Savall (director)
ALIA VOX AN9807 Tr 1
8.06am
Bliss: Elegiac Sonnet
James Gilchrist (tenor)
Anna Tilbrook (piano)
Fitzwilliam String Quartet
LINN CKD 296 Tr 8
8.15am
Khachaturian: Sabre Dance; Ayesha's Dance (Gayaneh)
London Symphony Orchestra
Antal Dorati (conductor)
MERCURY 434 3232 Trs 1-2
8.20am
Brahms: Liebeslieder Walzer, Op 52
Barbara Bonney (soprano)
Anne Sofie Von Otter (mezzo)
Kurt Streit (tenor)
Olaf Bär (baritone)
Helmut Deutsch, Bengt Forsberg (piano duet)
EMI 554302 Trs 1-12
8.36am
Prokofiev: Overture on Hebrew Themes, Op 34b
Stefan Vladar (piano)
Chamber Orchestra of Europe
Claudio Abbado (conductor)
DG 429 396 2 Tr 12
8.44am
Elgar: Proficiscere, anima, Christana (The Dream of Gerontius)
Priest ...... Bryn Terfel (bass)
Halle Choir
Halle Orchestra
Mark Elder (conductor)
HALLE CD HLD 7520, CD1 Tr 7
8.51am
Vierne: Symphony No 6, Op 59 (Final)
Iain Simcock (at the organ of Westminster Cathedral, London)
PRIORY PRCD 425 Tr 10
9.03am
Orff: Tanz (Carmina Burana)
San Franciso Symphony
Herbert Blomstedt (conductor)
DECCA 430 5092 Tr 6
9.05am
Haydn: Piano Sonata No 30 in D H 19
Ronald Brautigam (fortepiano)
BIS CD1731/33, CD4 Trs 6-8
9.32am
Stravinsky: Infernal Dance of Kashchei's Subjects (The Firebird)
Chicago Symphony Orchestra
Pierre Boulez (conductor)
DG 4378502 Tr 13
9.37am
Bach: Cantata No 24 (Ein ungefarbt Gemute)
Robin Blaze (countertenor)
Gerd Turk (tenor)
Chiyuki Urano (bass)
Bach Collegium Japan
Masaaki Suzuki (conductor)
BIS CD 931 Trs 15 -20
9.53am
Chabrier: Menuet pompeux
Angela Hewitt (piano)
HYPERION CDA 67515 Tr 11.