Main content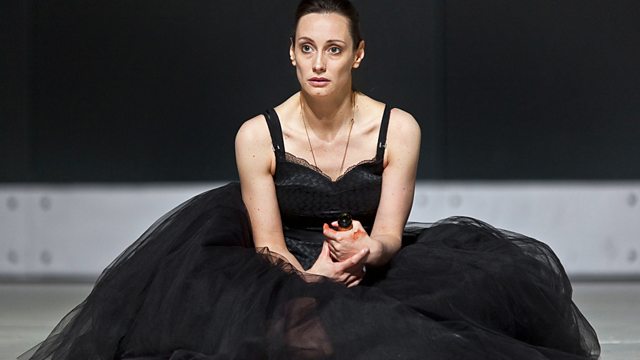 From the Royal Opera House, Antonio Pappano conducts Agneta Eichenholz in the title role in Berg's tragic story of the woman who destroys all those who come within her orbit.
Concluding a season from the Royal Opera House, Covent Garden, is a performance of Alban Berg's Lulu, in which director Christof Loy throws light on the dark psychological corners of a disturbing tale. Its score - with its wide scope and ambition - is just one element that has given Lulu its place as one of the acknowledged masterpieces of 20th-century opera.
Agneta Eichenholz plays the title role in a tragic story about a woman who destroys all who come within her orbit. Lulu's journey takes her from society darling of the glittering salons of Vienna and Paris, to the pitiful squalor of prostitution in East End London, the victim of Jack the Ripper.
Presented by Suzy Klein in conversation with novelist Philip Hensher.
Berg: Lulu
Lulu ...... Agneta Eichenholz (soprano)
Dr Schon/Jack the Ripper ...... Michael Volle (baritone)
Countess Geschwitz ...... Jennifer Larmore (mezzo-soprano)
Animal Trainer/Athlete ...... Peter Rose (bass)
Alwa ...... Klaus Florian Vogt (tenor)
Schigolch ...... Gwynne Howell (bass)
Prince/Manservant/Marquis ...... Philip Langridge (tenor)
Painter/Policeman/Negro ...... Will Hartmann (tenor)
Prof of Medicine/Theatre Manager/Banker ...... Jeremy White (bass)
Dresser/Schoolboy/Groom ...... Heather Shipp (mezzo-soprano)
Journalist ...... Kostas Smoriginas (bass-baritone)
Manservant ...... Vuyani Mlinde (bass)
Lady Artist ...... Monika-Evelin Liiv (mezzo-soprano)
Mother ...... Frances McCafferty (mezzo-soprano)
15-year-old girl ...... Simona Mihai (soprano)
The Orchestra of the Royal Opera House
Antonio Pappano (conductor).
More episodes
Next
You are at the last episode