Main content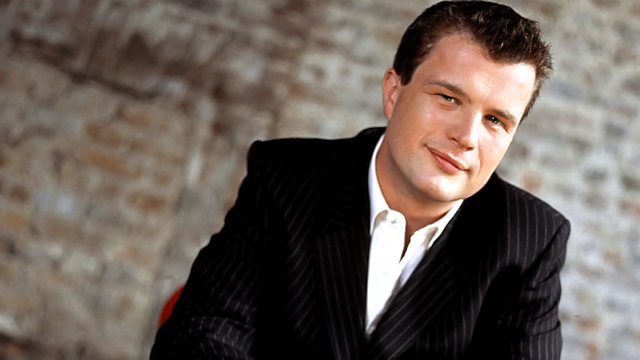 Petroc Trelawny
Petroc Trelawny speaks to the Cheltenham Festival's artistic director Meurig Bowen. Plus performances from the Early Opera Company and the Brook Street Band.
Petroc Trelawny presents a selection of music and guests from the music world, including members of the Brook Street Band performing with soprano Nicki Kennedy ahead of their recital at the Wigmore Hall.
And ahead of the Early Opera Company's forthcoming performance of the Coronation of Poppea by Monteverdi at the Iford Opera Festival, director Christian Curnyn joins Petroc in the studio, with a performance by soprano Katherine Manley, mezzo-soprano Doreen Curran and tenor Nicholas Sharratt.
And artistic director Meurig Bowen talks to Petroc about the Cheltenham Festival and we hear from Sarah Walker about this year's Pianothon.
17:04
KEISER
Le Ridicule Prince Jodelet
Akademie fur Alte Musik Berlin
HARMONIA MUNDI HMC 901852
Track 18
4:11
17:11
MOZART
1st movement from Sonata No.16 in C major, K.545
Han Zhao (piano)
PRIVATE TAPE
Dur: 3:22
17:15
WEILL, arr. PREVIN
Bilbao Song
Andre Previn (piano)
J. J. Johnson (trombone)
Red Mitchell (bass)
Frank Capp (drums)
RCA 88697 47250-2
Track 8
4:04
17:20
HANDEL
See, See my dearest Damon (To Lonely Shades)
Nicki Kennedy (soprano)
The Brook Street Band
AVIE AV2153
CD2, track3
3:16
17:28
LIVE
HANDEL
Love's but the frailty of the mind
Nicki Kennedy (soprano)
Carolyn Gilby (harpsichord)
4'30
17:37
LIVE
HANDEL
Cello Sonata in C major
Tatty Theo (cello)
Carolyn Gilby (harpsichord)
DUR: 7'36
17:45
MOZART
Rondo in A major, K.386
Pascal Roge (piano)
Indianapolis Symphony Orchestra
Raymond Leppard (conductor)
ONYX 4013
Track 7
9:01
17:55
BEETHOVEN
Selbstgesprach
John Mark Ainsley (tenor)
Iain Burnside (piano)
SIGNUM SIGCD145
Track 8
3'50
18:03:50
GEORGE & IRA GERSHWIN
Embraceable You
John Wilson Orchestra
John Wilson (conductor)
VOCALION CDSA 6803
Track 10
3:40
18:07
HAYDN
Fantasia (Capriccio) in C major, Hob.XVII:4
Marc-Andre Hamelin (piano)
HYPERION CDA 67710
CD1, track 15
5:36
18:20
REICH
After the war (Different Trains)
The Smith Quartet
SIGNUM SIGCD064
Track 7
4:45
18:27
LIVE
MONTEVERDI
L'Incoronazione di Poppea (Act 3: Addio Roma)
Dorren Curran (Ottavia)
Christian Curnyn (director)
3:17
18:39
LIVE
MONTEVERDI
L'Incoronazione di Poppea (Act 1: Poppea & Nero)
Katherine Manley (Poppea)
Nicholas Sharratt (Nero)
Christian Curnyn (director)
DUR: c.7:30
18:48
MARTUCCI
Novelletta, Op.82 No.2
Orchestra sinfonica di Roma
Francesco La Vecchia (director)
NAXOS 8.570932
Track 5
5:58
18:55
LEO WEINER
Wedding Dance(Lakodalmas) Op.21
Hagai Shaham (violin)
Arnam Erez (piano)
HYPERION
CDA67735
Track 10
3'36