Main content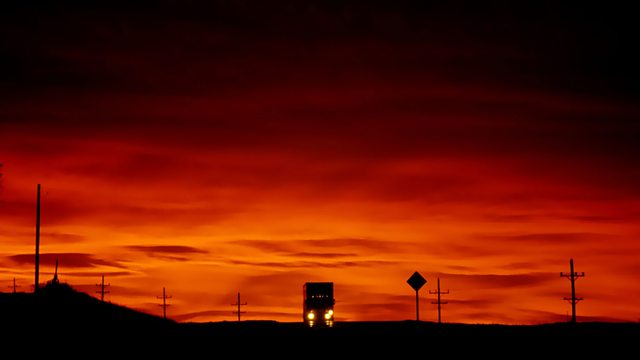 01/07/2009
Music including Schumann, Mozart, Obrecht, Telemann, Faure, Rachmaninov, Kunzen, Arriaga, Chopin, Hellendaal, Franck, Corelli, Reger, Dvorak, Raff, Strauss and Vierne.
1.00am
Schumann, Robert (1810-1856): Symphony No 4 in D minor, Op 120 - vers. standard (1851)
Norwegian Radio Orchestra
Oleg Caetani (conductor)
1.32am
Mozart, Wolfgang Amadeus (1756-1791): Quartet in F for oboe and strings, K370
Peter Bree (oboe)
Amsterdam String Trio:
Maurice Horsthuis (viola)
Ernst Reijsiger (cello)
Ernst Glerum (double bass)
1.45am
Obrecht, Jacob (c.1457-1505): Fuga
1.48am
Obrecht, Jacob (1450-1505): J'ay pris amours
Amsterdam Loeki Stardust Quartet
1.54am
Josquin des Prez (c.1450/55-1521): Tu solus qui facis mirabilia
Netherlands Chamber Choir
Paul van Nevel (conductor)
2.00am
Telemann, Georg Philipp (1681-1767): Missa Brevis for countertenor, two violins and continuo
David Cordier (countertenor)
Das Kleine Konzert
Hermann Max (conductor)
2.15am
Faure, Gabriel (1845-1924): Pavane for orchestra, Op 50
BBC National Orchestra of Wales
Grant Llewellyn (conductor)
2.23am
Faure, Gabriel (1845-1924): Nocturne No 6 in D flat for piano, Op 63
Jean-Yves Thibaudet (piano)
2.32am
Rachmaninov, Sergey (1873-1943): Concerto No 4 in G minor for piano and orchestra, Op 40
Jean-Yves Thibaudet (piano)
San Francisco Symphony Orchestra
Michael Tilson Thomas (conductor)
3.00am
Kunzen, Friedrich (1761-1817): Overture to the play Husitterne (The Hussites)
Danish Radio Concert Orchestra
Peter Marschik (conductor)
3.08am
Arriaga, Juan Crisostomo (1806-1826): Erminia, scene lyrique-dramatique
Rosamind Illing (soprano)
Melbourne Symphony Orchestra
Heribert Esser (conductor)
3.23am
Chopin, Fryderyk (1810-1849): Piano Concerto No 2 in F minor, Op 21
Patrick Cohen (fortepiano)
Capella Coloniensis
Hans-Martin Linde (director)
3.59am
Mozart, Wolfgang Amadeus (1756-1791): Quartet in E flat for piano and strings, K493
Paul Lewis (piano)
Antje Weithaas (violin)
Lars Anders Tomter (viola)
Patrick Demanga (cello)
4.27am
Hellendaal, Pieter (1721-1799): Concerto grosso in E flat for strings and continuo, Op 3, No 4
Combattimento Consort Amsterdam
4.40am
Franck, Cesar (1822-1890): Chorale No 3 in A minor, M40 (Trois Chorales pour grande orgue)
Pierre Pincemaille (organ)
4.52am
Massenet, Jules (1842-1912): Manon and Des Grieux recit and duet: Et je sais votre nom; Nous vivrons a Paris....Tous les deux (Manon - Act 1)
Lyne Fortin (soprano)
Richard Margison (tenor)
Orchestre Symphonique de Quebec
Simon Streatfield (conductor)
5.01am
Grainger, Percy (1882-1961): Hill-Song No 2
Melbourne Symphony Orchestra
Geoffrey Simon (conductor)
5.06am
Weyse, Christoff Ernst Friedrich (1774-1842): Sonata No 1 in E
Folmer Jensen (piano)
5.19am
Jarzebski, Adam (1590-1649): Corona Aurea - concerto a 3
Simon Standage (violin)
Il Tempo
5.26am
Corelli, Arcangelo (1653-1713): Concerto grosso in G minor, Op 6, No 8
Bergen Philharmonic Orchestra
Roy Goodman (conductor)
5.42am
Reger, Max (1873-1916): Motet: Ach Herr, strafe mich nicht, Op 110, No 2
Danish National Radio Choir
Stefan Parkman (conductor)
5.59am
Dvorak, Antonin (1841-1904): Overture (Othello), Op 93 (1891-2)
BBC Symphony Orchestra
Jiri Belohlavek (conductor)
6.15am
Raff, Joachim (1822-1882): La fileuse, Op 157, No 2
Dennis Hennig (piano)
6.19am
Strauss, Richard (1864-1949): Macbeth, Op 23
BBC Philharmonic
Vassily Sinaisky (conductor)
6.39am
Vierne, Louis (1877-1937): Berceuse (sur les paroles classiques)
Leon van den Brand (organ)
6.44am
Traditional (Swiss): Lullaby
Scherrer, Carli: Turn spinning wheel, turn
Brassband Burgermusik Luzern
Corsin Tuor (director)
6.51am
Barnes, Milton (1931-2001): Three Folk Dances
Kroll, William (1901-1980): Banjo and Fiddle
Moshe Hammer (violin)
Valerie Tryon (piano).