Main content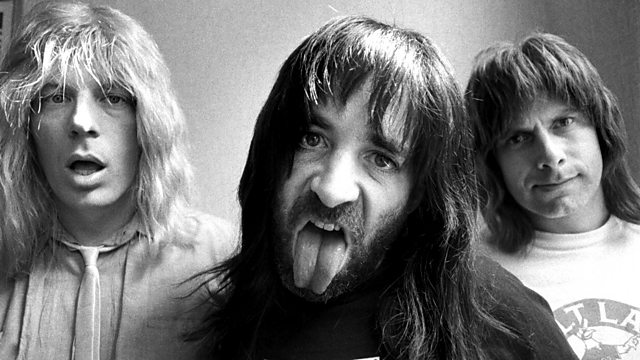 Back from the Dead: The Return of Spinal Tap
Peter Curran joins the three band members of Spinal Tap in the studio for a catch-up and to hear tracks from their new album, Back from the Dead.
Respected "rockumentarian" Peter Curran joins the three iconic and influential band members of Spinal Tap in the studio for a playback of tracks from their new long-awaited album, Back from the Dead, 25 years after the release of the seminal "rockumentary" This is Spinal Tap.
Peter travels to Washington DC, Baltimore and a rehab facility in the Deep South to visit each of the band members David St Hubbins, Nigel Tufnel and Derek Smalls, to catch up with the individual members as they prepare to reform once again.
25 years ago This is Spinal Tap, exposed the shocking world of England's Loudest Band. The film showed us the monstrous egos and rampant stupidity of life on the road for a rock band at the mercy of fickle fate and fans. It spawned a phrase for all that is humiliating, incompetent and inept; a "Spinal Tap moment".
Who can forget the 18 inch Stonehenge debacle? Or when Nigel turned it up to 11 rather than just make ten louder? Or when the band spent an eternity lost in the basement, unable to find their way the stage and their enraged fans? These lycra- clad legends of the rock world brought us anthems like Big Bottom, Sex Farm and Jazz Odyssey.
Now they're back. A newly reformed Spinal Tap are touring, they have a new album out and they're playing Wembley. In the hour-long special, Peter Curran talks intimately to the band and plays tracks from their new album. He finds out what they've been doing for the last twenty-five years; the fights, the failed alternative careers, and the legacy of band-wrecking girlfriend Jeanine Pettibone.
He also hears both warm and jealous tributes from fellow practitioners; Jarvis Cocker on their lyrics, Glenn Tilbrook on Spinal Tap and Squeeze and Suggs on how he's stolen wholesale from the Spinal Tap back catalogue.
Embracing today's thirst for celebrity confessionals, these ravaged road warriors open their hearts and what's left of their minds for music lovers everywhere.