Main content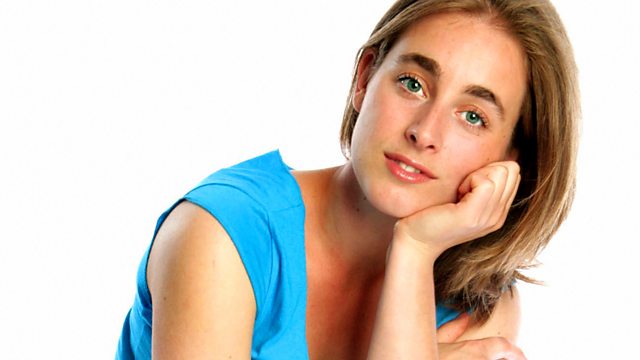 Sara Mohr-Pietsch
With Sara Mohr-Pietsch. A lively mix of music, including at 8.30am a Poem for Today, with a contemporary poet reading a new work, and at 9.00am a Haydn Piano Sonata.
The complete Breakfast playlist is posted online after the programme has been broadcast.
07.02
TELEMANN
Overture to a tragi-comic suite
Akademie fur Alte Musik Berlin
HARMONIA MUNDI HMC 901654 tr 26
07.07
SCHUMANN
Dein Angesicht (op.127 no.2)
Florian Boesch (baritone)
Malcolm Martineau (piano)
ONYX 4041 tr 24
07.10
SIBELIUS
Humoresques Nos.5 & 6
Ilya Gringolts (violin)
Gothenburg Symphony Orchestra,
Neeme Jarvi (conductor)
DG 474 8142 tr 6-7
07:18
BACH
The Art of Fugue BWV 1080 – Contrapunctus IX & X
Pierre Laurent Aimard (piano)
DG 477 7345 trs 9-10
07.24
Johann STRAUSS
Annen-Polka Op.117
Berlin Philharmonic
Herbert von Karajan (conductor)
DG 410 0222 tr 5
07.31
BEETHOVEN
Overture The Ruins of Athens Op.113
Tonhalle Orchestra, Zurich
David Zinman (conductor)
ARTE NOVA 82876 578312 CD1 tr 5
07.37
Jacques DUPHLY
Les Grâces (Tendrement)
Skip Sempé (harpsichord)
PARADIZO PA0007 tr 3
07.43
ELGAR
Coronation Op.44 – Crown the King
Felicity Lott (soprano)
Alfreda Hodgson (contralto)
Richard Morton (tenor)
Stephen Roberts (bass)
CUMS
Choir of King's College, Cambridge,
New Philharmonia Orchestra
Philip Ledger (conductor)
EMI 5851482 tr3
07.53
MOZART
Sinfonia Concertante for Violin & Viola in Eb K364 (Final movement)
Thomas Zehetmair (violin)
Ruth Killius (viola)
Orchestra of the Eighteenth Century
Frans Bruggen (conductor)
GLOSSA GCD 921108 CD2 tr2
08.03
PROKOFIEV
Romeo & Juliet, Op.64 – Dance of the Knights
Cleveland Orchestra
Lorin Maazel (conductor)
DECCA 452 970 2 CD2 tr 11
08.09
PURCELL
Rondo from Abdelazer
The Academy of Ancient Music
Christopher Hogwood (director)
L'OISEAU LYRE 436 4452 tr 4
08.13
HAYDN
Trumpet Concerto in E Flat (finale)
Maurice André (trumpet)
Franz Liszt Chamber Orchestra, Budapest
Janos Rolla (conductor)
EMI 5552312 tr 3
08.19
NIELSEN
Maskarade- Overture
San Francisco Symphony
Herbert Blomstedt (conductor)
DECCA 460 985 2 CD2 tr 5
08.23
MOZART
Ruhe sanft mein holdes Leben (Zaide) K 344
Miah Persson (soprano)
Swedish Chamber Orchestra
Sebastian Weigle (conductor)
BIS SACD 1529 tr8
08.32
POEM FOR TODAY
Michael Rosen: The Balloon
08.34
STRAVINSKY
Pulcinella (vivo)
Orpheus Chamber Orchestra
DG 419 6282 tr 7
08.36
HANDEL
Partenope "Io seguo sol fiero" (Act 1)
Patricia Bardon (contralto: Rosmira)
Les Talens Lyriques
Christophe Rousset
Not commercially available
08.41
SCHUMANN
Drei Romanzen Op.64
Steven Isserlis (cello)
Dénes Várjon (piano)
HYPERION CDA67661 trs 11-13
08.52
MILHAUD
Scaramouche, Op.165c
Claude Delangle (saxophone)
Singapore SO, Lan Shui (conductor)
BIS CD 1357 trs 12-14
09.03
HAYDN
Sonata in B Flat Major Hob. XVI:2
Sviatoslav Richter (piano)
DECCA 436 4552 trs 10-12
09.19
H.K. GRUBER
Manhattan Broadcasts – Radio City
Swedish Chamber Orchestra, H.K. Gruber (conductor)
BIS CD 1341 tr 5
09.26
FINZI
All this night, Op.33
The Finzi Singers
Paul Spicer (conductor)
CHANDOS CHAN 8936 tr 18
09.29
Henri MULET
Toccata - tu es petra et portae inferi non prevalebunt adversus te
Naji Hakim (at the Cavaillé-Coll organ of Sacré Coeur, Paris)
MOTETTE CD 40081 tr 6
09.37
BACH
Mein Gott, wie lang, ach lange? BWV 155
Joanne Lunn (soprano)
Richard Wyn Roberts (alto),
Julian Podger (tenor)
Gerald Finley (bass)
Monteverdi Choir
The English Baroque Soloists
John Eliot Gardiner (conductor)
SDG 115 CD1 trs 1-5
N.B. THIS CD WAS TAKEN OFF AIR 5'40" IN.
09.43
TORELLI
Concerto Op.6 No.1 in G
Charivari Agreable
SIGNUM SIGCD157 trs 1-4
09.51
CHOPIN
Polonaise Op.71 No.2 in B Flat
Samson Francois (piano)
EMI 2126952 CD2 tr 2
09.57
ELGAR
O Happy Eyes
The King's Singers
SIGNUM SIGCD147 tr 3