Main content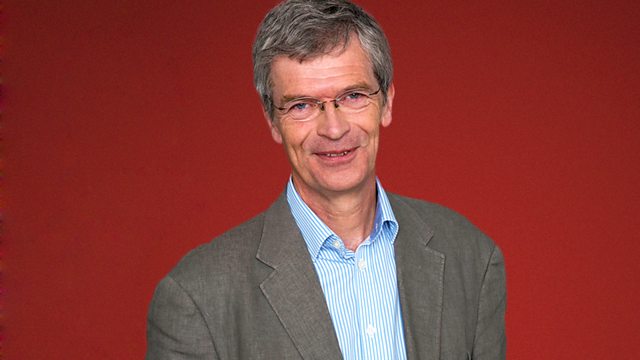 20/06/2009
Geoffrey Smith presents a selection of listeners' jazz requests. Email jazz.record.requests@bbc.co.uk.
Jazz Record Requests
Presented by Geoffrey Smith
Produced by James Parkin
Saturday 20 June 2009 5pm–6pm
JRR Signature Tune:
Oh, but on the Third Day (Happy Feet Blues) (Wynton Marsalis)
Performed by Wynton Marsalis (tp), Marcus Roberts (p), Todd Williams (ts), Dr Michael White (cl), Danny Barker (bj), Teddy Riley (tp), Freddie Lonzo (tb), Reginald Veal (b), Herlin Riley (d)
Recorded 28 October 1988
Taken from the album The Majesty of the Blues
1989 CD (CBS 465129 2)
Duet Stomp (A. Morgan, E. Sayles) (2:51)
Performed Jones & Collins Astoria 8: Lee Collins (tp) Sidney Arodin (cl) Theodore Purnell (as) David Jones (ts) Joe Robichaux (p) Emmanuel Sayles (bjo) Al Morgan (b) Joe Strode Raphael (d)
Recorded 15 November 1929
Taken from the album Jazz Archives No. 68
CD (VJM VLP46 Track 18)
Harlem Congo (Harry White) (3:14)
Performed Chick Webb and his Orchestra: Mario Bauza, Bobby Stark, Taft Jordan (tp) Sandy Williams, Nat Story (tb) Pete Clark (cl, as) Edgar Sampson (as) Ted McRae (ts) Wayman Carver (ts, fl) Joe Steele (p) John Trueheart (g) Bill Thomas (b) Chick Webb (d)
Recorded 2 June 1936, New York
Taken from the album Spinnin' the Webb
1994 CD (GRP GRP16352 (1) Track 15)
I Want a Little Girl (Moll & Mencher) (5:23)
Performed Pete Allen (cl) Janusz Carmello (tp) Campbell Burnap (tb, v) Bernie Allen (bjo) Tony Bagot (b) Johnny Armatage (d)
Recorded 25 October 1978, London
Taken from the album Turkey Trot
LP (BLP12174 S1/4)
Walkin' (Richard Carpenter) (5:14)
Performed Art Pepper (as, ts, cl) Al Porcino, Jack Sheldon (tp) Dick Nash (tb) Bob Enevoldsen (tb, ts) Vince DeRosa (french horn) Charlie Kennedy (as) Richie Kamuca (ts) Med Flory (bs) Russ Freeman (p) Joe Mondragon (b) Mel Lewis (d) Marty Paich (arr, conductor)
Recorded 12 May 1959
Taken from the album Art Pepper + Eleven
CD (Mobile Fidelity Sound Lab MFCD805 (1) Track 11)
The Water is Wide (Trad arr. Charles Lloyd) (5:00)
Performed Charles Lloyd (ts) Brad Mehldau (p) John Abercrombie (g) Larry Grenadier, Darek Oles (b) Billy Higgins (d)
Recorded December 1999
Taken from the album The Water Is Wide
2000 CD (ECM 1734 549043-2 Track 2)
The Blessing (Ornette Coleman) (5:32)
Performed Don Cherry (tp) James Clay (ts) Charlie Haden (b) Billy Higgins (d)
Recorded 28-30 August 1988, Englewood Cliffs New Jersey
Taken from the album Art Deco
1989 CD (A&M 3952582 (1) Track 7)
Poppin' Off (Jimmy Mundy arr. Harry James) (6:05)
Performed Harry James & his Orchestra: Harry James (tp, leader) Dominick Buono, Eugene Komer, Pincus Savitt, Ralph Osborn (tp) Ziggy Elmer, Vic Hamann, Charles Preble (tb) Juan Tizol (valve tb) Ed Rosa, Willie Smith (cl, as) Corky Corcoran, Sam Sachelle (cl, ts) Robert Poland (bs) Bruce MacDonald (p) Hilmer Trimbrell (g) Ed Mihelich (b) Macklin Combine (d)
Recorded 30 December 1947
Taken from the album Willie Smith with The Harry James Orchestra 'Snooty Fruity'
LP (CBS 466364 1 S2/1)
Shift on the Fly (Andy Milne) (3:40)
Performed Steve Coleman (as) Reggie Washington (electric bass) Marvin "Smitty" Smith (d) Michael Wimberley (perc) James Weidman (p)
Recorded January 1992, New York
Taken from the album Steve Coleman and Five Elements - Drop Kick
1992 CD (Novus 01241 63144 2 Track 9)
Believe, Beleft, Below (E.S.T) (4:48)
Performed E.S.T: Dan Berglund (b) Magnus Öström (d) Esbjörn Svensson (p)
Recorded 2003
Taken from the album Seven Days of Falling
2003 CD (ACT 9012-2 Track 6)
Just Squeeze Me (Lee Gaines, Duke Ellington) (6:55)
Performed Joe Newman (tp) Frank Foster (ts) Tommy Flanagan (p) Eddie Jones (b) Billy English (d)
Recorded 17 March 1961
Taken from the album Good 'n' Groovy
LP (Fontana 688 407 ZL B2)
Linger Awhile (Vincent Rose, Harry Owens) (4:09)
Performed Scott Hamilton (ts) Dave McKenna (p) Jake Hanna (d)
Recorded May 1986, Boston
Taken from the album Major League
1986 LP (Concord Jazz CJ 305 S1/5)
Don't forget, you can have your say on today's programme, or any aspect of jazz, by visiting the Jazz Messageboard.
The BBC is not responsible for the content of external internet sites.