Main content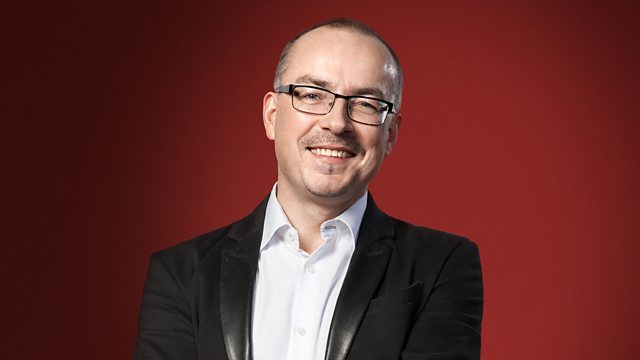 Building a Library: Mendelssohn: Lobgesang
With Andrew McGregor. Including Building a Library: Mendelssohn's Choral Symphony No 2; Beethoven Piano Concertos; Disc of the Week: Charpentier's Missa Assumpta est Maria.
Building a Library:
MENDELSSOHN: Symphony No. 2 "Lobgesang"
Reviewer - Robert Philip
First choice:
(c/w MENDELSSOHN: Complete Symphonies)
Juliane Banse (soprano), Sibylla Rubens (soprano), Vinson Cole (tenor), Berlin Radio Choir, Berlin Deutsches Symphonieorchester, Vladimir Ashkenazy (conductor)
Decca 4709462 (3 CDs, Budget)
CD Review BAL Catalogue Data
bal.mendelssohn:
bal.mendelssohn.symphony.no.2.lobgesang
09.05 am
HANDEL: Poro, Re delle Indie HWV 28 (Ouverture, Caro! Dolce! Amico amplesso); Orlando HWV 31 (Recitativo [III, 8], Finche prendi ancora il sangue); Radamisto HWV 12a (Recitativo [II, 13], Se teco vive il cor); Flavio, Re dei Longobardi HWV 16 (Recitativo [II, 11], Ma chi punir desio); Tamerlano HWV 18 (Recitativo [II, 8], Piu di una tigre altero, Vivo in te); Ezio HWV 29 (Recitativo [III, 12], Ah! Non son io che parlo); Rinaldo HWV 7a (Recitativo [I, 6], Scherzano sul tuo volto); Alessandro HWV 21 (Ouverture, Recitativo [I, 6], No, piu soffrir non voglio; Recitativo [I, 9], Da un breve riposo); Amadigi (Recitativo [II, 5], Pena tiranna); Ottone, Re di Germania (Recitativo [III, 9], A teneri affetti)
Sandrine Piau (soprano), Sara Mingardo (contralto), Concerto Italiano, Rinaldo Alessandrini (conductor)
Naive OP 30483 (CD)
SCHUBERT: Mass in E flat D 950; MOZART: Vesperae solennes de Confessore KV 339
Genia Kuhmeier (soprano), Christa Mayer (alto), Timothy Robinson (tenor), Oliver Ringelhahn (tenor), Matthew Rose (bass), Chorus of the Sachsische Staatsoper Dresden, Staatskapelle Dresden, Sir Charles Mackerras (conductor)
Carus 83.249 (CD)
GABRIEL JACKSON: To Morning; Song (I gaze upon you); Cecilia Virgo; Orbis patrator optime; Ave Maria; Hymn to the Trinity (Honor, virtus et potestas); Not no faceless Angel; O sacrum convivium; Lux mortuorum; Salve regina; Salve regina 2
Polyphony, Clare O' connell (cello), Katherine Bicknell (flute), Stephen Layton (director)
Hyperion CDA67708 (CD)
Next week Chris de Souza compares recordings of Falla's El amor brujo.
10.15 am
ADES: The Tempest
Simon Keenlyside (Prospero), Cyndia Sieden (Ariel), Ian Bostridge (Caliban), Kate Royal (Miranda), Toby Spence (Ferdinand), Philip Langridge (King of Naples), Donald Kaasch (Antonio), etc. The Chorus and Orchestra of the Royal Opera House Covent Garden, Thomas Ades (conductor)
EMI Classics 6952342 (2 CDs)
10.35 am New Releases
Erica Jeal talks us through some recent releases of Beethovenâ's Piano Concertos. With extracts from the following discs:
BEETHOVEN: Piano Concertos 1 & 2
Mari Kodama (piano), Deutsches Symphonie-Orchester Berlin, Kent Nagano (conductor)
Analekta AN 2 9955 (CD)
BEETHOVEN: Piano Concertos 3, 4 & 5
Artur Pizarro (piano), Scottish Chamber Orchestra, Sir Charles Mackerras (conductor)
Linn CKD 336 (2 Hybrid SACDs, Mid Price)
BEETHOVEN: The Complete Piano Concertos
Richard Goode (piano), Budapest Festival Orchestra, Ivan Fischer (conductor)
Nonesuch 07559799283 (3 CDs, Mid Price)
11.10 am Recent Releases
BOELY: Trio in C Major, Op. 5 No. 2; Three melodies for cello accompanied by Organ; 1st Quartet in A Minor, Op. 27; Movement : Quartet in E Major; Sextet in D Major based on a Symphony of the author
Quatuor Mosaiques, Ensemble Baroques de Limoges, Eric Lebrun (organ) Christophe Coin (director)
Laborie LC05 (CD)
SAINT-SAENS: Romance Op. 37; Airs de ballet d'Ascanio; FAURE: Fantaisie Op. 79; Morceau de lecture; Vocalise-Etude; Interlude from Pelleas et Melisande; KOECHLIN: Deux Nocturnes Op. 32 bis; SCHMITT: Scherzo-Pastorale; RAVEL: Piece en forme de habanera; ENESCO: Cantabile et presto; CASELLA: Sicilienne et burlesque; BOULANGER: Nocturne; DURUFLE: Prelude, recitatif et variations
Kathryn Thomas (flute), Richard Shaw (piano), Richard Bayliss (horn), Lawrence Power (viola)
Deux-Elles DXL 1125 (CD)
FAURE: Piano Quintet No. 1 in D minor Op. 89; Piano Quintet No. 2 in C minor Op. 115
Fine Arts Quartet, Cristina Ortiz (piano)
Naxos 8.570938 (CD, Budget)
GROVLEZ: Sicilienne et Allegro giocoso; TANSMAN : Sonatine; KOECHLIN: Sonata Op. 71; FAURE (Transcribed 1920 by Fernand Oubradous): Piece; BOUTRY: Interferences I; GALLON: Recit et Allegro; DUTILLEUX: Sarabande et Cortege; BITSCH: Concertino; JANCOURT: Nocturne (dâ apres John Field) Op. 124; PIERNE: Solo de concert Op. 35; DEBUSSY: From Five Pieces transcribed 1992 by Bronislav Prorvich (Minstrels [No. 12 from Preludes, Book I]; The Little Shepherd [No. 5 from "Childrenâ's Corner"]; Golliwogg's Cake-Walk [No. 6 from "Children's Corner"]
Karen Geoghegan (bassoon), Philip Fisher (piano)
Chandos CHAN 10521 (CD)
11.40 am Disc of the Week
CHARPENTIER: Missa Assumpta est Maria; Sancti Dei per fidem vicerunt regna; Pour un reposoir; O salutaris hostia; Domine salvum fac Regem H. 303; Domine salvum fac Regem H. 291
Chantal Santon-Jeffery, Hanna Bayodi-Hirt (sopranos), Francois-Nicolas Geslot (counter-tenor), Romain Champion (tenor), Benoit Arnould (bass), Le Concert Spirituel, Herve Niquet (conductor)
Glossa GCD 921617 (CD)