Main content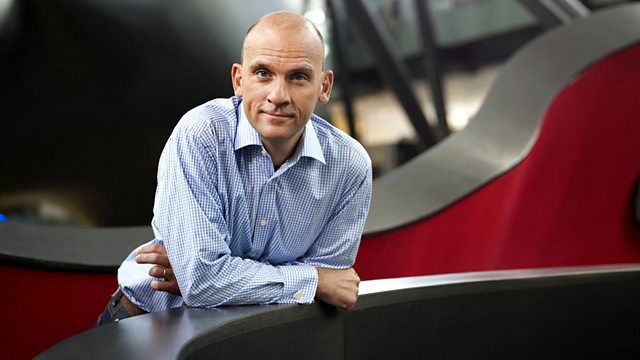 Flat Earth Society in Session
Jez Nelson presents an exclusive session by Peter Vermeersch's Belgian 'anarcho-big band', Flat Earth Society, who mix written-out compositions with improvisation.
Jez Nelson presents an exclusive session by Peter Vermeersch's Belgian 'anarcho-big band', Flat Earth Society. They perform in an unusual style that combines written-out compositions and improvisation.
Peter Vermeersch is a reeds player, composer and music producer working in improvised and popular music. He formed his first band, X-Legged Sally, in 1988 to perform the soundtracks he wrote for dance productions. In 1997 Vermeersch formed Flat Earth Society, and since then the band have performed soundtracks to film, dance and opera, and collaborated with pianist Uri Caine. Their ninth album is titled Cheer Me, Perverts!
Playlist:
Excerpt from:
Miss Possible by Flat Earth Society (details below)
Jez is joined by Belgian journalist Rob Leurentop who recommends the best recent Belgian CD releases:
Artist: Antoine Prawerman and Vegetal Beauty (Antoine Prawerman - reeds, Laurent Blondiau - trumpet, Kris Defoort - piano, Sarah Murcia - Double Bass, Sidiki Camara - percussion, Axel Gilain - double bass)
Track title: Aimer Comme On Aime Ses Enfants
Composer: Antoine Prawerman
Album title: Troposphere
Label: Mogno Music
Artist: Pierre Van Dormael (guitar)
Track title: Games
Composer: Steve Coleman
Album title: Solos and Duos
Label: Mogno Music
Artist: Othin Spake (Teun Verbruggen - percussion, Mauro Pawlowski - guitar, Jozef Dumoulin - Fender Rhodes)
Track title: Neural Vulture
Composer: Verbruggen/Pawlowski/Dumoulin
Album title: Live@Archiduc
Label: Rat records
Flat Earth Society, recorded in session exclusively for Jazz On 3
Peter Vermeersch (clarinet)
Benjamin Boutreur (alto sax)
Michel Mast (tenor sax)
Bruno Vansina (baritone sax, flute)
Marc Meeuwissen, Stefaan Blancke (trombones)
Bart Maris (trumpet)
Luc Van Lieshout (trumpet)
Berlinde Deman (tuba)
Kristof Roseeuw (double bass)
Peter Vandenberghe (keyboards)
Teun Verbruggen (drums)
Pierre Vervloesem (guitar)
Tom Wouters (vibraphone, clarinet)
Wim Willaert (accordion)
All music by Peter Vermeersch, except Miss Possible, which is by Peter Vandenberghe.
Set 1:
Bad Linen
Betwixt and Between
Kotopoulopology
Miss Possible
Jez interviews bandleader Peter Vermeersch
Set 2:
Mutt
Rearm, Get That Char!
Smoke On Fire
Vole Sperm Reverie
More information about Flat Earth Society: http://www.fes.be/
Nate Chinen interviews big band leader and composer Darcy James Argue
Artist: Darcy James Argue's Secret Society (see http://secretsociety.typepad.com for full line-up)
Track title: Transit
Composer: Darcy James Argue
Album title: Infernal Machines
Label: New Amsterdam Records
Details of the 2009 Meltdown festival, curated by Ornette Coleman and taking place at London's Southbank Centre:
http://meltdown.southbankcentre.co.uk/
Artist: Bobby McFerrin (vocals)
Track title: Thinkin' About Your Body
Composer: Bobby McFerrin
Album title: Spontaneous Inventions
Label: Blue Note.